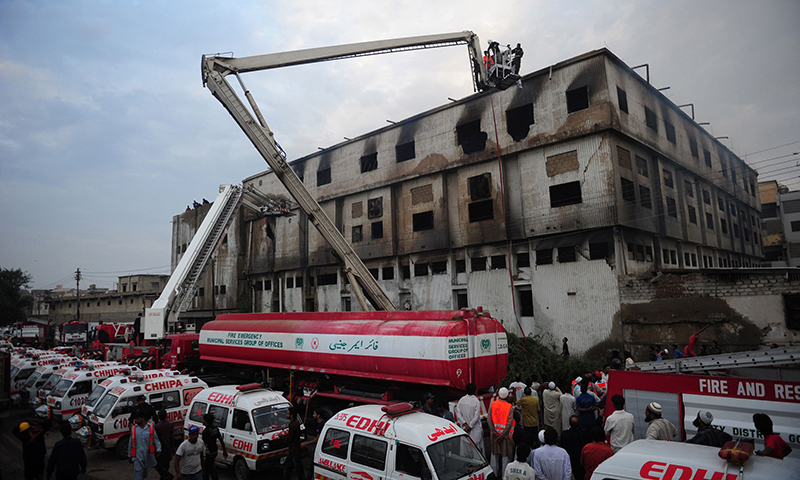 KARACHI: Investigation Officer (IO) Sub-Inspector Jehanzeb for the Baldia factory fire case submitted a written apology at a session court on Saturday for not being present at previous hearings on the matter.
Once again, factory owners were not present for the hearing and the court directed authorities to issue a non-bailable arrest warrant against them if they fail to appear for the next hearing scheduled for March 21.
The industrial unit's owner, Abdul Aziz Bhaila, his two sons, Arshad Bhaila and Shahid Bhaila, general manager Mansoor and three gatekeepers were booked in connection with the tragic incident in which over 250 workers were burnt alive.
During the hearing, the IO submitted a report of witnesses' statements to the court upon which lawyers expressed their reservations. The court directed Sub-Inspector Jehanzeb to address the objections raised by the lawyers.
Earlier, the court had issued a warrant for the IO's arrest over his absence from the case's hearings.
Previously, the court had asked the IO to complete the statements of witnesses and submit them on Feb 21. At the time, he informed the court that there were around 950 prosecution witnesses in the case and he had yet to record the statements of many of them under Section 161 (examination of witnesses by police) of the criminal procedure code.
Take a look at: Order to arrest IO of Baldia factory fire case
When the case came up for hearing before additional district and sessions judge (west) Naushaba Kazi two weeks ago, the IO did not turn up. The court issued a non-bailable warrant for the IO's arrest, calling him to be produced by March 7 and asked the police high-ups to stop his salary.
The court's order had come after Advocate Shazia Hanjra who was the special public prosecutor in the case stepped down owing to what she described as the IO's non-cooperation.
Know more: Prosecutor in Baldia factory fire case steps down