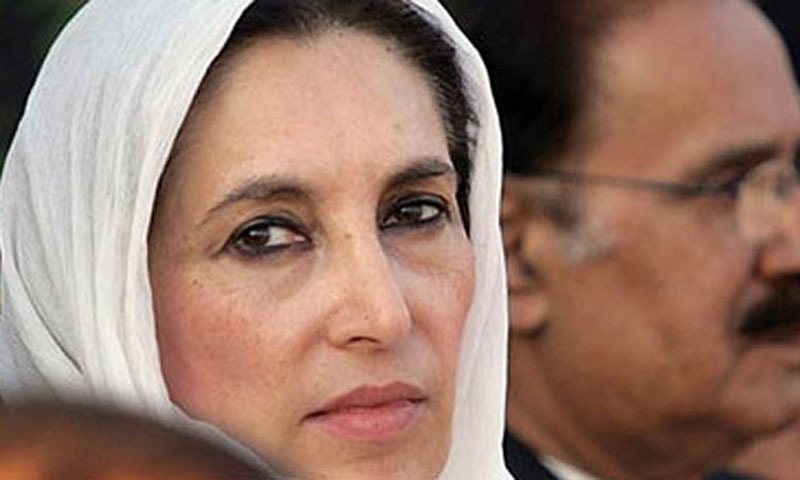 ISLAMABAD: An Anti-Terrorism Court (ATC) in Rawalpindi was informed on Thursday that students of Darul Uloom Haqqania, Akora Khattak, were involved in the murder of former prime minister Benazir Bhutto, however, the seminary administration denied having any connection with the suspects.
The hearing of the Benazir murder case — headed by Justice Pervez Ismail — was held at the ATC special court established inside Adiala Jail in Rawalpindi.
FIA Peshawar Inspector Naseer Ahmed and Sub-Inspector Adnan appeared before the court and informed about the involvement of Darul Uloom Haqqania's students in the killing of Benazir Bhutto. Both the state witnesses also presented related evidence to support their statements.
During the hearing, Darul Uloom Haqqania's director education Wisal Ahmed also recorded his statement. He admitted that the suspected suicide bomber Abdullah alias Saddam Nadir alias Qari Ismail and arrested suspects Rasheed alias Turabi and Faiz Muhammad had received education from the seminary but rejected the claim that Darul Uloom Haqqania holds any association with the above mentioned suspects.
Also read: Sharif calls for action against seminaries backing terrorism
Ahmed said that among the suspects involved in Benazir murder case, few had left the seminary before completing their education.
Brigadier (retd) Javeid Iqbal Cheema, former director general of National Crisis Management Cell (NCMC) — a sub division of interior ministry — also appeared before the court on Thursday to record his statement.
Cheema apprised the court that the press conference, which he conducted after the killing of Benazir Bhutto, was done on the orders of the then president General (retd) Pervez Musharraf.
He said whatever he had said during that press conference were not his personal views but that of the government.
As per Brig (retd) Cheema's previous statement, submitted by the FIA along with case challan, the former DG NCMC was quoted as saying that a day after Bhutto's assassination, on December 28, 2007, he held a press conference on the advice of General (redt) Musharraf.
In the FIA's version of Brig Cheema' statement, he maintains that he held the press conference, in compliance with Gen Musharraf's orders, to dispel the negativity against the regime, that prevailed in the aftermath of the assassination.
Also read: Benazir was not killed by Taliban: Imran
Earlier, Cheema had said that before the said press conference, he was summoned to the headquarters of the Inter-Services Intelligence (ISI), where he met the interior secretary and the heads of the ISI, Military Intelligence and Intelligence Bureau.
Also read: Kayani doubted Taliban killed Benazir, recounts UN investigator
He told the court that the spymasters briefed them about their meeting with Gen Musharraf and handed him the video and instructed him to hold a press conference to this effect. He also told the court that he also consulted then-interior minister retired Lt-Gen Hamid Nawaz before holding the press conference.
The special court regarding Benazir murder case has so far conducted more than 300 hearings.