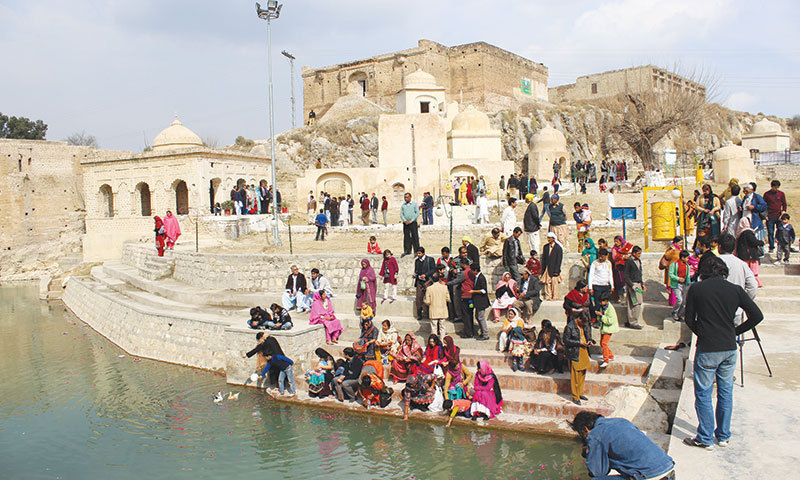 CHAKWAL: Vulnerable security situation in the country has deterred the Indian pilgrims from attending their religious festival 'Shivratri' at Katas Raj.
Though the Evacuee Trust Property Board (ETPB) was expecting 60 to 70 Hindu pilgrims from India, only 21 turned up at Katas Raj on February 16, the day when the three-day Maha Shivratri celebrations were due to begin.
The board had made lodging and boarding arrangements for 200 pilgrims.
Besides India, 25 pilgrims from different areas of Pakistan came to Katas Raj and left on Feb 18.
Last year, 88 pilgrims from India and 40 from various districts of Pakistan gathered here to celebrate the festival.
Satish Kumar Goswami, the leader of the group while talking to Dawn said due to fragile security situation in Pakistan only 21 pilgrims had applied for visa and all of them got it.
"The Wahga Border blast, the brutal attack on schoolchildren in Peshawar and Shikarpur carnage have multiplied the security apprehensions of Indians," he added.
He said he even did not tell his son about his visit to Katas Raj.
"The Punjab government particularly the ETPB and district administration of Chakwal have chalked out a foolproof security arrangements for the pilgrims and during three days' stay we felt as if we have been at our home," Mr Goswami added.
He urged the governments of both countries to work for establishing peaceful and friendly relations between the two countries as people of both countries were craving for peace.
When 83-year-old Ved Parkash Sethi from New Delhi stepped on the land of his native district after many years he could not control his emotions and burst into tears.
"I was born in Gah village, which was also the village of former prime minister of India Manmohan Singh. I was in 8th class at Aariya High School Chakwal when the Partition took place," the old man said with watery eyes.
Veena Rani a middle-aged woman from Amritsar said she would return with the message of love and peace.
"We were told so negative things about Pakistan but the love, the hospitality and the affection we got from the people of Pakistan and its government are matchless. I would convince my other country fellows to visit Katas Raj again and again," she said.
Addressing to the pilgrims, the ETPB chairman, Siddique-Ul-Farooq, assured them that they would always be received with same care and love.
"Both countries badly need peaceful relations with each other for the progress and development," he added.
The pilgrims paid obeisance to Lord Shiva and prayed for the fulfilment of their long standing desires.
The pilgrims and their Pakistani hosts jointly prayed for the peaceful and cordial relations between the two countries.
Published in Dawn, February 22nd, 2015
On a mobile phone? Get the Dawn Mobile App: Apple Store | Google Play