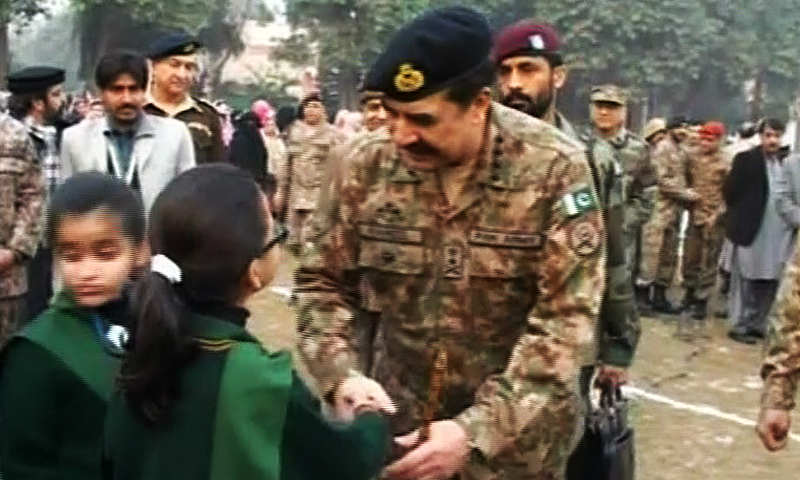 PESHAWAR: The terror-hit Army Public School (APS), along with several other government and private educational institutions resumed their activities on Monday (today) in Khyber Pakhtunkhwa after obtaining no-objection certificates (NOC) from the provincial government.
The schools which were able to fulfill the criteria set by the government were issued NOCs whereas some institutions which failed to make arrangements such as installation of CCTV cameras and higher boundary walls across the campus boundaries were not issued NOCs.
"Schools with not enough security arrangements would not be allowed to reopen," KP Information Minister Mushtaq Ghani had said on Jan 8. Government monitors would assess security measures taken at the schools, he had added.
Senior Superintended of Police Dr Mian Mohammad Saeed told Dawn that officials of different police stations had inspected 1,440 schools in Peshawar. Out of these, only 118 schools were given NOCs, he said. Security arrangements at 1,380 schools are not satisfactory, he said, adding that such schools had been issued a security advisory.
Read: 'KP schools with inadequate security won't reopen from Jan 12'
Besides, the SSP said that police would be on high alert from early morning until the end of school hours. All police mobile vans would be moving on roads to ensure security to the schools, he said.
However, many schools which were not issued NOCs have already resumed operations in the rural areas of the province.
Earlier, the provincial government had to face criticism by educationists over its failure to announce a final date for the reopening of local schools, saying the extension in winter vacation had been adversely affecting the studies of school children.
Moreover, Chief of Army Staff General Raheel Sharif also attended a commemorative service held at Peshawar's Army Public School in honour of those who had lost their lives during the Dec 16 Taliban attack on the school.
A tweet by Director General Inter-Services Public Relations Major General Asim Bajwa said Gen Raheel also met with students and teachers at APS.
Strict security arrangements were seen in place for the re-opening of APS in Peshawar. The Army Public School management told Dawn that psychological counselling sessions would be given to staff and students till Jan 17, whereas regular academic session would begin from Jan 19.
Furthermore, a meeting of officials from the Federally Administered Tribal Areas decided to resume school activities in the region from tomorrow (Tuesday).
Notices were also issued to political agents and teachers to resume educational activities in 5,686 registered schools in the region.
Due to security reasons, the political administration has decided to keep schools closed in Bara.
Read: Militant siege of Peshawar school ends, 141 killed
Imran, Reham advised to postpone APS visit
Pakistan Tehreek-i-Insaf (PTI) chairman Imran Khan said Monday that he and his wife Reham Khan were advised to postpone their visit to Peshawar's Army Public School due to the Chief of Army Staff (COAS) Gen Raheel Sharif's visit.
Khan tweeted that he, along with his wife Reham and KP Chief Minister Pervez Khattak, were going to visit the APS today but they were advised to postpone their visit in view of the COAS's visit for what they were told was a soft opening of the school. He, however, said that they would visit the children later this week.