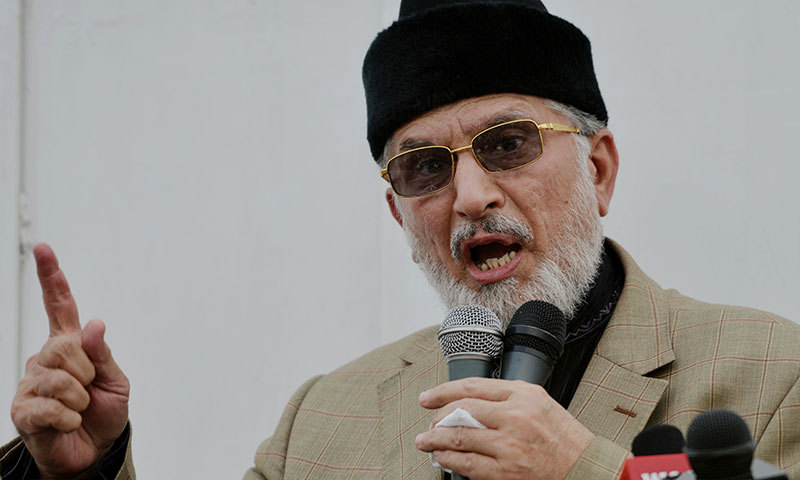 All the revolutionary scenes I have seen in life have been on television – mostly in Bollywood movies. What's happening today, revolutionary or not, I am again watching on television, although it's taking place four hours away from my house.
Does it deserve the Rang De Basanti soundtrack? Totally. With little gaps of the soothing sound of "Inshallah … .Inshallah".
But soundtrack aside, what is happening?
The Pakistan Tehreek-i-Insaaf (PTI) is having an Azadi party, er, march. While the Pakistan Awami Tehreek (PAT) soldiers have finally been given an opportunity to prove to their leader just how devoted and obedient they are as they chant and march behind him.
Both teams want the prime minister gone.
Follow: Live updates of the Islamabad protests
Prime Minister Nawaz Sharif looks grimmer than ever and politicians from all the other political parties are feeling severely left out, hence PPP's Shazia Marri's outburst at the National Assembly this morning and the emergence of MQM's Haider Abbas Rizvi and Ejaz-ul-Haq in Islamabad.
Clichéd jokes aside, the PTI has once again done what no other political party could do (without threatening or buying them out): charge the previously apolitical and get them to rally for a cause, which quite possibly could rid us of a very corrupt government.
The PTI are disciplined enough to follow their leader Imran Khan's call for peaceful protest but rowdy enough to flip a container or two without really causing harm to public property (leave aside the fact that they've taken over the capital city at the moment).
Also read: Situationer: Sound bites, slogans and history
Alongside the PTI, march the angry man PAT's Tahir-ul-Qadri and his chanters. His followers are very different from Khan's supporters.
They will sit when he tells them to sit and stand when he wants them to rise. While Khan's protest revolves around rigging and corruption the PML-N's involved in, Qadri's beef goes beyond.
Two months ago, several followers of TuQ lost their lives in a scuffle with the police outside his residence in Lahore. Those killed included women and children. The tragic incident was strongly protested against and in any other country, it would have been reason enough for members of the provincial if not federal, government to step down.
Also read: 'From czar-like prime minister to deputy commissioner-type character'
PML-N supporters are probably itching to have a go at the PTI and PAT crowd, except those guys are still preaching peace. Although one may add here, senior PML-N leaders have vaguely reminded the country that they too have thousands of supporters sitting in the bleachers waiting for a signal.
The Sharifs and their party may not be publicly foaming at the mouth just yet, but their blockades and closures to the capital are saying enough.
Oh, the representatives of democracy!
TuQ's stance remains consistent, while Khan goes up and down. Khan calls for civil disobedience and you have thousands going up in face-palms. Then he redeems himself by stating that he's open to talks with the government if Nawaz Sharif packs up. Although that still sounds unachievable, it isn't as unreasonable as what he first started off with.
Also read: 'Civil disobedience': Another nail in PTI's political coffin
Much as we are familiar with Khan and his charisma and his ability to self-destruct, TuQ is a whole different matter. Who is he? Where did he drop in from? I mean it's true, we do often pray for fresh faces in our political scene, but this isn't exactly what we meant.
He claims he's been living with his extended family in a one-canal house in Lahore since 35 years except he hasn't – he just came back from Canada where he resides. His comparisons of Pakistan with other war-torn nations are often a bit of a stretch and his warnings of the doom approaching us seem a bit exaggerated even to the strongest pessimists.
Also read: Encamped for Qadri's revolution
But, he is a brave man. He is live on national television at the moment asking Nawaz Sharif if he would still preach democracy if it were, God forbid his children who lost their lives. Despite the session court judge's orders, no action has yet taken place on the incident outside his residence – he asks what good is such a democracy. I wonder as well.
Oh and he loves the Army.
Moving on, what's going to happen tonight? Other than PTV, which insists on showing news from South Korea and China despite everything going on here, the news channels will have another field day with experts coming in and giving their 'valuable' opinions.
Both the movements in Islamabad will probably gain momentum as Khan tempts the rest of the country to join the biggest event in Pakistan's recent history. Both the parties will also continue to vouch their love and support for the Army, which stands alert in the shadows.
Also read: Four reasons why a military coup is unlikely
But will all of this make Nawaz Sharif pack up? More importantly, do you want it to be so?
Those not in love with Azadi and its agents might be sitting and wondering where they stand.
Nawaz Sharif packing up doesn't just mean the end of PML-N or this government; it will deeply damage democracy, as many argue. Sure, this democracy is a sham but it is a system. A very broken and bruised system that Zardari of all people, managed to pass on to Sharif.
Could supporting Khan or TuQ mean being anti-democratic?
What means more right now? Not derailing democracy - or not allowing another corrupt government to take the nation for a ride.
What about the precedent these rallies will set?
What if someone not as good-looking and patriotic, or someone not as scholarly, approaches the capital with thousands or more, and demands for the government to resign for whatever reason? What then?
Ah, decisions, decisions.