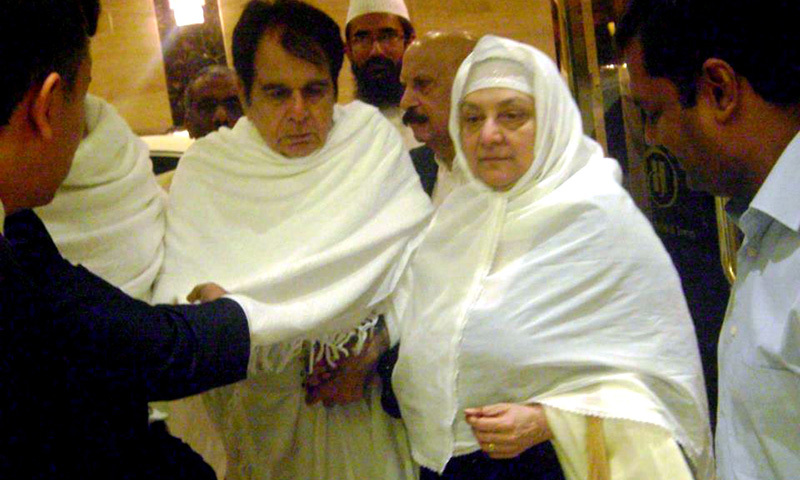 Very few 'stars' are actors and not all actors of exceptional merit enjoy stardom. However, the one man in the subcontinent to achieve great heights in both categories is none other than Dilip Kumar.
What is equally important is that Dilip Kumar's interest in his performances was not in isolation; he saw them in the context of the film in its entirety, ranging from script writing and direction to the work of other actors in the movie, even if they were playing short roles. His total involvement in his films is best illustrated by the fact that he did only 62 movies in as many years.
In short, Dilip Kumar has been a benchmark or a yardstick against which other male actors, past or present, are judged. No wonder then that no other performer in South Asia has had so many clones, and yet none could imitate him completely — his facial expressions, the movements of his hands, his highly natural style of delivering dialogue and the pauses in his speech have all been unmatched. What is more, his silences have been extremely eloquent.
Much has been said and written about Dilip Kumar and at least two books, Urmila Lanba's The Thespian: Life and Films of Dilip Kumar and Lord Meghnad Desai's Nehru's Hero: Dilip Kumar in the Life of India, are truly worth reading. Now his autobiography, Dilip Kumar: The Substance and the Shadow, throws light on his life. It was eagerly awaited since the legendary actor had in all these decades refrained from talking about his personal life. The book is based on interviews of Dilip Kumar recorded as early as 2004. These were transcribed by journalist Udaytara Nayar and quite obviously vetted by Saira Bano, who has also written the foreword to the main text.
The result is that the book conceals as much as it reveals. Dilip Kumar's defenders may say that he is well within his right to say what he wants to, but what one strongly, and with sufficient evidence, feels is that most of the times it is what his wife Saira Bano wants him to say.
First, let's talk about some interesting and revelatory parts of the book. The chapters dealing with Dilip Kumar's native city Peshawar and his childhood make interesting reading. His trips to the Qissa Khawani Bazaar with his father, referred to as Aghaji, and the stories that he hears excite him as much as the wafting aroma of chapli kabab in the narrow streets of his town. Family traditions and incidences like a dervish's prediction that the good looking boy was made for "great fame and unparalleled achievements" have been skilfully narrated.
The dervish's advice to keep the boy away from the "world's evil eye" is taken seriously by Dilip Kumar's dadi. "She had my head shaven and every day, when I started for school, she made a streak on my forehead with soot to make me look ugly. Amma tried hard to convince her not to make her child look so ugly that other children would poke fun and give him a complex. Aghaji tried to reason with his stubborn mother about the consequences of what she was doing to me but Dadi wouldn't budge," reminisces Kumar.
His father was a fruit merchant and was doing well. The family moved to Bombay during World War II and Sarwar Khan set up a thriving business there but Kumar's mother, who was frail and unwell, was an asthmatic whose condition worsened in the port city. The family moved to Deolali, a hill station not too far away from Bombay. The business suffered and the mother of six girls and six boys had to go back with the family to Bombay.
Dilip Kumar, born Yousuf Khan, was his parents' fourth child. Following a tiff with his father he went to Poona, about 100 miles away, where he set up a sandwich stall in a club meant exclusively for Europeans. His delicacy was a big hit and in merely a month or so he made Rs5,000. On his return to Bombay he gave the sum to his amazed mother who had to be assured that it was not earned by dishonest means.
A chance meeting with a psychologist, Dr Masani, resulted in him being taken to Bombay Talkies and introduced to the boss, the graceful Devika Rani, who was impressed with the young Pakhtun's good looks and command over English and Urdu. Since the institution was largely run by Bengalis she needed someone who knew Urdu well. So she gave him the leading role in Jawar Bhata, along with a new name. This suited Dilip Kumar because he wanted to hide the fact that he was working in showbiz from his father. The monthly salary was a whopping Rs1,250.
The portraits of Devika Rani, her deputy S. Mukherjee, Ashok Kumar and Raj Kapoor have been sensitively drawn by Dilip Kumar but his references to Kamini Kaushal and Madhubala, the two women he was in love with, leave much to be desired.
I also expected Dilip Kumar to speak about Meena Kumari, his co-star of four films, who was very much into Urdu poetry, a passion with him too, and composed verse, but there is hardly any mention of her. Likewise, he should have written about the classic Andaz, where he shared stellar honours with two other great performers — Nargis and Raj Kapoor. The making of Mughal-e-Azam merited a chapter but due to the betrayal of his friend, K. Asif, who married Dilip's youngest sister without his knowledge, he avoided the subject for it would have meant giving credit to a fellow perfectionist.
Moreover, Dilip Kumar's brief narration of his second marriage with Asma, a lovely woman with three kids, is quite misleading. He tries to give the impression that he was trapped by her and her husband.
And while he talks about the trouble created against him by the income tax authorities, he makes no mention of being labelled a Pakistani spy by parties subscribing to Hindutva. One can say he is being discreet.
The book includes his filmography and a list of some of the coveted awards he won, including Tamgha-e-Imtiaz, being the second Indian to be honoured with Pakistan's highest civilian award. Morarji Desai, Indian prime minister, was the first. Dilip Kumar narrates his experience as the Sheriff of Bombay, but has nothing to say about his tenure as a member of the Rajya Sabha.
Views on Dilip Kumar expressed by a number of people from different fields given at the end of the book are its plus point. Comments by Lata Mangeshkar, Amitabh Bachchan, Jaya Bachchan, Aamir Khan and Dilip Kumar's family physician Dr Gokhale, to mention a few, throw light on the man and the actor alike. Photographs, some of them rare and never seen before, add to the value of the book, though not all of them are well reproduced. All said, Dilip Kumar: The Substance and the Shadow is worth reading, even if you are a post-Dilip Kumar movie buff.
---
Dilip Kumar: The Substance and the Shadow
(AUTOBIOGRAPHY)
As narrated to Udaytara Nayar
Hay House India, New Delhi
ISBN 978-93-81398-86-9
456pp.