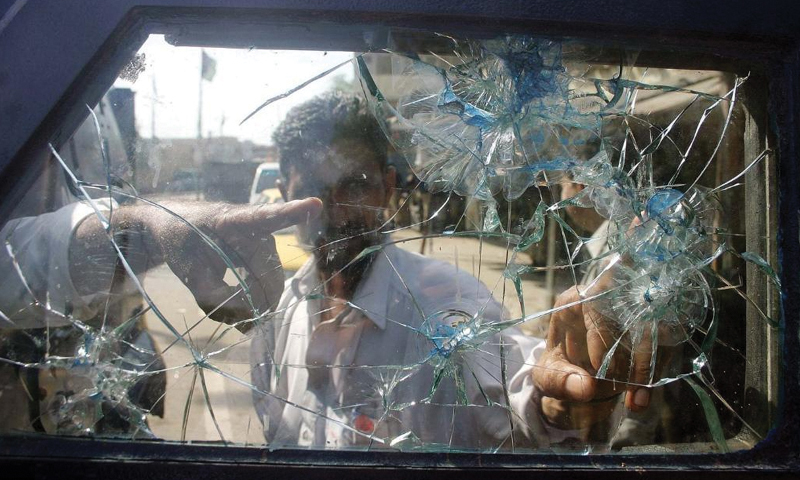 Fate chose Ali Mohammad Mohalla to become the original battleground of Lyari, Karachi's iconic old-city locality.
It all started on the starry night of April 19, 2002. A few clouds dotted the skyline but the moonlight shone brightly on abutting rooftops. Across the length and breadth of the neighbourhood, concrete buildings were messily erected. In the lanes below, the men and women of the mohalla chatted animatedly about the latest news: some "gangsters" from Lyari had gotten hold of sophisticated weaponry.
The neighbours argued vociferously, asserting that these young men who had organised themselves in gangs were not welcome in the neighbourhood. Most saw no need for them — after all, nearly everyone belonged to respectable families: the men were mostly footballers, boxers and labourers; and the women were predominantly labourers and home-makers. Some had small shops and shacks. Yes, some of the neighbours did deal drugs, after an accommodation with local police, but they weren't gangsters, in the true sense of the word. These upstarts were unwelcome.
This was probably the last night for Ali Mohammad Mohalla's residents to live freely, to talk without restraint, to discuss the neighbourhood's politics. Everything was soon going to change.
---
"Hoo was fond of being filmed while partying right after a successful offence. We found some cassettes showing him dancing and celebrating," says the police official. "He would often act like an Indian movie villain, many others who followed his path copied his style."
---
Slowly but surely, the lights began to dim around Ali Mohammad Mohalla as the neighbours began to go to bed.
In labourer Eid Mohammad's small apartment on the second floor of a worn-down building, a family discussion raged: who was going to sleep on the sofa and who on the floor? Cousins Khalid and Sherdil were there too. Young Khalid had arrived from Khuzdar, and was lodging at Eid Mohammad's house as he pursued higher education in Karachi.
Arshad Pappu
All of a sudden, Eid Mohammad heard a rustle outside his doorstep. And almost the next instant, six young men, each one bearing a shiny, sophisticated gun, barged his home. Even the neighbours heard the racket: before long, everyone began to switch their lights on. But by now, Eid Mohammad and his family had been taken hostage.
Inside the apartment, the family were caught terrified: they were captives of Allah Bakhsh 'Hoo' — whose very nickname was the sound of horror and fear.
---
Once free, the duo formally entered Rehman Dakait's gang. Ghaffar Baloch was now Ghaffar Zikri.
---
Lyari's hoo, Allah Bakhsh, was a resident of Shah Baig Lane, another neighbourhood in Lyari. Primarily a robber, he would flee to Balochistan after committing robberies in Karachi. But of late, Hoo had been gaining notoriety for leading the "gang with the sophisticated weaponry". His title, 'Hoo', fit his persona perfectly: legend has it that he killed his foes at first sight; in many cases simply because he didn't like the way they looked.
"Hoo might have ruled Lyari had he lived," says a police official deputed at the Kalri Police Station back then, speaking on condition of anonymity. "Hoo's gang in Lyari was lethal, it was the first of its kind, and it was armed with highly sophisticated weapons of the time."
But that night, the police had chased Hoo and his band to Ali Mohammad Mohalla.
"Hoo and his associates asked us not to resist. They wanted refuge till dawn, to evade arrest, since the police were hot on their trail," a witness from that night, speaking on condition of anonymity, told Dawn.
Eid Mohammad had not learnt to surrender like the others in Lyari eventually did. Despite Hoo's men having trained their guns at his family and him, Eid Mohammad began crying, shouting, pleading; he even tried to push the armed men out of his small apartment. Neighbours started gathering outside, leaving little space for Hoo and his men to escape.
Hoo ordered his associates to open fire in an attempt to escape.
Eid Mohammad received the brunt of the assault: his body was riddled with several bullets, killing him on the spot. Khalid and Sherdil were critically wounded and breathed their last before any help arrived. The children were fortunately rescued, secured, and sheltered.
Abdur Rehman 'Dakait' Baloch
Hoo and his gang dashed downstairs — only to run into a handful of neighbours still trying to put up a fight. The gunmen shot again, injuring some of them.
But before they could get to the street and flee, they were pelted with rocks by some gathered neighbours. Stunned to see rocks flying at their faces, Hoo's men lost hold of their guns.
---
"Arshad Pappu was lethal, brutal and the epitome of evil" says a police official, who was involved in his arrest seven years ago. "He would copy Indian actor Sanjay Dutt's role in his famous movie, Khalnaek (the bad man)."
---
"The neighbours had instinctively decided that we were not going to grant any kind of sanctuary to Hoo and his men in our area. We were dead sure about that and we did that," narrates another resident, also speaking on condition of anonymity.
"We got hold of plenty of stones strewn across the street. At times, our young boys would run around and bring us more rocks to pelt at the robbers," says the neighbour. "Women in the adjoining buildings filled pails with boiling water, which they would then throw at the little corner where the gunmen were hiding. That's how we restricted their escape routes."
It was almost as if Ali Mohammad Mohalla had summoned the spirit of agitation from their 1983 rendezvous with the government. "We had seen this sight once before, in 1983, when women did the same thing to policemen who were beating up Movement for Restoration of Democracy (MRD) protestors," recalls Muneer.
This time, however, it was robbers at the receiving end. Someone had already called the police, and as the sounds of police van sirens grew louder, Hoo and his men knew it was almost impossible for them to flee.
Had collected various warring gangs under the umbrella of the People's Amn Committee. Many in Lyari mourned his death
Then ensued an encounter — one of the few genuine encounters conducted between law enforcement and criminals, at a time when police versions of killing criminals were almost always described as 'encounters'.
When the gunfire died down, and police and residents tiptoed towards the place where the gunmen were hiding, the sun was smiling on Ali Mohammad Mohalla. Police declared it all over and called ambulances to shift bodies to the morgue and the wounded to the civil hospital.
Hoo had fallen. Ali Mohammad Mohallah had won.
This fascinating tale of audacity and bravado acquired the status of legend in Lyari. It had its fallen too: apart from Eid Mohammad and his cousins, many had sustained injuries while trying to prevent the robbers from fleeing. Among the wounded residents, two were women — both were siblings.
"Bullet holes were visible on various buildings for years," says another resident, who like others refuses to divulge his name.
The police identified two of Hoo's four companions as Zafar and Arif, who had just begun to gain notoriety. The other two were unknown youth. Three of their accomplices had been wounded and were arrested. They too were called new entrants to the world of crime.
"Hoo was fond of being filmed while partying right after a successful offence. We found some cassettes showing him dancing and celebrating," says the police official. "He would often act like an Indian movie villain, many others who followed his path copied his style."
News reports from that night show that the police seized a G-3 rifle, two SMGs, two pistols and one movie camera. What the police did not know was that residents of Ali Mohammad Mohalla had stealthily concealed some guns and ammunition for use when they needed them the most.
---
Young Ghaffar Baloch and his buddy Mohammad Ali were witnesses to the battle against Hoo. They had become privy to some sensitive information: the elders had hidden the cache of weapons from Hoo and his men at a store house.
Ghaffar Baloch was the son of Essa Baloch, a renowned midfielder who graced the Pakistan Railways football team. Ghaffar had grown up with dreams of playing as a striker; he was the young spearhead of Hyderi Sports Club's football team. He had the physique to dodge rival players and was known for his playmaking ability. With his passion not making enough to pay the bills, Ghaffar would work part-time at his uncle's ice-depot.
Mohammad Ali was serving his apprenticeship with a boat engine mechanic at the harbour as a helper.
The two young men waited as the neighbours gathered at a football club building, which doubled up as a community hall for them. The elders were now to decide whether to keep the weapons they seized, or to hand them over to the police.
After much deliberation and discussion, the elders decided to form a mohalla peace committee — comprising youngsters from the neighbourhood, this committee was tasked to guard the mohalla during the nighttimes.
Ghaffar Baloch and Mohammad Ali were selected to the committee. With their own hands and blessings, the elders of Ali Mohammad Mohalla were handing his first gun to a young man whom the world would later know as
Ghaffar Zikri.
---
"Are you still gawking at the sky?" transporter Faiz Mohammad, popularly known as Mama Faizu in the neighbourhood, asked his young son, Uzair Jan. "It's time to go to work!"
Young Uzair Jan couldn't care less; he was more focused on the flight of pigeons hovering over the mohalla skyline. Alam Khan's pigeon-flying competition was on the horizon too: the winning pigeon comes in at last after hours of a sojourn in the sky. The winner would take home a gold locket, while the runners-up would get a Seiko Five watch and a transistor radio.
"In a minute," replied Jan.
Across their house, an elderly woman peeked out of her window.
"Faizu, tell your son to stop climbing our rooftop to catch pigeons!" she shouted, before turning her ire directly at Jan: "I'll hit you next time I find you on my roof."
---
The incident changed Uzair altogether: he now wanted to avenge his father's killing, in the same vein that his murderers had adopted. Few of his friends remained with him, others got themselves sidelined. Some others joined him, which included Abid, Mohammad Ali's scared cousin.
---
Jan simply shrugged his shoulders. It was easy to forget that just last year, in the 2001 local bodies elections, he had contested as an independent candidate against Habib Hasan, fielded by the Pakistan People's Party (PPP) that had undisputed dominance over Lyari. He had stood second.
Jan didn't care about the elderly woman complaining to his father; she wasn't the first nor the last to complain of his rooftop hopping habits. He had completed his intermediate education from a local college, he had joined his father's business, and he owned a beautiful jeep. Life was good.
Jan's father, Faiz Muhammad, ran a transport business — his fleet of over a dozen large buses would ply from Karachi to Thatta, Sujawal and Badin. The business had expanded over the years, prompting Mama Faizu to enlist his son's services to manage finance and administration affairs.
Within the community, Mama Faizu had great standing. He was a football buff, who would financially support some local football clubs and also organise tournaments from time to time. The old man would routinely sit outside a paan (betel leaves) shop in Singhu Lane; many believed that the paan shop was in business solely because of Faizu's patronage — no guest would leave Faizu's gathering without a cup of tea and a couple of paans.
Faizu had given Uzair Jan oversight of his business at a time when local football hero Ghaffar Baloch and his little known friend Mohammad Ali had begun guarding the mohalla with the weapons handed over by the elders. Jan knew Ghaffar Bal ould take care of contestants' food arrangements at his uncle, Alam Khan's, pigeon tournament. Little did he know that their paths would cross more than once.
---
Afshani Street in Lyari's Kalakot area was ruled by drug lord Babu Dakait. His protégé was a young man named Abdul Rehman Baloch — known as Dakait among his detractors but as Commando among his admirers. Rehman came with a family pedigree in crime: his father, Dadal, and uncle, Sheroo, were legendary criminals of Lyari, notorious for kidnappings and extortion in their times.
Slowly but surely, Rehman had begun to assume control of Babu Dakait's drug dealing business on Afshani Street. But while Babu was happy with his drug business and had no ambitions to seize the neighbourhood as others did later on, Rehman was dragged into turf battles. Even Babu Dakait's death in an ambush was blamed on his protégé.
Rehman understood Kalakot's importance. He wasn't one to move over so easily.
---
Going to Kalakot had become a regular occurrence for Ghaffar Baloch's friend, Mohammad Ali. It was in Kalakot that Ali seamlessly fit in with members of some gangs. He would chat with them, but would not smoke cigarettes, or even chew paan or gutka with them.
The one habit he did pick up from his gangster friends was keeping a hand grenade in his pocket. Ali would show the grenade to the police whenever someone tried to catch him, warning them that he would detonate it if anyone dared touch him.
One dark night, Ali had met up with Ghaffar Baloch when a policeman stopped the two young men. The cop aimed his gun at Ali, who lost his cool. The duo audaciously overpowered the policeman, snatched his gun, and fled from the scene. That was their first major offence.
Their street cred established, they now truly began developing their criminal connection, hanging out with the career criminals known as 'history sheeters' in police lexicon.
---
Meanwhile, the police wanted their gun back.
They contacted Rehman Dakait, who in turn, made contact with Ghaffar Baloch and Mohammad Ali and asked them to return the policeman's gun. Umaid Ali, a local drug peddler, served as Rehman's deputy back then. Umaid tried to flatter the duo, assuring them of immunity if they returned the gun. The young duo was having none of that; they were furious over the way policeman aimed the gun at them and refused the offer.
Former Home Minister Zulfiqar Mirza with the new Amn Committee chief, Uzair Baloch
Rehman Dakait did not get offended by Ghaffar Baloch's attitude. Instead, impressed by his audacity, he gave him space in his ranks. A few days later, Rehman struck a deal with the station house officer (SHO) concerned: the young duo would hand over the gun, go into custody, but would soon be released. The pair surrendered themselves and the gun, and were sent to jail. But sure enough, they secured bail soon because of a weak case constructed against them.
Once free, the duo formally entered Rehman Dakait's gang. Ghaffar Baloch was now Ghaffar Zikri.
---
Transporters were a rich community in Lyari, who saw their buses routinely being robbed on the way. Their insecurity provided an opportunity to the increasingly powerful gangsters, who offered security to the transporters' union in exchange for hefty sums of money. A little known gangster, Aurangzeb Baba, had floated the idea, which the fraternity accepted; the currency of extortion slips and receipts in Lyari was thus instituted.
The amount of money involved in this protection racket was colossal — thus attracting dominant gangs to the game. It was time for Arshad Pappu to play.
Arshad Pappu was the son of Haji Laloo — a contemporary of Babu Dakait, who ran his drug business in his area of Jahanabad. Pappu and his three brothers — Nasir alias Bengali, Shera, and Aamir — had all taken up the family business.
"Arshad Pappu was lethal, brutal and the epitome of evil" says a police official, who was involved in his arrest seven years ago. "He would copy Indian actor Sanjay Dutt's role in his famous movie, Khalnaek (the bad man)."
Pappu and Rehman Dakait would work hand in glove until the late 1990s. Their wives were sisters too. But at one point, the two men developed differences over ransom money from a kidnapping. Since then, they ran separate operations; both gangs had their own areas of operation while the remaining localities were shared by the smaller gangs.
Soon enough, Pappu's gang began to claim a monopoly over security services for buses. He began aggressively sending extortion slips to bus owners and would attack those who refused to comply. Pappu wanted to control the area as a ruler, which required him to expand his gang. He recruited desperate youth from the area on handsome salaries.
---
"One day, he asked me who Rehman Dakait and Arshad Pappu were," narrates Hanif. "I told him they were very dangerous people and asked him not to think about them ever again. He promised to listen to me but he could not keep his word— Mohammad Ali had him convinced that life without weapons cannot be worth living."
---
Among Pappu's recruits were Ghaffar Zikri and Mohammad Ali, who had since mended fences.
Rehman Dakait knew all that was happening around him, and responded in a similar vein. One night, Mohammad Ali was found mysteriously shot dead while asleep in Pappu's Jehanabad den. Zikri was forced to go underground while Ali's cousin, Abid, who had just begun his journey in the crime world, began suspecting that he was being watched by someone.
Amidst the sparring between the big boys, drug lord Baba Ladla from Phoolpatti Lane entered the game. Ladla was about to form his own gang because he had to seize control of his area, which he feared would land in some dominant gang's lap if it wasn't purposefully defended.
Everyone had a sinking feeling: An ill wind was blowing in Lyari; a fierce, unending gang war was looming.
---
For Ghaffar Baloch, it was difficult to mingle with criminals, let alone touch a weapon. One of his friends, who asked to be called 'Hanif', described him as a "reluctant criminal".
"Ghaffar was a good young man, who wanted to be a better sportsman. He got tangled in this gangs mire because of his friend, Mohammed Ali," claims Hanif. "When things had first started cooking, he had said: 'This is not good, I can't do this!'."
Ghaffar Baloch remained a law abiding man. He would stay awake all night, as he was told to, so that he could protect his neighbourhood. He would go to work at his uncle's ice depot in the morning, and he would practice football in the evening.
"One day, he asked me who Rehman Dakait and Arshad Pappu were," narrates Hanif. "I told him they were very dangerous people and asked him not to think about them ever again. He promised to listen to me but he could not keep his word — Mohammad Ali had him convinced that life without weapons cannot be worth living."
Hanif too was approached by Ali, who coaxed him to establish their separate gang or to join a dominant one. "I was lucky enough not to join them but my friend was not. He was a very good human back then, he would feed stray animals and treat wounded birds," he says wistfully.
From the football field, Ghaffar Baloch had gone on to become Ghaffar Zikri. It wasn't just Ghaffar whose sporting talent was wasted in the process; his younger brother, Sheeraz, was next in line.
Sheeraz was a well-built athlete, who aspired to join a good departmental team — just like his father. But much before he realised his first dream, Sheeraz had started fantasising about another one: prospering by way of crime, as was being done by his elder brother. "What good can I get through football?" he once told friends, "it is better to use my kicks on some other targets instead."
Perhaps even Sheeraz did not foresee the impact of Mohammad Ali's death on his elder brother; Ghaffar Zikri was now a broken man.
---
In those days of turmoil when Lyari's culture and colours were fast corroding, Mama Faizu was kidnapped. Mama Faizu, everyone knew, was not happy to pay for his buses' security — his audacity was tantamount to a challenge thrown to the gangsters. They did not disappoint.
Those days changed Uzair Jan from an ordinary, aloof soul to an angry and anxious son, who launched an extraordinary hunt to recover his father. His quest even led him to the dens and gangsters but he failed to find the cheerful old man. Uzair had been told Pappu was behind his father's death, but he believed other gangs were involved as well.
During his search, Uzair got support from a group of his friends. In less than a week, they managed to recover the tortured corpse of Mama Faizu, disposed near a garbage dump close to Adam Chai area.
The incident changed Uzair altogether: he now wanted to avenge his father's killing, in the same vein that his murderers had adopted. Few of his friends remained with him, others got themselves sidelined. Some others joined him, which included Abid, Mohammad Ali's scared cousin.
Meanwhile, Ghaffar Zikri had been left alone to deal with the trauma of Mohammad Ali's murder. He returned back to Ali Mohammad Mohalla but was greeted with an indifferent attitude. One good soul advised him to move elsewhere, to another country. He agreed at first. Neighbours pooled in money to buy a ticket for him, but soon after he got the money, he refused to go away.
Ghaffar now wanted to avenge Mohammad Ali's murder.
Residents said Ghaffar splattered the areas's walls with graffiti, condemning the killing of Ali. He started searching for people who agreed to join a gang headed by him. Soon, Ghaffar's uncle, Alam Khan, got killed in an attack on his ice depot. One of his cousins and Umaid Ali's son were kidnapped, and their bodies found from the same dump where Uzair Jan had found his father's. Such happenings sparked a violent spree which killed close to 30 people who had nothing to do with criminal acts whatsoever. Their only crime was being related to one or another gangster.
---
In a new spell of violence, new gangsters were also born: Abdul Jabbar, better known as Jango, was also a legend born at the height of the gang wars in Lyari.
Originally hailing from Balochistan's Lasbella district, he worked as a helper at a car mechanic's shop in the Baghdadi area of Lyari, repairing car axles. He was loved in the community for being a good performer of the Balochi Leva dance. Many still remind others of his hours-long performance on drumbeats, even more remember that he was a treat to watch at the annual Sheedi festival in Manghopir.
Residents say that like many more youngsters, from all communities and faiths — Hindus and Christians included — Jango too was inspired by the lavish lifestyle of the gangsters. Jango started dabbling in crime with Ghaffar Zikri's gang, as someone who would run around and fetch anything they asked for.
Residents of Lyari protest the three killings of youngsters from their area, allegedly at the hands of law enforcement personnel during crackdowns in April
Gangs were now beginning to consolidate their strength, also eliminating anyone with the fame and prestige that could counter them. Anwer Bhaijan, a known social worker and founder of the peaceful Baloch Ittehad group, was intercepted one chilly January night in 2005 and shot dead at point blank range. Sohrab Baloch of the same group had already been murdered. Political activists from Lyari argue that the gangs had delivered a loud and clear message then: political activities should not continue any longer.
One day, Ghaffar Zikri ridiculed Jabbar Jango's dark facial features. Jango offered the faintest of resistance, but was thrashed by Zikri in the presence of the others in his group. Residents narrate that Jango, when was left wounded, had asked Zikri to kill him or he would be killed. Zikri had laughed him away.
Thus humiliated, Jango soon joined Rehman Dakait. He would gain notoriety for his brutality and ruthlessness. Everyone also discovered what a rich Jango would buy: expensive jeans, smart phones and sport bikes.
---
PPP circles in Karachi had sprung into action for Benazir Bhutto's homecoming parade on October 18, 2007. There was only one man being entrusted with her security: Rehman Dakait, now turning into Rehman Baloch.
His proactive role in the homecoming parade as well as reports that his men had been posted at key buildings along the route made it clear for all and sundry that Rehman Baloch enjoyed a reasonably thumping position in the party. Some influential PPP figures entrusted for Benazir Bhutto's security accepted the camaraderie later, one key leader even called Rehman's men his children.
Months before the PPP leader's arrival, Rehman Dakait had gathered all scattered gangs into one fold, an all powerful body called the People's Amn Committee. The name of the body was believed to be derived from the PPP, giving the impression to the people and local political leadership that it was an affiliate of the PPP.
Witnesses say that all key gangsters gathered at Rehman's place, barring his arch-rival and nemesis Arshad Pappu, who had already gone behind bars. A decision was taken to make Rehman the central leader for all gangs. All gangs were to retain their areas of dominance and given full authority to rule, with the warning that street crime needed to end in their dominions.
Meanwhile, Chief Minister Arbab Ghulam Rahim's special task force to flush Lyari of gangs was also at work. The force was led by Aslam Khan, popularly known as Chaudhry Aslam. Aslam arrested many suspects, and also killed a fair few in 'encounters'. He raided Mama Faizu's farmhouse in Choohar Jamali, now in Sujawal district, and detained Uzair along with a couple of companions.
Back then, Rehman had escaped to Quetta, from where he had reportedly been arrested, but the police would not confirm reports. Pappu had gone underground for a few months before he was arrested and jailed. Some unconfirmed reports suggested Rehman had smuggled him away to a Gulf country, from where he returned in 2007. Pappu was arrested on charges of involvement in over 50 cases of kidnapping, killing, kidnappings for ransom, and drug-peddling. He was incarcerated for five years — first in Karachi's jails and then in the Gadani prison. After his release in 2012, he kept changing places for security reasons.
The new and improved Rehman Baloch was a changed man, and a man with a plan for Lyari: an area controlled by him, with all state institutions and political forces coming in later. His confidantes saw him as more mature and confident. His leadership qualities were more evident. But he still needed to gain more political backing, which could possibly come from a PPP that still boasted huge popular support across Lyari.
Rehman Baloch had completed his matriculation from a local school and often cursed his life, which gave him little chance to get better education. He started making acquaintances with people whom he thought were educated and learned. He virtually controlled the defunct Lyari town municipality and used its funds for the area's uplift — a move that made the residents happy and propped his popularity. He brought an appeasing tranquillity to Lyari Town, which started getting littered with his portraits — more in number than even the local political leaders. His followers gave him the titles "Khan Saheb" and "Sardar".
Some who were close to him say that Rehman Baloch wanted to shun his chequered past and become a revered politician instead. He had even sought a seat in the country's upper house with the PPP, a claim that the party has not yet publicly confirmed or denied.
But, a year after, in August 2009, the situation was going to dramatically change: Rehman Baloch was killed in a mysterious police encounter along with some of his comrades. A three-day mourning was announced, but a potential watershed moment was lost. Lyari's peace had been disturbed for good, once again.
---
Rehman Baloch was gone, but there was still the matter of the gangs' new leader. Most people believed Baba Ladla would be the new chief; nearly everyone was surprised when little known Uzair Jan bagged the nomination. Uzair Jan, who had political ambitions eight years ago when he unsuccessfully contested municipal elections, was now in a position to dictate terms to those who defeated him previously with a popular vote. Everyone would now have to submit to him.
Uzair assumed power similar to how a Baloch chieftain takes charge. He sat on Rehman's seat with a formal dastarbandi in an urban, tribal fashion. The IdastarbandiI event proved to be the last public gathering in Lyari where Nabil Gabol, who was then a PPP member of the National Assembly, and Rafiq Engineer, a PPP member of the Sindh Assembly and a provincial minister, could participate. They were openly lambasted.
Under the new regime, political activities in Lyari diminished spectacularly but social activities remained a norm through the Lyari Resource Centre. The police were virtually confined them to their stations while drugs and gambling dens operated all over.
But soon, pressures forced Sindh Home Minister Zulfiqar Mirza — considered by some to be the de facto patron of the Amn Committee — to resign. In his last press conference, Mirza unleashed a barrage of criticism at then interior minister, Rehman Malik, called the peace committee leaders his children, and bragged about issuing tens of thousands of firearm licenses.
With Mirza out of the picture, Mirza formally banned the People's Amn Committee and launched an unsuccessful weeklong operation against them. The crackdown was led by Chaudhry Aslam, but it was to no avail: as law enforcement discovered, the gangs possessed more sophisticated weapons and explosives than their predecessors and even what the police had.
In an age of acrimony and distrust, the PPP also discovered that it had little space to politically manoeuvre and move in an area where the party had never lost an election since 1970. The party was forced to nominate individuals for the national and provincial assembly seats in the 2013 elections who enjoyed clearance from the real rulers of Lyari.
Among those elected on a PPP ticket from Lyari was National Assembly member Shahjehan Baloch, who had been arrested on charges
of killing Arshad Pappu, his brother Yasir Arafat, and a confidant Juma Shera soon after Pappu was released on bail. Officials had confirmed Pappu's death in March last year, but said that the police could not recover the bodies of Arshad Pappu and Yasir Arafat as their corpses had already been taken away by unidentified people. The corpse thieves were suspected to be members of the dominant gang in the area; the police believed that their bodies had already been defaced, mutilated and 'probably burnt' by rival gangsters.
"Arshad Pappu was generally blamed for kidnapping and killing Faiz Mohammad, Uzair Jan's father," explains a police official, who was part of several operations carried out against Lyari gangsters from time to time. Between the cup and the lip, the suggestion of who killed whom is clear.
Eyewitnesses narrate that soon after the three bodies were spotted, some gunmen appeared and took away two bodies in haste. Policemen were prevented from entering the area until the two bodies were hauled away. Only then were they allowed to take away the third body, that of the lesser known confidant.
Soon after Uzair Baloch's rise to power, ring leaders rekindled their rivalries over their areas of operation and ransom money. They got separated — first Zikri and others, and then Baba Ladla. Zafar Baloch, who was the only political face in the crowd from the PPP — was killed in an attack attributed to the renewed enmities. Zafar had previously survived two such attacks; he wasn't third time lucky.
---
Peace still eludes Lyari: the recent bombings in Jhat Pat Market, which killed a dozen innocent people, including women and children, were the first of its kind since the gangsters had targeted unarmed residents in a direct attack.
The attack took place despite most key characters of the Lyari gang war — Rehman Dakait Baloch, Arshad Pappu, and Abdul Jabbar Jango among others — already having perished. Dakait was shot dead by law enforcement, Pappu assassinated, while Jango died mysteriously in a road accident while returning to Karachi from Lasbella. Several gangsters have been killed and arrested over the last seven months during targeted operations involving the Sindh Police and the Rangers.
Few gangsters are still there, with Ghaffar Zikri chief among them. Zikri is confined to a little area that he commands; so is Baba Ladla, who has already survived a couple of attacks. Uzair Jan is believed to be in Europe nowadays. Shahid Rehman, previously a footballer, is now a right-hand man of the dominant gang. He is known for his connections with sectarian outfits.
Hundreds of lives have been lost — a good number of them were youth, who had joined the gangs with dreams of power and playing hero. Amid reports of rapprochement being brokered by Sindhi nationalist leader, Ayaz Latif Palijo, tensions are still at their fullest. Such is the reign of terror that only a handful of people protested against the attack on Jhat Pat Market, and not for too long either.
But the model of gangs has spread to other areas of Karachi with native populations: Muwachh Goth, Yusuf Goth, parts of Jehangir Road, Malir and Gadap have all seen organising committees spring forth.
The worst part?
Crime threatens to subdue politics once again, but we have no answer to give, no alternative to offer.
Published in Dawn, Sunday Magazine, June 8th, 2014