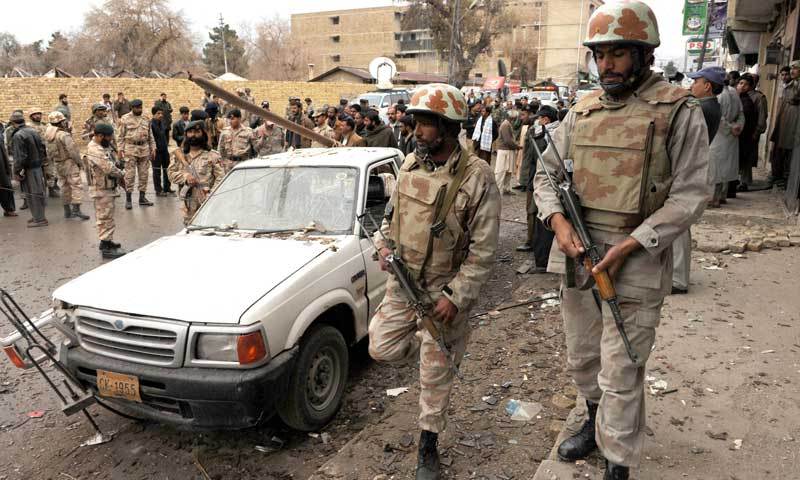 TURBAT: Five women, all clad in mourning black, are seated on the floor of a two-room mud brick home in a hardscrabble part of town. They have come to condole with Mah Khatoon, the widowed mother of a militant who was killed in an encounter recently. Her only surviving son lounges in the doorway of the room.
"There's no man left at home, so he had to return from Muscat where he was working," says an aunt. Until he finds a job in Turbat, the family must depend on handouts from relatives.
The insurgency in Balochistan claims a price in much more than blood alone. Women are particularly poignant victims. Although there is a tradition of educating girls in the Makran belt where Turbat is located, Balochistan is very much a patriarchal society and women are left deeply vulnerable without male relatives.
For many people in Turbat, the headquarters of Kech district, the conflict is taking an unacceptable toll on the Baloch youth. The enforced disappearances common in the area inflict unimaginable agony on the families, which spills out in anger not only against the state but against the insurgents as well.
---
Impact on education
---
"For the ordinary Baloch, life in Turbat is hell," says a human rights activist. "Young boys are either led astray by the separatists or the FC targets them. Why don't the militants let these lads study, make something of their lives? Why don't they find older men to fight their battle?"
Driving out Punjabis and other settlers from Makran — which comprises Kech, Mand, Gwadar and Pasni districts — has also adversely impacted education in the area, as these non-Baloch were prominently represented in the teaching and technical professions. Then there are incidents of blatant high-handedness by the Frontier Corps (FC), the security force deployed in the area, that further compromise the future of the younger generation, such as the takeover two months ago of the Technical Training Centre in Turbat where nearly 300 students were enrolled. According to an eyewitness, "The FC stormed into the premises in a convoy and took it over by force, throwing out the students and teachers on the spot. They've since turned the place into another camp for themselves."
A private girls' college located in a building owned by Balochistan National Movement leader Kachkol Ali has met with a similar fate. "It was forcibly occupied by Rashid Pathan on June 5, 2013 with assistance from the FC," claims Mr Ali from Norway, where he is in self-exile after threats, he says, from intelligence agencies. (Rashid Pathan is actually a Baloch who is widely alleged to be heading the local 'death squad', so called because such groups are said to be complicit in the abduction of Baloch men suspected of separatist sympathies.)
Meanwhile, ethnic tensions have fractured society. Pakhtuns and Punjabis living in the area left in droves after non-Baloch settlers began to be targeted by the insurgents who saw them as collaborators with the state.
"Those who took over the businesses that were left behind, mostly belonging to the Pakhtun, were non-local Baloch, in particular Marris and Zehris who are coming to settle here," says Nasir Gichki, a Turbat resident. "They're very business-minded unlike the Makran Baloch who prefer to work overseas and come home to indulge their expensive tastes."
"With very few exceptions, there are now no local Baloch who are tailors or barbers here. They're all non-local Baloch," explains another resident.
There are also other threats that bode ill for society.
About a month ago, a convoy of FC vehicles descended upon a Turbat hospital and cordoned off the building. According to witnesses, the FC took over the medical treatment of the head of a local madressah, Mufti Shahmeer Gichki, who was admitted there after suffering bullet injuries a day earlier. Many locals allege the mufti is closely affiliated with the security force.
A fiery orator, Mufti Shahmeer was attacked near Darmakol village, Turbat, by Baloch militants who claimed he had been fuelling sectarian hatred in the name of tableegh (preaching). Three among the party were killed and two others, including the mufti, were injured.
Observers in Turbat contend that to counter the insurgency in the province — which is secular in nature — the state is making cynical use of religion by promoting an ultra-conservative strand of Islam in the region. Small madressahs have mushroomed in Turbat. Many appear newly constructed, with paintwork that still looks fresh in the dry desert air. Significantly, they appear to have scarcely any students.
"This is a secular society and if they can afford it, people send their children to school rather than to madressahs," explains a social activist. "In fact, in many educational institutions girls outnumber boys."
The madressahs, say residents, are a front for state-sponsored groups from within Baloch society itself who have been given licence to use religion to intimidate and divide people. By virtue of their powerful connections, these individuals can get away with all manner of crimes, including drugs and fuel smuggling, land-grabbing, and worse.
Some residents point to the attack on a polio team on Jan 22, 2014 in Shahi Tump locality that, they allege, was carried out by the occupants of a nearby seminary. Although the madressah head was handed over to the local administration, a call from intelligence was enough to set him free, claims a local official.
According to Captain Usman Ahmed, second-in-command of the FC in Turbat, "The FC is deployed in the province to counter the Baloch insurgency, and yes, we will take help from anyone who will assist us in this but we evaluate their information very carefully."
---
Sectarian tensions
---
The emboldened right-wing elements in the region have begun flexing their muscles over the local population. In Pidarak, some 15kms from Turbat, an English language centre was visited by a group of clerics led by Mufti Shahmeer, who allegedly ordered the faculty, on pain of death, to stop teaching girls at the institute. Religion is a particularly potent weapon in Turbat, which is home to a sizeable minority of Zikris, a sect considered 'heretical' by many conservatives. One of their holiest sites, Koh-i-Murad, is situated in the vicinity and frequented by Zikris from all over the country.
"Thankfully there is as yet no religious conflict among the Baloch, not least because many Zikris and Sunnis are related through marriage," says Yasir Dashti, a local.
People believe that sectarian tensions are deliberately being stoked in order to further divide the Baloch. "All the pro-state actors that exist here do so within a religious garb," says a human rights activist. "There are many groups here in the name of religion — in madressahs, masjids, even mullahs' homes."
It seems that Turbat, like much of Balochistan, is on the verge of a war with itself.
Some names have been changed to protect people's identity.