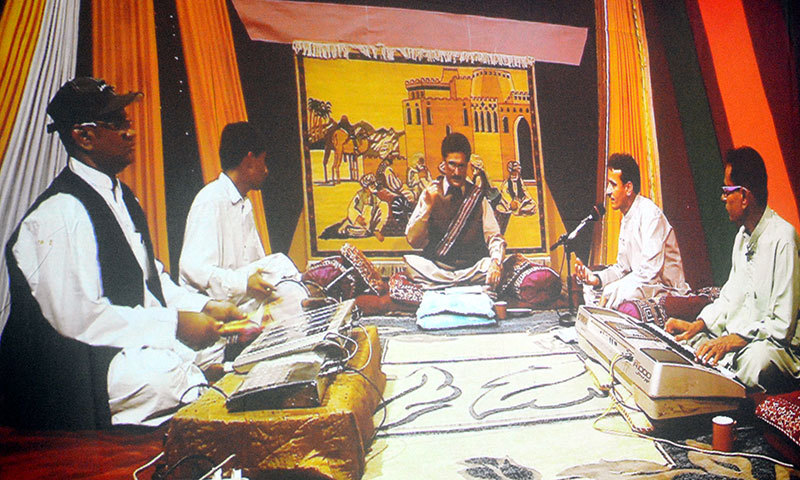 KARACHI: Dressed smartly and presenting their ideas eloquently to the audience seated across them, students belonging to Lyari's Youth Café had their seven short films screened at the Beach Luxury Hotel on Wednesday.
Organised by the Karachi Youth Initiative, the short films and documentaries shot and edited by the teenagers were based on a variety of ideas. From shrines to football grounds to young students taking up social work to raise awareness within their own circles about the multiple banes plaguing the area at present; each film had a unique message to send out to its viewers.
An associate producer at Sharmeen Obaid Chinoy films, Haya Fatima Iqbal was the driving force behind the basic training the young students received. "I have been with them since June last year, till January of 2014," said Haya minutes before the event started. "These students were not hesitant when it came to learning. They asked questions and didn't back off until you told them exactly what they needed to know. I hope they continue making films. Nobody can tell their stories better than them."
About her students, she said the ones she thought would be average outshone themselves by the end of the training. And the event was no different as every film in its own simple manner gradually left a strong impression on the audience.
Known mostly for gang warfare and drug peddling, the area was presented in a different light by the students who did not shy away from speaking their mind. At the end of a short film on football, Hidden Diamonds, producers Ehsan Shah, Arifa and Bakhtawar Ahmed made a candid point. "The only thing keeping us together is our sport, and if that is taken away, these children we spoke to in the short film will also opt for the easily available option available to them: joining one of the gangs," said Ehsan.
The team comprises three girls and six boys hailing from Lyari, apart from one student who joined them during trainings from Baldia Town.
Speaking to the audience before the screening, Sohail Rahi, vice president of the Youth Café in Lyari, said: "It's important for these stories to come out through a creative platform. For that we are willing to do everything for these children."
One story that stood out among other films was based on the blind musicians of Lyari. The stories included sound bites from a veteran tabla master and a sarangi player — both blind — speaking about their life and lessons learnt. In one of the scenes, the tabla master said: "Prayer also needs rhythm, or else it won't be able to attract disciples to a mosque."
In another documentary, two students made a short film titled Khalifa, in which the various subcultures within Lyari were spoken about in a beautiful mix of audio and video with a powerful narration.
A panel of judges, including journalist Faheem Siddiqui from the Geo TV channel, Abdul Rauf Kanbhar, formerly associated with Pakistan Television, and Nabeel Sheikh, technical supervisor at the KTN news channel, shortlisted three films — Hidden Diamonds, Khalifa and Donkeys on Wheels — for the top three positions, respectively.
The programme, which started with a few minor technical glitches, more than made up for it in terms of showing brilliant stories and beautiful cinematography. While the audience patiently waited, the host remarked: "Baray shehron main aisa to hota rehta hai."