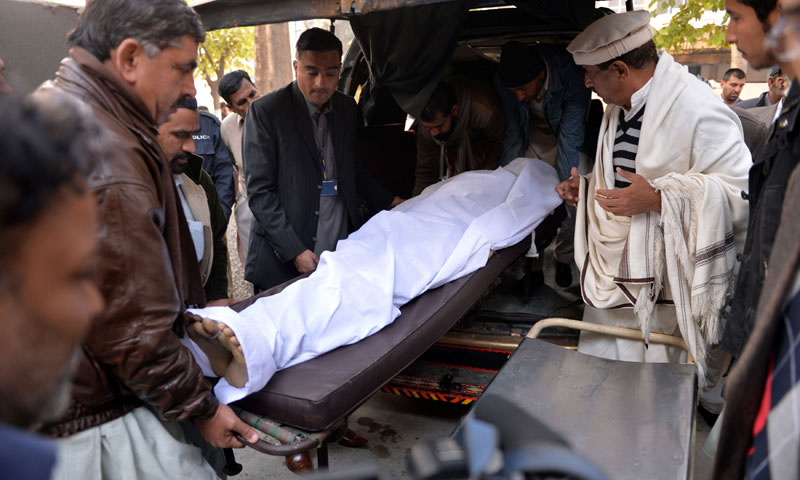 RAWALPINDI: At least 13 people were killed Monday in a bomb blast near the R.A. Bazaar in Rawalpindi, a day after one of the deadliest attacks on security forces in recent years.
A further 18 people were wounded in the blast which tore through the R.A. bazaar, close to the army's General Headquarters (GHQ), at around 7.45 am.
Superintendent of Police Potohar said six army personnel and seven civilians lost their lives in the attack.
Haroon Joya, a senior police official at the scene of Monday's blast, also told reporters six soldiers and seven civilians had been killed, according to news agency AFP.
"It was a suicide attack; we are collecting evidence from the spot. We have collected some body parts suspected to be of the suicide bomber," he said.
Earlier, the top government official in Rawalpindi, Sajid Zafar Dall, said 18 people were wounded in the blast.
"The attack occurred when children were going to school. Our initial assessment is that the bomber was possibly on a bicycle and he then approached the target on foot," Dall said.
The injured persons were taken to nearby hospitals and several were said to be in a critical condition.
Eyewitnesses describe the power of the explosion
The blast left the market place a mess of twisted shutters and rubble, with pieces of human flesh scattered on the ground, an AFP reporter said.
A bomb disposal officer said the device used five kg (11 pounds) of "very high quality" explosives and was packed with ball bearings and iron shards to cause maximum carnage.
"I was reading a newspaper after opening my shop and all of a sudden I heard a big blast," said Liaqat Ali, a grocery shop owner near the site.
"The intensity of the blast threw me off my chair. I rushed outside and saw smoke and smoke everywhere. I saw injured lying and screaming on ground."
Police and commandos cordoned off the area as ambulances took wounded to a nearby military hospital.
TTP claims responsibility
Tehrik-i-Taliban Pakistan (TTP) spokesman Shahidullah Shahid claimed Monday's attack as 'payback' for a deadly military raid on the Lal Masjid (Red Mosque) in Rawalpindi in 2007.
"It was carried by one of our suicide bombers to take revenge for the Red Mosque massacre," he told AFP.
Condemnation
President Mamnoon Hussain and Muttahida Qaumi Movement (MQM) chief Altaf Hussain strongly condemned the blast.
The attack came a day after a TTP bombing, targeting a security forces convoy, killed 20 people and injured 30 others near Razmak gate in Cantt area of Khyber Pakhtunkhwa's Bannu district on Sunday.