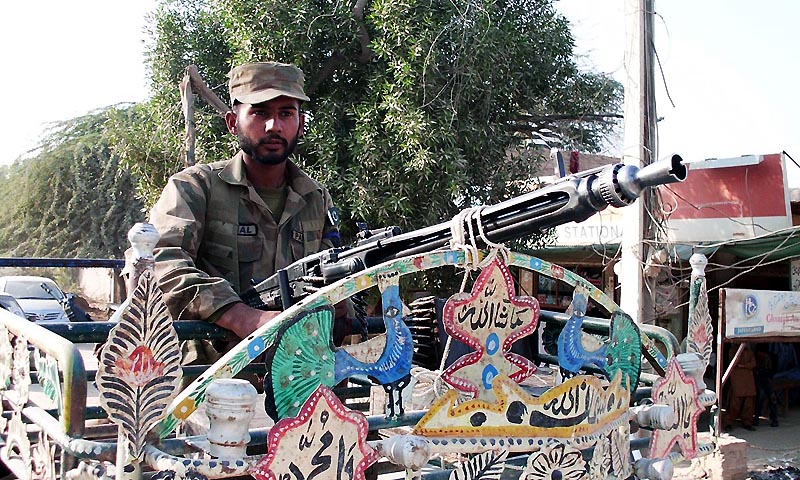 QUETTA, Dec 5: Over 50,000 security personnel have been deployed in Balochistan to maintain peace during local government elections in the province scheduled for Saturday.
Briefing media personnel here on Thursday, Col Tariq of Southern Command headquarters said a security plan had been finalised and the deployment of personnel across the province had been completed. He said the deployment process began on Dec 1.
Col Tariq said army personnel played an important role in dispatching polling materials to 32 districts of the province and for the purpose two helicopters were used.
He said security arrangements were made after taking into account all security threats, including militants' warnings. At least nine districts of the province have been declared sensitive for which special arrangements are being made.
He said personnel of police, Frontier Corps and Levies Force had been deployed at polling stations while army troops would be present in every district to deal with any untoward situation.
Under the plan, he added, 11 security personnel would be available for each 'very sensitive' polling station and nine for 'sensitive' polling station.
He said helicopters and small aircraft would be available for the support of security personnel in all the six divisional headquarters.
Among very sensitive districts are Mastung, Kalat, Khuzdar, Dera Bugti-Kohlu, Qila Abdullah, Washuk, Kharan and Panjgur.
Col Tariq said Kech district had also been declared sensitive, but majority of candidates in this district had been declared winner unopposed. However, he added, security personnel would patrol also all those areas where polling would not be held.
Col Tariq hoped that elections in the province would be held in peaceful manner.Meanwhile, Home Secretary of Balochistan Asad Gilani told media personnel that foolproof security would be provided to international observers visiting the province to monitor local government elections.
He said observers from European Union and other international organisations did not visit Balochistan to monitor general elections held in May this year due to security threats. But, they would monitor local government elections, he added.
The secretary said security arrangements for all 32 districts of the province had been finalised. He said 12,381 booths were being set up in 2,776 polling stations.