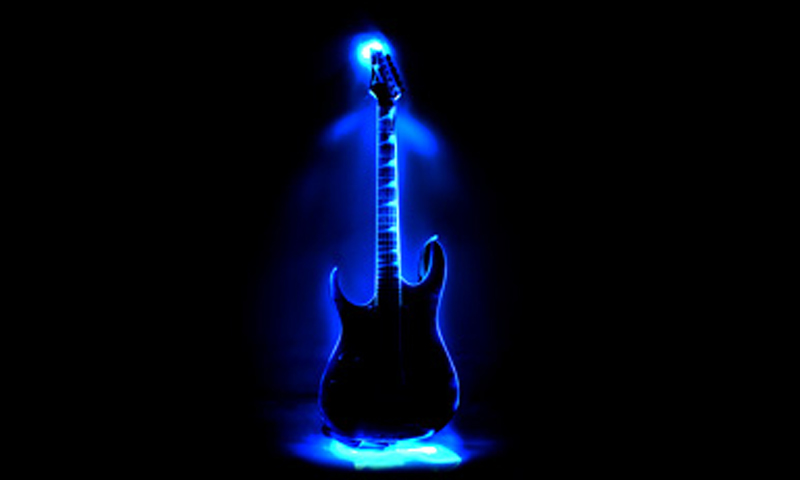 Pledging to continue playing music, underground musicians in Pakistan lament the many problems that dog them. They include high entertainment taxes, expensive music equipment, a dying concert and gig scene, "musically illiterate audiences" and the spectre of virtually no financial reward.
"The monstrous entertainment tax on musical events such as concerts and festivals needs to go," says Imran Khan Sumbal, bass player for an underground classic rock and blues band, The Mothership.
The Punjab government taxes the entertainment industry under the Punjab Entertainment Duty Act of 1958. The tax was reduced by the caretaker government of Najam Sethi from 65 per cent to 20 per cent in March this year. The Punjab budget for fiscal year 2013-14 made no further changes in the tax rate.
Underground musicians are still dissatisfied with the present rate. "The 20pc entertainment tax is killing the music industry. If the government is not putting money into the entertainment industry then it has no right to tax us so aggressively," says Altamash Sever, lead vocalist for hard rock band, Keeray Makoray.
The underground musicians feel disappointed with Pakistani music industry. "Our music industry has centred itself around the ideals of 'what would sell more'," rues Daniyal Nasir Mirza, lead vocalist for the hard rock band The Red Brick Act.
Rampant commercialism is widely seen as hindering underground musicians from coming onto the mainstream. "The music industry here has been taken over by a few Godfathers, whom I shall not name," Sumbal asserts.
"These people are operating the few recording studios in Pakistan and are promoting only the bands they think will be a commercial success, thus monopolising the selection process and harming what is supposed to be the productive evolution of music in Pakistan."
Besides, the music concerts and gigs scene in Pakistan is floundering. "The gigs scene used to be good before 2012 but now it is as good as dead," says Bilal Muneer, the lead guitar player for progressive psychedelic metal band DreamLed. Imran Khan Sumbal of The Mothership agrees.
Daniyal Nasir Mirza says a few bands get to perform at gigs or concerts organised by schools, and at times even get the opportunity to open for larger, better known acts. "Small gigs take place in Lahore at venues such as The Guitar School, Peeru's Cafe and True Brew Records. Large gigs are, however, not so frequent mainly due to the political situation in the country," explains Sever of Keeray Makoray.
Even when gigs do take place, underground musicians are seldom paid. Of all the bands Dawn spoke to, only the Keeray Makoray said they had been paid for their gigs. We haven't gotten paid for any gig yet. People don't want to pay to see new talent. They would rather pay to see wannabes and ridiculous excuses for musicians," says Shehryar Khan, lead guitar player for The Mothership.
"Big companies and sponsors do not finance or promote younger bands anyway," he adds, because they would rather invest in a commercial act they are sure will sell.
Bilal Muneer of DreamLed agrees. "The biggest problem with music in Pakistan is our musically illiterate society. In order to survive in the music industry, one has to play what our audience wants to listen, which is pop music. Many musicians like Faraz Anwar, the most technically sound guitarist in Pakistan, are not given that much respect and fame just because he doesn't play pop music."
"I would not be financially rewarded if I play my sort of music," he laments. Therefore, to support themselves most musicians have to find odd jobs. Muneer has been teaching guitar for five years, as has been Sumbal. Muneer is currently teaching music at a Beaconhouse School in Lahore, and Sumbal says he had to work a "torturous" call centre job just to buy a $500 guitar.
Music equipment is far too expensive, musicians say. "Quality musical equipment is not only rare, but is also ridiculously expensive because of the exchange rate," asserts Sumbal.
Even when music equipment is available, it lacks quality. "There are very limited shops in Pakistan that do sell quality equipment, and most of these businessmen selling music equipment are con-artists and frauds who sell B-grade equipment and claim it is genuine," laments Shehryar.
There is also a major disconnect between Pakistani underground musicians and their audiences. "It's definitely not easy being a rock band in Pakistan because you usually have a really limited following," states Sever.
This is echoed by Sumbal. "Very few people here truly enjoy the music we play, which is, unfortunately for us, largely influenced by vintage Western rock bands with a kind of sound that majority of the people here are alien to."
Many underground bands also face the language barrier. "Unless rock music, or any kind of music for that matter, is performed in Urdu, the music never appeals to the masses."
The English language in which these bands play music "scares away a huge chunk of (their) potential audience". Sumbal explains that they "acknowledge the fact and intend to do something about it in the near future – probably experiment with some lyrics in Urdu or Punjabi."
"In the west, they have youth centres where independent jam rooms can be rented out at nominal prices, where budding musicians can make the most of their talents. Also local jazz bars and music clubs provide a platform every week for all kinds of musicians to showcase their talents," adds Khan. He says no such facilities are available in Pakistan.
Despite the host of problems they face, underground musicians remain committed to playing music. All of those interviewed by Dawn said they saw themselves as musicians 10 years down the line. Bilal Muneer says "he would not leave playing guitar and teaching music for (his) life". These musicians "just want live shows" to play their music at, and they feel they can change the shape of music industry in Pakistan. "There are plenty of bands out there like ours who know exactly what they're doing. Just keep giving us live shows and we promise we'll change the sound-scape of our country for good," states Sumbal emphatically.