Please note: These do NOT include controversies to do with either match-fixing or spot-fixing that have already been written about on numerous occasions.
---
The Kardar eruptions
Abdul Hafeez Kardar was an average batsman and an occasional bowler.
But the fact that he had already played Test cricket for India before the creation of Pakistan in 1947, and that he was well-educated and a keen student of the game, persuaded the nascent country's cricket board to name him as the Pakistan's first ever Test captain.
Articulate and authoritarian by nature (1), Kardar, a graduate of Oxford University, became a suitable choice to captain a side of talented but diverse group of players many of whom could not even afford to acquire a proper cricketing kit.
Kardar consolidated his position as a stern, authoritarian but respected skipper by leading Pakistan to eight victories out of the 23 that it played under Kardar between 1952-1958.
---
---
This was a remarkable record for a side whose players were extremely underpaid and had to regularly borrow cricket equipment (including shoes) from friends and fans! (2)
Kardar's main weapons were the stubborn opener, Hanif Muhammad, and the prodigious swing bowler, Fazal Mehmood, when he led Pakistan to its toughest tour thus far, thousands of miles away from home: The Caribbean Islands (West Indies).
This was the tour that drained Kardar the most, as Pakistan fought hard in completely alien conditions and in front of hostile crowds. (3)
Pakistan lost the series 3-1. But this also meant that under Kardar, Pakistan had won a Test against every Test-playing side, except South Africa, that (in those days) didn't play against non-white teams (and vice-versa).
---
Exhausted, Kardar announced his retirement from the game at the age of 33.
In the late 1960s, Kardar befriended firebrand politician, Z A. Bhutto, and joined Bhutto's Pakistan Peoples Party (PPP). He was made the President of the Pakistan Cricket Board in 1972 when the PPP came into power after the 1970 election.
Pakistan cricket had slumped in the 1960s. The team played 33 Tests in the said decade (under 6 captains), but could only win 2.
Kardar was asked by Bhutto himself to head the cricket board and revive the team's floundering fortunes.
Known for his headstrong ways, Kardar presided over the board like he had over the team i.e. like an unbending dictator.
He was instrumental in inducting young blood into the side, and it was under his supervision that future starts like Imran Khan, Sarfraz Nawaz, Wasim Raja and Javed Miandad became mainstays in the team.
Though he retained the veteran Intikhab Alam as skipper till 1975, in 1976 he thought that the team was not producing the kind of results that its talent promised.
So he dumped Intikhab, and replaced him with the aggressive, Mushtaq Mohammad.
Mushtaq's brother, the master batsman, Hanif Mohammad, had played under Kardar and was still in awe of him. Kardar wanted to use this to his advantage and was sure that Mushtaq would be as obedient to him as Hanif was. (4)
But Kardar came in for a shock when he was directly confronted by Mushtaq during the latter's very first series as captain (against NZ, 1976).
Kardar kept involving Hanif and advised him to 'put some sense back into his brother's head' (5), but Mushtaq just wouldn't relent.
Mushtaq had asked for a pay raise for his players, but Kardar had refused. He threatened to drop Mushtaq and bring back Intikhab as captain. In fact, he did just that before Pakistan's twin tours of Australia and West Indies.
He got Mushtaq and his allies, Asif Iqbal, Majid Khan, Imran Khan and Sarfraz Nawaz, dropped by the selectors and chose a completely new squad for the long tour.
Before this, during the second Test against NZ in Hyderabad, Kardar had called up 11 first-class players and lodged them in the dressing-room in case Mushtaq and his team disagreed with him on the pay issue.
At the toss the Pakistan dressing room was actually cramped with about 25 players! (6)
The Bhutto regime's Law Minister, Hafeez Peerzada, intervened, and agreed to accept Mushtaq's demands.
Kardar was gutted. He resigned but was persuaded by Bhutto to carry on, until he was unceremoniously removed from the board's top post when General Ziaul Haq toppled Bhutto in a military coup in June 1977.
He quit the PPP in the 1980s and was leading a retired life when he was asked by Pakistan Television (PTV) to join its commentary panel for Pakistan's 5-Test tour of India in 1987.
---
---
As Imran Khan's Pakistan achieved a closely-fought victory in the last Test in Bangalore, Kardar couldn't control his emotions and blurted out (live on TV): 'We have beaten the Hindus in their own land …We have conquered the Hindus.'
Some blamed Kardar's more-than-a-passing liking for vintage Scotch for the statement while others explained that old age was taking its toll (even though he was just 62 at the time).
He passed away in his hometown, Lahore, in 1996 at the age of 71.
It is said that those who played under him in the 1950s couldn't ever get themselves to disagree with him or even see him in the eye even after decades.
---
Fazal's swan song
---
---
Lahore-born Fazal Mahmood had already cemented his reputation as a match-winning swing bowler (and Pakistan cricket's first 'sex symbol'), when he took over from Kardar as captain of Pakistan.
Though his performance as a bowler was enough to guarantee the respect of his team-mates, Fazal's stint as captain was continuously compared (by the press) with that of Kardar's.
In fact, soon after Kardar had announced his retirement, the then President of Pakistan, Iskander Mirza, had tried to persuade Kardar to stay on as captain. (7)
Kardar politely refused and Mahmood was made Pakistan's second cricket captain at the age of 31.
Flamboyant, charismatic and extremely popular, Fazal had been leading the team's pace attack and had almost single-handedly won Pakistan a number of Tests.
---
---
In his first series as skipper, Fazal's side defeated visiting WI side 2-1.
But discontent against his captaincy began to rise when Pakistan went down 2-0 against the visiting Australians in 1959 and the team then settled for a drab 0-0 draw in the 5-Test series against India in 1961.
---
---
The press believed that the burden of captaincy was contributing to Fazal's weak performances as a bowler and that the team needed a more aggressive captain. In other words, what the pundits meant was that the team needed another Kardar.
Then in early 1961 the cricket board suddenly sacked Fazal as captain.
Sections of the Pakistani press alleged that some players in the side had accused Fazal of exhibiting nepotism and favouritism in selection matters.
Angered by the board's decision, Fazal retired from cricket when he was not selected in the Pakistan team that toured England in 1962.
Pakistani cricket fans were expecting the team's leading batsman, Hanif Muhammad, to be given the reigns of the captaincy.
But the cricket board, still searching for another Kardar, pulled off a surprise by naming the then 24-year-old middle-order batsman, Javed Burki (8), as the team's new captain.
---
---
Burki was a highly talented middle-order stroke maker from Lahore who had graduated in 1960 from England's Oxford University. He had played only a handful of Tests before he was asked to lead the side during Pakistan's 1962 tour of England.
The tour was a disaster. Burki was in-charge of a squad that had broken up into two camps, one siding with the sulking Hanif and the other supporting the young Burki.
After Pakistan's pace attack on the tour broke down due to injuries, the board requested Fazal Mehmood to come out of retirement. He agreed and was sent to England. The decision to send Fazal was taken without consulting Burki.
Fazal's presence in England was not appreciated at all by Burki and his supporters in the team. (9)
They feared that Fazal would conspire with Hanif and try to reclaim the captaincy from the young (and struggling) Burki.
Though Burki used him to deliver 63 overs in the fifth and final Test, both were hardly on talking terms. Burki kept alluding that Fazal was sent by the board to topple him.
Nothing of the sort happened. Pakistan lost the series 4-0 and Fazal retired once again in 1962 at the age of 35.
---
---
---
Fazal became a cricket commentator in the late 1970s and his friendly and witty duals with former Indian batsman, Lala Amarnath, during the 1978 Pakistan-India series became extremely popular with TV viewers.
Fazal's tenure as commentator, however, was short-lived as he insisted on coining his own words for various cricketing terms. It is believed that it was Fazal who coined the Urdu word 'ranzain' (runs).
For example, during the Lahore Test in the 1978 series, this is how he went on to describe a ball (and its aftermath) by Pakistani pace bowler, Imran Khan: 'Imran bhaagtey hooay aye, gaindh karai, tapa ball (bouncer), Vishvanath ka sar kay ooper wala shot (hook?), fieldbaaz (fielder) gaindh kay peechay, par chaar runzein (four runs). (10)
---
---
Though not a religious man during his cricketing career, Fazal joined the Islamic evangelical organisation, the Tableeghi Jamat, in the late 1980s.
He passed away in 2005 at the age of 77.
---
---
---
Saeed's turnarounds
It is surprising that not many cricket enthusiasts in Pakistan remember Saeed Ahmed.
He made his Test debut in 1958 at the age of 21 and quickly cemented his place in the side as a prolific one-down batsman.
After scoring over 2,000 runs, Saeed began to imagine himself as the next Pakistan cricket captain.
Saeed's ambition in this respect was fulfilled when the cricket board elevated him to replace Hanif Muhammad as captain just before the series against the visiting England side in late 1968.
Though the series ended in a 0-0 draw, fans and players alike thought Saeed was an overtly defensive captain. The board also observed that he had not tried to develop any sort of rapport or empathy with the players.
He was replaced by Intikhab Alam in 1969.
Saeed made himself unavailable for the 1969 series against New Zealand and moved to England where he developed a great liking for the swinging nightlife of the era.
He returned to the side during Pakistan's 1971 tour of England but was only selected for one Test (out of three).
Pakistan lost the series 2-0 and Saeed again began to position himself to take over as captain.
Intikhab Alam was retained as skipper for Pakistan's 1972-3 twin tours of Australia and New Zealand and Saeed travelled with the squad as a middle-order batsman.
The three Tests in Australia were played on fast, green-top wickets. The one for the third Test in Sydney was the greenest. A day before the Test, Intikhab told Saeed that he would be playing him at his old one-down position in the Test.
Saeed refused, suggesting that he would be better off playing at number 6. Intikhab disagreed.
When the Pakistan team reached the Sydney Cricket Ground about two hours before the Test, Saeed went for a stroll towards the pitch. Looking that it was still as green as the day before, he told Intikhab that he was not feeling well and had strained his back while practicing. (11)
He was left out from the side. But soon someone noticed that Saeed, who was supposed to be suffering from a 'strained back,' was having a time of his life, dancing away at a Sydney nightclub.
An inquiry was launched by the skipper and the manager and it was decided that Saeed had lied about his injury. He was sent back home on disciplinary grounds.
Saeed returned to Pakistan and then moved back to England, but he never played for Pakistan again.
Twenty-five years later, in 1998, he suddenly reappeared on the cricketing scene at the Sharjah Cricket Stadium where Pakistan was playing an ODI tournament.
Former England captain and famous commentator, late Tony Grieg, spotted him hovering outside the Pakistan team's dressing room. Saeed was a completely changed man.
In an interview to Grieg, Saeed told him that he had 'rediscovered God' and had joined the Islamic evangelical group the Tableeghi Jamat in the late 1980s (12) and that he was here on the invitation of some Pakistani players who also wanted to join the Jamat.
---
---
It is believed Saeed played the initial role in bagging the first batch of Pakistan players for the Jamat.
Saeed is still associated with the organisation and continues to live a quiet life in the UK.
---
Madcap Raja
---
---
Extremely moody, painfully introverted and given to occasional spats of brooding, Wasim Raja made his debut in 1973 at the age of 20. Born in Multan, he came from a highly educated family.
Former Pakistan captain, Imran Khan, once described Raja to be one of the most talented batsman he ever played with, but also one of the most reckless. (13)
Raja's rapid century against the West Indies during the 1975 Pakistan-West Indies series is what got him his first dedicated group of admirers.
He didn't disappoint them when he smashed an almost match-winning fifty against the same side during the 1975 Cricket World Cup in England.
---
---
The Test (in Karachi) in which he got his first century also witnessed Raja's first brush with notoriety. While fielding on the boundary line, Raja worked up the crowd by turning towards it and then unzipping his trousers and mischievously threatening to show his … thing. (14)
Nobody quite remembers what prompted him to do this, but the Urdu press reacted by claiming that Raja had taken the field while drunk.
Raja answered the press by cracking his first century but then ending up in the hospital after being hit by a full-blooded pull shot by Clive Lloyd that fractured Raja's right foot.
Raja was dropped from the side just after one Test against the visiting New Zealand (for 'undisciplined batting') in late 1976. But he made it to the 17-member squad selected for the long twin tour of Australia and the West Indies under captain, Mushtaq Muhammad.
Raja could not find a place in the playing XI in the first two Tests during the Australian leg of the tour.
But he more than nudged captain Mushtaq and vice captain Asif Iqbal by blasting a quick-fire century in a side game against Queensland.
Sure to be picked up for the third Test in Sydney, Raja was told (by Manager, Sujahuddin) that Mushtaq and Asif have decided to play Haroon Rashid instead of him.
Raja had been drinking heavily in his room that night. He went into a rage. After smashing a mirror in his room, he stumbled into the hotel lobby, abusing the manager and accusing him of trying to destroy his career. (15)
Some Pakistani players, Mudassar Nazar, Salim Altaf, Sarfraz Nawaz and Zaheer Abbas, were enjoying a quiet drink at the hotel bar when they saw Raja stumbling over sofas in a drunken rage. They at once alerted the captain who rushed to the scene and calmed Raja down.
When the Pakistani press reported the incident, the board demanded that Raja be sent back home. But skipper Mushtaq vetoed the idea. (16)
Raja then went on to play all the 5 Tests during the West Indies leg of the tour, notching up over 500 runs in 5 Tests.
Famous WI cricket expert and commentator, Tony Cozier, writing for the Pakistan Cricketer observed that Raja had gathered hundreds of WI fans who 'fell in love with the man's caviller style of batting and demeanour.'
Reminiscing about the tour years later, a former Pakistan fast bowler, wrote in an article how during one of the Tests on the tour, Raja slipped out of the dressing room and mingled with a bunch of West Indian fans to smoke ganja (marijuana) with them.
He came back when a wicket fell, padded up, went in and lofted the 6'7 WI fast bowler, Joel Garner, for a first ball six over long off!
---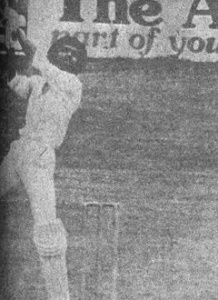 ---
When Pakistan won the fourth Test in the Port of Spain, one Jamaican newspaper, The Star, observed that the 'visitors were a hearty lot. They played their cricket hard and partied harder …"
---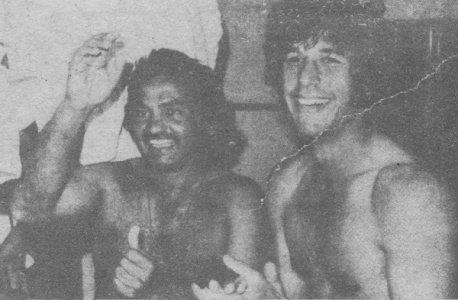 ---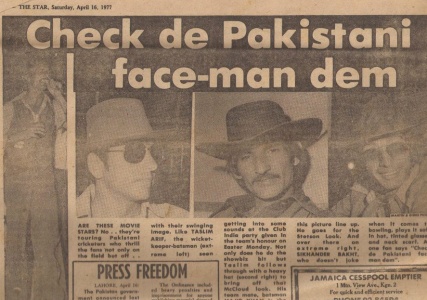 ---
Raja lost his place in the side again during the 1978 Pakistan-India series, only to come back in for the 1979 World Cup in England.
After making impressive scores, he was however dropped from the playing XI for Pakistan's semi-final game against the WI.
After the tournament, fast bowler Sarfraz Nawaz, alleged that both Raja and he were 'punished' and 'unfairly treated' by new skipper, Asif Iqbal, for 'not toeing the party line.' (17)
---
---
Though Nawaz refused to tour India under Asif in late 1979, Raja went and smashed 500-plus runs in the disastrous series that Pakistan lost 2-0.
He was Pakistan's most successful batsman on the tense tour and this somewhat got him lesser flack from the Pakistani press that began to suggest that Pakistani players were spending more time partying than concentrating on cricket.
Though it was Imran Khan's alleged affair with Bollywood bombshell, Zeenat Aman, that made the headlines in both India and Pakistan's tabloid press, Raja was accused of going into bat while being under the influence of alcohol.
A member of Pakistan's tour management quipped that if Raja really was drunk while batting then all batsmen should go out to bat drunk because Raja had cracked more than 500 runs in six Tests on the tour!
---
---
Raja's popularity with female fans hit a peak (along with Imran's) in 1981 (18), but during the team's 1981 tour of Australia, Raja met and fell in love with a young Australian woman.
In 1981, the couple married.
---
---
---
After his marriage in 1981, Raja's eccentricities decreased and he managed to hang on to his place in the side till 1985.
In the late 1980s he moved and settled in England, and for a brief stint was also the Pakistan cricket coach.
---
---
In 2006, he died of a heart attack while playing a veterans match in England. He was only 54.
---
Better safe than Saf
Fast bowler, Sarfraz Nawaz, made his Test debut at the age of 20 in 1969. But it wasn't until 1974 that he came into his own, both as a cricketer and (according to one of his captains), 'an enfant terrible.'
A brawler, heavy drinker and clubbing enthusiast, the 6'4 Nawaz was described by Mushtaq (19) and Imran Khan of being a bipolar personality who would give his all on the cricket field but was prone to break every rule laid out by the board and the team management.
For example, Mushtaq was always astonished to discover how Nawaz regularly broke team curfews by slipping out of hotels and 'drinking, womanising and partying (20) at clubs till the wee hours of the morning but would then be the first one to arrive on the ground!
Another former captain, Intikhab Alam, suggests that it was Nawaz who (during Pakistan's 1974 tour of England) introduced Imran to the wonders of London's nightlife, something Khan's elder cousin, Majid Khan, became very concerned about.
Nawaz during the 1974 England tour.
Nawaz is also credited for being the first Pakistani cricketer (along with Javed Miandad) to have adopted the Australian tactic of 'sledging' – in which a bowler/fielder hurls abuses and rude sarcastic remarks and taunts at batsmen to unnerve them.
Mushtaq and Khan describe how Nawaz and Miandad both became 'terrors' on the field, especially between 1976 and 1979.
Nawaz would spit abuses (in Punjabi!) at the Australians but his main target remained to be India's classy opener, Sunil Gavaskar, who (during India's 1978 tour of Pakistan), had to repeatedly approach Pakistani skipper Mushtaq Mohammad, asking him to 'control Sarfarz.'
Nawaz was a huge Z A. Bhutto fan as well. So he was pretty ticked off when General Ziaul Haq toppled the Bhutto regime through a military coup in July 1977.
During a side match against the visiting England side in December 1977, a television camera (and, more so, boom microphones placed on the line), accidently captured the image and sound of Nawaz talking (in Punjabi) to a friend on the boundary line: 'Ay bhen@#d Zia kana, kadi tak ay?' (Till when we have to tolerate this f@*king cockeyed Zia?).
The camera jerked and as if in a panic immediately moved to showing another part of the ground and the microphones was switched off.
During the first Test in the 1979 Pakistan-Australia series, after bowling Pakistan to an almost impossible victory (bagging 9 wickets in an innings), Sarfraz was interviewed by an Australian TV commentator who asked him how did the team plan to celebrate the win.
'Oh, well, with a few drinks …' Sarfraz said.
But after realising that sale of alcohol (to Muslims) had been banned in Pakistan in April 1977 and that the interview was being beamed live to Pakistan (from Melbourne), he checked himself to add: '… I mean, soft drinks, soft drinks … we will celebrate with soft drinks.' (21)
---
---
---
Though Sarfraz would become a lot more controversial after his retirement when he began to take names of players he thought were involved in match-fixing, it all started during the 1979 World Cup in England.
During the event he had a huge row with new skipper, Asif Iqbal, who accused Nawaz of continuously breaching the rules by staying out late at night and not attending practice sessions and team meetings.
After the tournament, Nawaz told Pakistan's cricket monthly (the now defunct Pakistan Cricketer), that Asif had formed a clique of players around him and that any player who refused to agree with him was admonished and ignored on the tour. (22)
He said Asif had made sure to drop him (Sarfraz) in some matches for no apparent reason and then dropped Wasim Raja for the all-important semi-final game against the West Indies, in spite of the fact that Raja had an impressive record against the Windies.
'Raja and I were treated like strangers on the tour, just because we weren't Iqbal's yes men' he added.
---
---
The controversy turned even uglier when Mushtaq Mohammad was replaced by Asif as Test captain just before Pakistan's 1979 6-Test tour of India.
Sarfraz accused Asif of conspiring against Mushtaq. He then refused to be part of a team led by Asif Iqbal.
Nawaz returned to the side when Asif retired from the game in early 1980.
Sarfraz himself retired in late 1982, but was coaxed out of retirement by his then best friend and fast bowling partner, Imran Khan, who had become Pakistan's captain in May 1982.
Nawaz finally retired from the game in 1984 at the age of 35.
However, in the 1990s, Nawaz had a falling out with Imran when Khan became a 'born-again Muslim'.
Nawaz accused Khan of being a hypocrite and Khan retaliated by calling Nawaz 'mad.'
---
---
In 1994 when Pakistani players Rashid Latif, Aamir Sohail and Basit Ali came out and accused a number of their teammates of being involved in match-fixing, Nawaz became their biggest supporter.
Then in 1999, he even went on to suggest that match-fixing was actually started by Asif Iqbal and Sunil Gavaskar during the 1979 Indo-Pak series (23). Both the players retaliated by saying that Nawaz had completely lost his mind.
---
---
Sarfraz married thrice in his life. Today he lives alone and refuses to take back any of his accusations against some of his former teammates, even if this means that he would most probably never be able to find any worthwhile position in Pakistan cricket anymore.
---
Citizen Khan
---
---
Coming from a cricketing family, Imran Khan, studied at Lahore's prestigious Aitchison school and then went on to pick up a Masters degree from Oxford.
He made (a rather unremarkable) Test debut at the age of 19 in 1971 and was quickly forgotten about until called back into the side in 1974.
---
---
---
Under the guidance of captain Mushtaq Mohammad, and the tutelage of friend and fellow bowler, Sarfraz Nawaz, Khan gradually rose to become a premier quick bowler.
His breakthrough moment arrived in the third Test during Pakistan's tour of Australia in 1976. The team was one down in the 3-Test series, but Khan bowled Pakistan to a historic victory by taking 12 wickets in the game.
It was also during this Test that Khan experienced his first taste of controversy.
Australian players, especially tearaway fast bowler Dennis Lillee and wicketkeeper Rod Marsh, had been sledging the Pakistanis throughout the tour.
Pakistani skipper Mushtaq Mohammad decided to turn the tables by letting lose his two fast bowlers, Imran and Sarfraz, and allowing them to bowl bouncers at Australia's tail-end batsmen.
Khan was particularly vicious on Lillee and Marsh, bowling them bouncers despite being warned over and over again by the umpire.
As Sarfraz continued to abuse the batsmen with choice Punjabi words, Khan kept bowling short and then running up to the batsmen to give them a menacing stare. And every time Khan did that, the 19-year-old Javed Miandad, standing at silly point, would keep repeating (to Marsh and Lillee), 'he kill you, now he really kill you!' (24)
The umpire finally stopped the game when a Khan bouncer flattened Lillee. Mushtaq intervened and asked the umpire why he hadn't stopped Lillee from bowling bouncers to Pakistani tail-enders?
The issue was resolved when Mushtaq loudly told Khan to stop bowling bouncers. However, when Khan reached his bowling mark, Mushtaq told him to 'aim right between the bastard's eyes.' (25)
---
---
---
Interestingly, Khan's performance (and looks) turned him into a 'sex symbol' first in Australia than in his own country.
But when he returned to the Pakistan side in 1978 (after being banned for joining Kerry Packer's league in Australia), his rise as more-than-a-cricketing-star gripped Pakistan as well.
Newspapers began to report his frequent 'love affairs' in the UK and how he was a 'nightclub magnet' who made sure to frequent almost every nightclub in the cities that the Pakistan cricket team toured. (26)
When he landed in India with the Pakistan team during the 1979 Indo-Pak series, the Indian tabloids were the ones that first used the word 'playboy' for him.
Khan celebrated his 27th birthday with his teammates in the dressing room of the cricket stadium of Bangalore. But some Indian tabloids reported that in the evening he was seen 'escorting Zeenat Aman,' the Bollywood bombshell.
---
---
---
When during the second Test, Imran could not bowl more than two over due to a back strain, the Zeenat Aman news was picked up by the conservative Urdu press in Pakistan. It lambasted the team for indulging in 'immoral activities' and spending the nights at clubs and with Indian actresses.
The truth was the team had partied much harder during the 1976-77 Australia and West Indies tour, but the difference now was that it wasn't performing as well as it had on those tours.
---
---
Pakistan lost the series 2-0 and one Urdu newspaper went on to actually suggest that Zeenat Aman was responsible for giving Khan a bad back!
Many years later, Indian author, Shobhaa De, asked Aman about her supposed fling with Khan in 1979. Aman replied that there was nothing serious between the two and that she found him to be 'arrogant and rude and very impolite to his fans.' (27)
However, one of India's most respected monthlies, India Today, reported in 1984, that the affair was actually very serious and that the two even came close to getting married. (28)
Stories about Imran's affairs with British women continued to flow, but as he made peace with his 'playboy' image, he found himself embroiled in yet another controversy.
Asif Iqbal retired from the captaincy and the game after the 1979 debacle against India and was replaced by the 23-year-old Javed Miandad. But by 1982, ten players (led by Majid Khan) refused to play under him including Imran (see next section).
The turmoil led to Khan being made the captain. He would go on to become one of Pakistan's most popular and successful captains.
He obviously had a brief falling-out with Miandad but both soon patched up.
Ironically, it was with his cousin, mentor and the leader of the anti-Miandad rebellion, Majid Khan, that Khan had one of his hardest fall-outs with.
During the 1982 tour of England, Imran decided to drop Majid from the first Test and instead play the young Mansoor Akhtar.
Majid who was the dashing, stylish and prolific mainstay of the team's batting line-up ever since the early 1970s was livid, in spite of the fact that he had lost his form.
On Imran's own admission, Majid hasn't talked to him properly till even today, more than thirty years after the initial spat.
---
---
After beating Australia and India in 1982-83 (3-0 each), Khan developed a serious stress fracture in one of his shins and had to quit the game for a while.
He had picked 40 wickets in 6 Tests against India and was at the peak of his bowling when he broke down. His brief exit plunged Pakistan cricket back into disarray and in-fighting.
---
---
Khan returned to the side in 1985 and after playing for a while under Miandad, he was again made captain. Miandad became his deputy.
In 1986, controversy came calling again. Qasim Omar, who had established himself in the side as an elegant, young batsman, returned from Pakistan's 1986-87 tour of Australia and immediately held a series of press conferences.
In the first conference, he accused Khan of being jealous of him.
Qasim claimed: 'I made a fifty in a match, and then raised my bat to the applause of the crowd. Instead of being praised by the captain, I was abused by him for getting out and he then went on to insult me.'
As Khan rubbished the accusation, Qasim retaliated by issuing a statement alleging that Imran Khan and his team were heavy users of hashish (cannabis), and that they would smuggle the drug (for their own consumption) from city to city in their batting gloves.
Qasim also alleged that during the Australian tour, players were allowed to bring prostitutes into their hotel rooms. (29)
It was Khan and the team's good luck that they had been performing well and this made Qasim sound bitter and (as one sports journalist noted, 'imbalanced').
Qasim was banned by the board for making unsubstantiated accusations against the captain and the national team. In the early 1990s, he joined the Islamic evangelical organisation, the Tableeghi Jamat.
But as Khan's team continued to produce successful results, the drug controversy returned right after the 1987 Pak-India series (in India) that Pakistan famously won.
To neutralise Indian spin bowling, Khan had revived former left-handed Pakistan batsman, Younis Ahmed's career by inducting him into the side.
Younis had played a couple of Tests for Pakistan in 1969-70, but was banned by the Pakistan government when he toured South Africa with an English club team in 1971.
South Africa was under a racist (apartheid) regime in those days.
Younis, a highly talented batsman, had continued playing county cricket in England and was 40 when he was re-inducted into the Pakistan side by Imran.
However, just before Pakistan's 1987 tour of England, Younis issued a statement alleging that Imran Khan was a bad influence in the team because he encouraged his young team members to consume drugs and indulge in womanising.
Though some Pakistani newspapers demanded that Ahmed's accusations be looked into, Khan and his team were at the height of their popularity after beating India in India.
But Younis did not relent. In an interview he gave to the popular cricket magazine (the now defunct Pakistan Cricketer), Younis alleged that at a party during the India tour, he saw Khan smoking dope.
Younis said: 'When I saw a cigarette in his hand, I asked him whether he had started to smoke. He smiled and told me this was no ordinary cigarette. Some of the players who were also there started to laugh. So I asked him what he meant, he took a long puff of the cigarette and then handed it to me, saying, 'try it.' I soon found out it was a hashish joint.' (30)
Khan again rubbished the accusations, suggesting that Ahmad was just miffed at him for not selecting him for the England tour.
*(In 1993, six Pakistani cricketers were arrested from a Grenada beach for smoking ganja) during Pakistan tour of WI under Wasim Akram.
---
---
---
Though controversies about Imran's sexual escapades and drug usage continued to crop up, he went on to lead Pakistan to win the 1992 World Cup in Australia.
He is still remembered as one of the finest cricketers produced by the country and certainly its best captain.
He not only reintroduced the kind of unity and spirit that was absent in the team after Mushtaq Mohammad's retirement, but also nurtured a series of quick bowlers (Waqar, Wasim, Aaqib), young batsmen (Inzamam, Ramiz, Salim Malik, Ijaz Ahmed) and wily spinners (Abdul Qadir, Mushtaq Ahmed), turning them into match winners.
He was more than helped in running a successful side by his vice captain, Javed Miandad.
Both of them became the two most important players in the Pakistan side. Famous Pakistani cricket commentator, Chisti Mujahid, once said, together, Khan and Miandad, were 'a powerhouse of cricketing strategy and ability.'
Recently while talking (on TV) about their playing days, Ramiz Raja and Wasim Akram said that Khan was a stern captain but a very caring one.
They added that Imran and Miandad set tough standards and would not tolerate anything less than full commitment, but they also made sure that playing cricket and touring was also fun for the boys.
---
---
---
---
---
Javed must go
---
---
Identified as a batting prodigy, Javed Miandad made his Test debut in 1976 at the age of 19.
By the time he was just 23 he had become the captain of the Pakistan cricket team.
Miandad had rapidly rose to become a regular in the team and he was specially nurtured by captain Mushtaq Mohammad who found in this prodigious, mischievous and cheeky player a brain that was capable of understanding the game on a very mature level.
In 1979 when Asif Iqbal retired from cricket after Pakistan suffered a 2-0 defeat in India under his captaincy, he was expected to be replaced by two other seniors, either Majid Khan or Zaheer Abbas.
But the Pakistan cricket board asked former captain Mushtaq Mohammad (who had alleged that his captaincy was toppled by Asif Iqbal in 1979) to take over as captain again for the 1980 series against the visiting Australian side.
While deliberating the matter of captaincy with the board, Mushtaq instead suggested young Miandad's name. (31)
The new chief of the board, Nur Khan, who was also a great believer in Miandad's potential of becoming a good captain, agreed, and the 23-year-old was elevated as the country's new cricket captain.
There was some grumbling among the seniors in the side, but since major players like Zaheer and Majid had been so out of form on the Indian tour, they concentrated more on retaining their place in the side.
---
---
Miandad won his first series as captain, defeating Australia 1-0. But the team lost to the visiting West Indians 1-0. However, Miandad was retained as captain for Pakistan's return tour to Australia where it lost the series 2-1.
By the time the Sri Lankan team arrived to play its first Test series against Pakistan in early 1982, both Zaheer and Majid had re-established their place in the squad.
So when the board again named Miandad as captain for the series, both the players refused to play under him. (32)
Miandad was shocked. He first thought that it was just Majid and Zaheer, but then Nur Khan called him to inform that there were more cricketers involved in the mutiny.
Now Miandad believed that the old Karachi vs. Lahore conflict was rearing its ugly head again. Miandad was from Karachi and thought that Lahore players in the side were the ones who were stirring things up.
But he was confident that Lahore guys like Imran Khan, Sarfraz Nawaz and Wasim Raja won't lend any support to the mutiny. He was wrong.
Not only had Majid and Zaheer gotten support from all the Lahore players, including Mudassar Nazar, they had also got on board Karachi players like Iqbal Qasim, Mohsin Khan, Wasim Bari and Sikander Bakht. Miandad was gutted.
Majid and Zaheer had managed to get signatures from a total of eight players on a protest letter to the board that suggested that Miandad was 'immature' and 'rude to the seniors' (34) and that they will not be available to play under him.
When Miandad led a completely rehauled side in the first Test of the Sri Lankan series, the general stands at Karachi's National Stadium erupted with demonstrations against the mutineers. (35)
Posters and effigies of the rebelling players were set on fire, especially those of Zaheer, Majid and Imran.
The Karachi press continued to dub the controversy as yet another example of the Lahore players' 'hatred' against Karachi's Javed Miandad (36) – even though four of the signatories, Qasim, Bakht, Bari and Mohsin, were from Karachi.
At the start of the second Test, Mohsin Khan and Wasim Raja decided to break from the rebel squad. They joined the team for the second Test.
Iqbal Qasim also declared his availability for the third Test, but by then Miandad himself finally suggested a way out when he offered the board his resignation.
Nur Khan stressed that the board was with him, but Miandad had made up his mind – but only on one condition: That neither Zaheer nor Majid would replace him. (37)
---
---
The board agreed and the rebellion was over. Pakistan won the series 2-0. Both Majid and Zaheer were bypassed and Imran Khan was made the new captain.
Some twenty years later, Miandad suggested that most mutineers were not really against his captaincy. He said they went along with Majid and Zaheer because they thought the board would make one of them the new captain.
Nevertheless, Miandad later went on to captain Pakistan in 34 Tests (same as Imran). (38)
But in 1993, he faced another mutiny, this time led by Wasim Akram and Waqar Younis. He again resigned and was replaced by Akram. Younis was named the vice captain.
However, in 1994, Younis pulled off a mutiny involving ten players against Akram. Akram resigned and Salim Malik was made the 'compromise captain.'
---
---
---
Faith wars
Former Pakistan cricketers, Inzamam-ul-Haq, Saeed Anwar and Mushtaq Ahmed at an event hosted by Islamic evangelical organisation, the Tableeghi Jamat.
Till about the late 1990s, Pakistan cricket teams were known more for pulling off unpredictable and exciting results on the field (either way) and indulging in raunchy activities off it involving women, drink and clubbing.
They were a far cry from the teams that began to take shape from 2001 onwards, in which, (at one time between 2004 and 2007), more than half the side were directly involved in the preaching activities of the Tableeghi Jamat.
It all began in 1999 in Sharjah where the Pakistani squad under Saeed Anwar's captaincy was competing in an ODI tournament.
Former Pakistani cricketer and a committed party animal, Saeed Ahmed, who had joined the Tableeghi Jamat in the 1980s, managed to make his way into the team's dressing room.
---
---
He was allowed to give a 'religious lecture' to the squad that politely admonished the players' off-field activities. On his way out, he left behind a few cassettes containing the speeches of some of the Jamat's top preachers.
Players like Mushtaq Ahmed, Saqlain Mushtaq and Saeed Anwar took the recordings with them when Pakistan went on the 1999-2000 tour of Australia under Wasim Akram's captaincy. (39)
By 2001, all the three players had joined the Jamat and changed their lifestyles and appearance.
---
---
---
When Pakistan was eliminated from the 2003 World Cup in South Africa, all three saw their careers coming to an end. But so did the careers of Waqar Younis and Wasim Akram.
When wicketkeeper Rashid Latif was dropped as captain after just three Tests, Inzamam was given the job.
Now leading a team that had lost a number of its top players and riddled with intrigues and opposing camps, Inzamam discussed the matter with his good friend Mushtaq Ahmed.
Mushtaq asked him to find solace in God and took him to the Jamat's annual gathering in Raiwind.
By 2004, Inzamam was in the bag of the Jamat that (from the mid 1990s) had been working to recruit men from Pakistan's sporting and show-biz world.
Inzamam then used religion (or at least the Jamat's version of it), as a tool to resurrect the side.
He started inviting various preachers from the Jamat into the dressing room and soon, most players began to fall in line.
A select group of Jamat members began to travel and stay with the team, even on tours. Players were encouraged to keep beards and pray together.
Some observers believed that Inzamam's strategy had done wonders for the team, uniting it and turning it into a well disciplined set of players.
Even non-Muslim coach, Bob Woolmer, agreed that the induction of faith had boded well for the team.
---
---
But just as cricket fans were curiously and even admiringly seeing the birth of a new culture in Pakistan cricket, Pakistan's leading Urdu newspaper, Jang, ran a story in January 2005, claiming that not all was quite well in the team.
The story claimed that the Jamat was applying pressure on Inzamam to further 'Islamise' the team. As a consequence, the story added, Inzamam was trying to recruit those members of the team who had not already joined the Jamat.
The report suggested that the Jamat had been particularly interested in getting the flamboyant Shahid Afridi into its fold, and after much plodding and work, finally managed to make Afridi join the evangelical group. (40)
Afridi's lifestyle was as wild as his batting. But talking to Jang he said: 'This is now a very different team. In the past we used to go out to clubs after the day's play. Now we go out and pray together. I am glad I made this decision (of joining the Jamat). It has united the team again.' (41)
---
---
---
But the news report seemed to have (uncannily) opened up a Pandora's Box. What was being seen as a smart and admirable tactic of utilising faith to construct a united team began to drift towards becoming a controversy.
Soon, further news began to spill out that at least three cricketers were not happy with what became to be known as 'Inzamam's Raiwind regime.'
Two of these players were Abdul Razzaq and Younis Khan. Though Younis was already a very religious man (who even fasted during matches), he did not appreciate the fact that the team was being asked to openly exhibit its new-found religiosity.
In an interview that he gave to the Pakistan English daily, The News, in early 2009 when he became captain, he said: 'What this (show of religiosity) did was that it made most players very introverted. They stopped going out and socialise; they also stopped interacting with other teams.'
But the most vocal critic of Inzamam's 'Raiwind regime' was tearaway fast bowler was Shoaib Akhtar.
A mercurial and wild character in the mould of Sarfraz Nawaz, Akhtar continued to confront and question Inzamam's tactics.
'I usually do the opposite of what I am told to do,' he later wrote in his book. He wrote that Inzamam and the Jamat were pushing down religion down the players' throats. (42)
By 2007, Akhtar was perhaps the only player left in the team who was still reflecting the old, raunchier and irreligious culture of Pakistan cricket teams of yore – even though Mohammad Asif was not so far behind, having a particular liking for beer and hashish.
But as Akhtar ranted and raved, threw tantrums and brawled his way across episodes that included drug and drink binges and obsessive womanising, he retained a very healthy respect for Inzamam as a batsman at least.
Shoaib was also the only player in the side whom the Jamat members that accompanied the team simply refused to approach.
Pakistan cricket journalist, Osman Sammiuddin, noticed that 'either they (the Jamat people) were just too scared to go near him, or they found him to be beyond repair.'
---
---
The whole simmering but quiet controversy about the Jamat's involvement in the team finally erupted into a full-fledged drama when Pakistan was eliminated from the 2007 World Cup in the West Indies.
It lost badly to the lowly rated Ireland team, and then coach, Bob Woolmer, suddenly died in his room in mysterious circumstances.
Shoaib Akhtar, who was not part of the squad, bemoaned the fact that an over-indulgence in religion had become a distraction for most players and they just lost the will and spirit to compete like they used to.
The team's media manager, Pervez Mir, was much harsher. In a press conference after the tournament, he claimed that many team members used to go out and try to convert West Indian civilians instead of coming to the ground to practice.
'Is this what they are paid to do?' He asked. He also added that Woolmer had confided in him that he just couldn't sit down with the players and strategise because they were always going off to either pray or preach.
After the debacle, the Pakistan cricket board asked the team to keep faith a private matter and disallowed any overt display of religiosity during matches.
Inzamam retired, but when three Pakistani players were caught red-handed in a spot-fixing scandal in 2010, Sarfraz Nawaz noted: 'In last many years, the Pakistan team and management has been a spectacle of moral hypocrisy.'
---
---
Things settled down a bit when Misbah-ul-Haq took over as captain in 2011.
A quiet, calm and extremely private man, the religiosity factor in the side too became exactly that: Quiet, calm and extremely (if not entirely) private.
---
---
References:
(1) Masood Hassan, This was a man (The News, April 22, 2012). (2) Fazal Mehmood, From Dusk to Dawn (Oxford University Press, 2003) p.198. (3) Stephen Wagg, Cricket & National Identity in Post-Colonial Age (Routledge, 2005) p.123. (4) Hanif Muhammad, Playing for Pakistan (Oxford University Press, 1999). (5) Mushtaq Muhammad, Inside Out (2010). (6) Ibid. (7) Fazal Mehmood, From Dusk to Dawn (Oxford University Press, 2003) p.198. (8) Javed Barki is the first cousin of two other Pakistani Test cricketers, Majid Khan and Imran Khan. (9) Ibid p.88. (10) Related by former Pakistan English commentator, Omar Kureshi, in a conversation with the author in 1989. (11) Dr. Nauman Niaz, Pakistan Book of Cricket (Vol:2), (Pakistan Cricket Board, 2005). (12) Saeed Ahmed's interview taken by Tony Greig and broadcasted like from the Sharjah Cricket Stadium in November, 1998. (13) Imran Khan, An All Round View (Random House, 1984). (14) Raja's ton: (The Pakistan Cricketer, February 1975). (15) Mushtaq Muhammad, Inside Out (2010). (16) Ibid. (17) Sarfraz Nawaz interview (The Pakistan Cricketer, September, 1979). (18) Rehana Hakim, Will The Real Raja Please Stand Up? (HERALD, January 1981). (19) Mushtaq Muhammad, Inside Out (2010). (20) Ibid. (21) Post-match interview given to ABC commentator, 15 March, 1979. (22) Sarfraz Nawaz interview (The Pakistan Cricketer, September, 1979). (23) Prove it, Gavaskar challenges Sarfraz: (Rediff, March 1999). (24) Mushtaq Muhammad, Inside Out (2010). (25) Ibid. (26) Christopher Sandford, Imran Khan: The Cricketer, The Celebrity, The Politician. (27) K. V. Surendran, Indian writings: Critical perspectives (Sarup & Sons, 2000) p.349. (28) India Today Vol:9 (1984) p.80. (29) 'Test Star Revels Sex & Drugs in International Cricket' (The Mirror, 12 June). (30) 'Is The Skipper a Junkie?' (Pakistan Cricketer, May 1987). (31) Mushtaq Muhammad, Inside Out (2010). (32) Javed Miandad, Cutting Edge (Oxford University Press, 2003). (33) Ibid. (34) Ibid. (35) Personal experience. The author was present during episode. (36) Gul Hameed Bhatti, 'Miandad and Majid Don't See Eye to Eye (The Pakistan Cricketer, December, 1981). (37) Javed Miandad, Cutting Edge (Oxford University Press, 2003). (38) In 1994, another ten-man mutiny erupted. This one was led by Waqar Yunus against the captaincy of Wasim Akram. (39) Amir Mir, Talibanization of Pakistan (Biteback Publishing, 2011). (40) Shahid Afridi nein bhi Tableeghi Jamat ka khairmakdam kar diya (Jang, January, 2005). (41) Ibid. (42) Shoaib Akhtar, Controversially Yours, (HarparCollins, 2011).