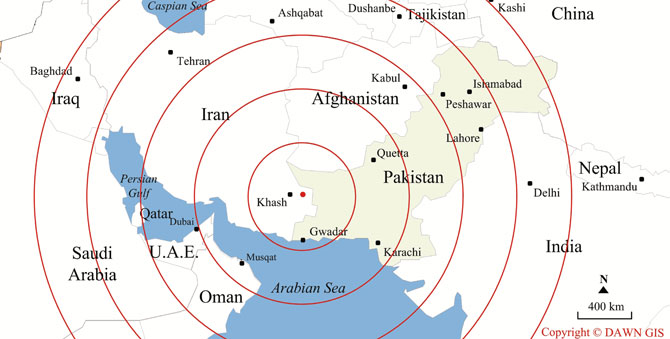 Map shows the epicenter of the 7.8 magnitude earthquake.—Courtesy DawnGIS
KARACHI: A major earthquake struck a region near the Iran-Pakistan border on Tuesday, killing 34 people in different parts of Pakistan's southwestern Balochistan province, officials said.
The worst-hit areas from the 7.8 magnitude quake were reported to be close to the Pakistan-Iran border.
Officials confirmed to Dawn.com that up to 34 people had died due to the earthquake, while 80 were reported to be injured in the Mashkel area of Balochistan's Washuk district alone.
Several hundred houses were also reported to have collapsed, raising fears of further casualties in the area. Dozens of shops and buildings have also been destroyed by the tremors.
According to the most recent reports, two Pakistan Army helicopters carrying medical teams and supplies have reached Mashkel, where personnel are now busy in relief and rescue efforts.
The epicenter was reported by the United States geological Survey to be in southeast Iran in an area of mountains and desert. It was located 201 km southeast of the Iranian city of Zahedan and 250 km northwest of Turbat in Pakistan, USGS said.
Tremors were felt across several Pakistani cities, including Quetta, Pishin, Killa Abdullah, Chaghi, Sibi, Jaffarabad, Karachi, Hyderabad, Quetta, Badin, Islamabad, and Rawalpindi.
According to reports, the earthquake shook areas from Quetta to Pak-Iran Border Taftan and Pak-Afghan border Chaman. And Mekran belt near Arabian Sea.
Several part of Khyber Pakhtunkhwa province, including Peshawar and Dera Ismail Khan, and the Federally Administered Tribal Areas, also felt the jolts.
Tremors from the earthquake were felt as far away as New Delhi and the Gulf cities of Dubai and Bahrain. Across the Gulf, high-rise buildings swayed and officials ordered evacuations.
Meanwhile, there were conflicting reports regarding casualties in Iran.
An Iranian provincial governor said there were no deaths in Iran due to the earthquake.
"Fortunately, the earthquake resulted in no fatalities," Hatam Narouyi, the governor of Sistan-Balochistan where the 7.8 magnitude earthquake hit, told the ISNA agency.
Iranian state television had earlier reported at least 40 people killed, but acknowledged it had no official confirmation.