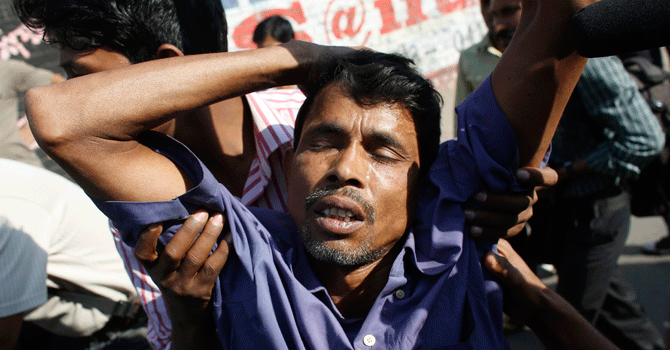 A rickshaw driver reacts after he was injured by a piece of brick thrown by activists from Bangladesh Jamaat-e-Islami during a clash in Dhaka March 2, 2013. Activists and supporters of the main opposition Bangladesh Nationalist Party (BNP) torched and vandalised vehicles as they clashed with police after a rally organised by BNP and its ally Jamaat-e-Islami called for a three-day country wide shutdown from Sunday. — Reuters Photo
DHAKA: Bangladesh police arrested five students of an elite private university on Saturday on charges of murdering an anti-Islamist blogger whose death triggered nationwide turmoil.
The students allegedly confessed to hacking to death Ahmed Rajib Haider, 35, on February 15 after he helped organise protests against leaders of the Jamaat-e-Islami party on trial for war crimes, police said.
"They targeted him because of his allegedly blasphemous writings against Islam and the Prophet Mohammed," Dhaka police deputy commissioner Masudur Rahman told AFP.
All five of the young men arrested are students of the prestigious NorthSouthUniversity, Rahman said,
Haider's body was found with hatchet wounds to the head in what police said was an apparent attempt to behead him.
Haider's brother, who asked not to be named, told AFP his sibling – better known by his online identity Thaba Baba – had been "threatened frequently" by Islamists angry at his role in the protests and his writings against the religion.
Protests encouraged by the country's bloggers have seen thousands of people take to the streets demanding the execution of leaders of the Jamaat-e-Islami party, on trial for crimes allegedly committed during the country's 1971 independence war.
Islamists have in turn held demonstrations demanding the trails be halted, leading to clashes with police and scores killed.
Since Haider's death Bangladesh's Islamic parties have focused on other bloggers, calling nationwide strikes in protest and demanding the execution of those they accuse of blasphemy.
The government has blocked about a dozen websites and blogs to stem the violence, as well as stepping up security for the bloggers, some of whom claim to have been threatened by Jamaat student activists.
Saturday's arrests came as Bangladesh police opened fire on Islamists protesting the conviction for war crimes of one of their leaders, killing three people outside the port city of Chittagong.
The deaths brought the total number killed since a war crimes tribunal delivered its first verdict on January 21 to at least 56, according to police figures.