One of the masters of world cinema is undoubtedly the great Bengali film director Satyajit Ray who, along with Akira Kurasawa, put Asian film making on the map. The Japanese movie making titan put it best himself when he said, "To not have seen the films of Ray is to have lived in the world without ever having seen the moon and the sun".
High praise indeed, especially coming from a man who was regarded by critics and audiences alike as the great Asian filmmaker. Although Kurasawa may have won more plaudits in the West, Satyajit Ray did manage to hold his own and could rightfully take his place alongside the Japanese director.
Ray was a poet and intellectual who came from a rich literary culture that left its mark in the arts. A tall man (he was 6'5 in height) with a towering presence, his eye for realism and attention to detail in period films, was uncanny and brilliant. He was inspired by French filmmaker Jean Renoir and Italian neorealist director Vittorio De Sica's 1948 classic 'Bicycle Thieves'. This movie encouraged Ray to make his first landmark film 'Pathar Panchali'. It won numerous international awards and was the first film in his famous 'Apu Trilogy'.
Although in his later years the standard of his films was not at the same level as those he had made earlier, nevertheless his reputation as a visual poet was undiminished. He understood the culture and history of the sub-continent and criticised its faults in a manner that did not denigrate it, but presented it as a unique anomaly.
One his best films in earlier years was 'Jalsaghar' (1958), the story of a land lord indifferent to a world changing around him, who preferred music to the responsibilities a man in his position had to perform. This was a theme that he returned to again in 'Shatranj Ke Khilari' (1978).
Based on a story by Munshi Premchand and set a year before the uprising of 1857, it's a window into a bygone era that is shifting, which the protagonists of the film refuse to accept or simply wish to escape from. The Nawab of Awadh, Wajid Ali Shah (Amjad Khan) is a master of puppets who has been placed into power by British imperialists after having signed a treaty. The Nawab is a weak ruler and he knows it. Not interested in being a strong man at the helm of affairs, he prefers the arts and a leisurely hedonistic life. An unaccountable lifestyle may be appealing to many people but when one is the king of many subjects, you can't afford it. This holds especially true when those same British imperialists wish to directly annex Awadh, after deciding that its effeminate Nawab has outlived his usefulness.
While this political change is taking place, two landlords living in Lucknow, Mirza Sajjad Ali (Sanjeev Kumar) and Mir Roshan Ali (Saeed Jaffrey) are even more oblivious to their surroundings than the Nawab. Being born in the lap of luxury has its advantages in terms of personal comfort, but it does no favours to building character amongst the feudal ruling elite. The two landlords simply live off the wealth of their ancestral lands and are obsessed with the game of chess, which turns out is not the only thing they have in common. Both are also married to women who are sexually neglected due to their husbands' love of chess.
Mirza Sajjad Ali Shah's wife is the feisty Khurshid (Shabana Azmi) who on one occasion does manage to lure her husband away from the chessboard and into their bed chamber, for a brief period of intimacy. Sadly for her this is short lived as he soon leaves her company and goes back to playing the game. It seems his love of chess pieces is stronger than his basic instincts.
Mir Roshan Ali on the other hand is not the sharpest tool in the shed, and his love of chess and constant absence is exploited by his wife Nafeesa (Farida Jalal). Instead of mourning the absence of the dim Mir Roshan, she uses it to indulge in a love affair with his young nephew (Farooq Shaikh). When finding his nephew hiding under his bed with the help of his wife, he foolishly believes the lie fed to him that he is hiding from recruitment orders to join up in the army for the coming showdown with the British.
Being a coward, Mir Roshan decides that he and Mirza Sajjad should hide in the country side and continue playing chess there, in case they are called up as well to serve in the army. Mirza Sajjad after being told the facts realises that his chess companion is a fool, but decides to go with him as well, because he wants to play the game as well.
Meanwhile the gutless Nawab of Awadh, after an initial burst of bravado, decides that he will allow the British to annex his territory rather than put up a fight. In one of the best scenes in the film, like a sad a pathetic figure, he sings a musical text (thumri):
"As we leave our beloved city of Lucknow, see what we have to go through,"
All the while the sun is setting on the horizon, symbolising for him that his time is up and the house of cards that he has lived in has now collapsed.
In the end, the Nawab relinquishes his crown to the British East India Company, lets them march in and take over. The two landlords Mirza Sajjad and Mir Roshan on the other hand, continue to play chess, oblivious to the fact that they and their people have been checkmated at the far more tangible game of life.
Satyajit Ray used the symbolism of chess brilliantly in this film. He used it as a metaphor for the bad judgments and unwise decisions that the losing side makes. Demonstrating the margin for mistakes, but repeat history, and the game is over. The king will be checkmated after his pawns have been disintegrated.
There has been some criticism made about this film. Some have said that the film advocates a view that the reason the British were able to colonise India was simply the fact that the people of the sub-continent put away their swords, and indulged in artistic pleasures and debauchery, instead of fighting. Others have said that Ray destroyed the patriotic essence of Munshi Premchand's story in order to give the film a universal appeal. It's more likely that Ray did not intend to kill the nationalist sentiment of the narrative, but preferred to criticise the inadequacy and indifference of the ruling elite. The elite were apathetic, outdated and not up to the challenge of political chess, which in turn allowed a calamity such as the colonisation to take place. In essence that is the message that Ray was trying to convey, which is faithful to Premchand's story.
Rudyard Kipling may have said that 'East is East and West is West, and never the twain shall meet', but Ray begs to differ especially with the Eastern and Western actors that he uses in this film.
Amjad Khan, Sanjeev Kumar, Saeed Jaffrey, Victor Banerjee along with Shabana Azmi, Farida Jalal and Farooq Shaikh are all superb in this film. The lion's share of screen time may belong to Sanjeev Kumar and Saeed Jaffrey, but the others do leave their mark in the limited period of their performances. Amjad Khan may be best remembered as Gabbar Singh from '
Sholay
' but his role as the weak and incompetent Nawab Wajid Ali Shah, shows that he not only had range but was capable of pure genius.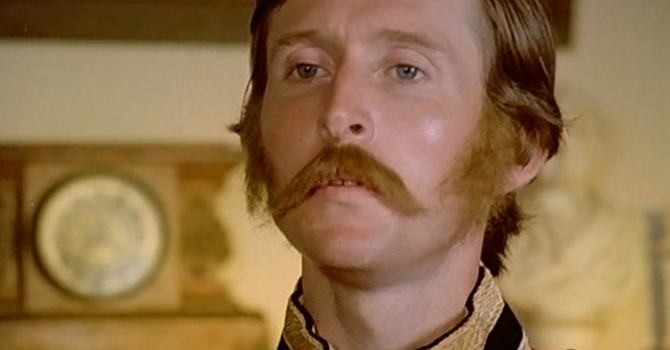 Richard Attenborough, as the main Western actor, was also very good as the arrogant yet somewhat decent General Outram, who like a conquering Caesar marches into the Nawab's lavish residence and cuts him down to size, showing in essence who was the real master in his land. Tom Alter, the Indian actor of American origin, is most intriguing in this film. In his role as Outram's interpreter, his Urdu is more spot-on than the British accent that he tries to get his tongue around. Kudos to him as well for the fine job he does.
This was one of only two films Satyajit Ray made that was not in the Bengali language. Like most of his films, the pace of the film is slow and may not appeal to everyone, but have a look, because it's a great piece of film making from a master film maker.
View Dawn.com's weekly classics archive here.
---
Raza Ali Sayeed is a journalist at Dawn.com and can be reached at rsayeed1984@gmail.com