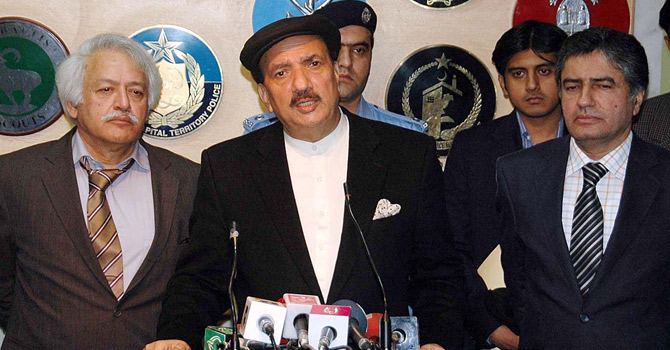 —APP File Photo
ISLAMABAD: Interior Minister Rehman Malik on Sunday said that the purpose of Dr Tahirul Qadri's long march is to derail the democratic system and an effort to postpone the upcoming general elections.
While speaking to media after reviewing security arrangements for the long march, the minister said that the democratic system would prevail in the country and Minhajul Quran International (MQI) chief's agenda for derailing the system would not be successful.
Referring to his charter of demand, Malik said the dissolution of election commission means a delay of another six months in the elections.
"If Qadri was conversant with the constitution, he should not have spoken in such a manner which is extra-constitutional and misleading the nation", Malik added.
Answering a query, he said that five terrorists were arrested from Karachi who had planned an attack on Qadri's long march.
He said that security of the residents of Islamabad would be ensured during the long march adding that no one will be allowed to violate the law.