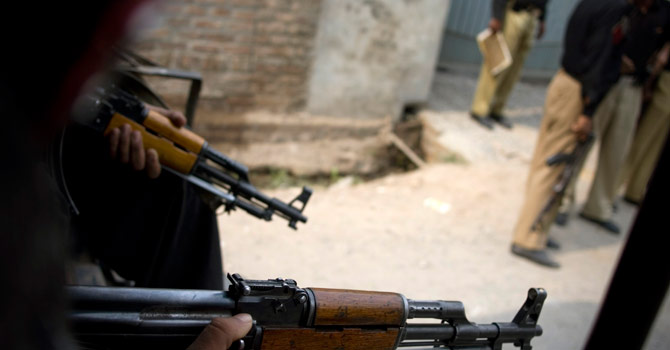 – File photo by AP
PESHAWAR: Gunmen on Wednesday shot dead a Shia Muslim doctor associated with the main ruling Pakistan People's Party (PPP) in the northwestern city of Peshawar, police said.
Riaz Hussain was president of the PPP branch in Kurram, one of seven semi-autonomous districts that make up the tribal belt on the Afghan border where the Taliban and al Qaeda have strongholds.
He was killed as he left his clinic in the Dabgari area of Peshawar and police suggested it was a targeted, sectarian killing -- rare in the city but increasingly frequent in other parts of the country.
"The gunmen fired at Hussain's car when he left his clinic. Apparently, he is victim of sectarian targeted killings," local police official Kamal Hussein told AFP, referring to a wave of violence picking out Shias in Pakistan.
Another police official confirmed the attack. "We have initiated an investigation into the murder of Doctor Riaz Hussein. It looks like a sectarian killing," senior police official Imran Shah told AFP.
Shias account for around 20 per cent of Pakistan's 180-million population and rights activists say they are increasingly victims of extremist Sunni factions.
Analysts have also warned that a recent spike in violence in Peshawar raises fears of a renewed militant campaign that could threaten national elections, expected to take place around May.
Last month, a suicide bomber killed Bashir Bilour, number two in the northwestern provincial government and a leading member of the Awami National Party (ANP), in an attack claimed by the Pakistani Taliban.
Pakistan says 35,000 people have been killed as a result of militant attacks since the 9/11 attacks and the 2001 US-led invasion of neighbouring Afghanistan.