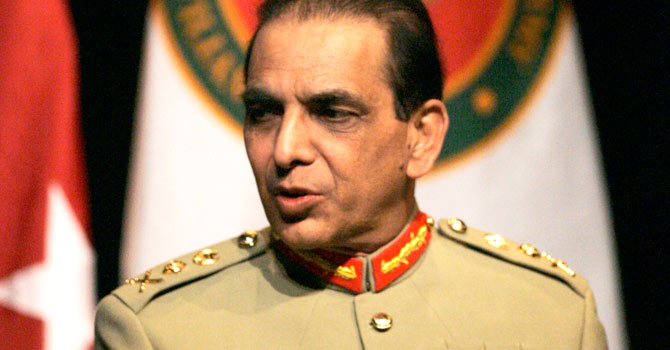 Chief of the Army Staff General Ashfaq Parvez Kayani is ranked 28 on the Forbes list. – File photo by AP
WASHINGTON: The US president leads it, of course, and then there's Pope Benedict XVI, and Angela Merkel, and Facebook's founder, and other global rainmakers on Forbes' ranking of the mightiest earthlings.
But the magazine's 2012 list of the world's most powerful people also features folks who might raise an eyebrow or two: a Mexican drug baron, and the pudgy-faced young leader of North Korea, a hermit state assailed for pursuing a nuclear program at the expense of feeding its very poor people.
Two Pakistanis are mentioned in the list and both belong to the country's military. Chief of Army Staff General Ashfaq Parvez Kayani is on 28 while Director General of the Inter Services Intelligence (Pakistan's military spy agency) Lieutenant General Zaheer-ul-Islam is ranked 52.
India's Prime Minister Manmohan Singh is placed 19th and ahead of him is Sonia Gandhi, the President of Indian National Congress party.
Last year's No. 2 on the list, Chinese President Hu Jintao, is among those who fall off the rankings altogether this time. In Hu's case it is because he's on his way out of office.
The ranking features 71 names, a figure Forbes said it set as a cut-off because there are an estimated 7.1 billion people in the world and thus the ranking works out to one very heavy hitter for every 100 million people.
For the second year in a row, President Barack Obama led the ranking, with Forbes noting that he won both the popular vote and a crucial electoral college majority in the November election.
Obama faces challenges galore, including a crisis over America's fiscal deficit and ballooning national debt, naggingly high unemployment, and renewed strife in the Middle East.
"But Obama remains the commander in chief of the world's greatest military and head of the sole economic and cultural superpower – literally the leader of the free world," Forbes said.
The silver medal of power went to Merkel, the German chancellor, whom Forbes described as the backbone of the 27-member European Union and the person who carries the fate of the euro on her shoulders.
Third place went to Russian President Vladimir Putin. He was re-elected to a third term "after a few years swapping posts with Prime Minister Dmitry Medvedev," and "officially regains the power that no one believes he truly gave up."
Forbes said it assembled the list using four criteria: power over lots of people, financial resources controlled, whether the person has power in various spheres of life, and whether that person actively uses their power.
New York Mayor Michael Bloomberg – 16 on the list – fit the bill nicely because he is a politician overseeing a large and hugely important city, and is a billionaire, a media magnate and a major philanthropist.
Microsoft founder Bill Gates was fourth, while Pope Benedict XVI, leader of the world's 1.2 billion Catholics, ranked fifth.
Facebook CEO Mark Zuckerberg was 25th, dropping from last year's ranking of 9th because the social network's much hyped stock listing was a dud, Forbes said.
One less-than-savoury name on the list: Mexican billionaire Joaquin Guzman Loera, alias "El Chapo," the Sinaloa drug cartel leader who Forbes said is responsible for many of the illegal narcotics entering the United States every year. He was ranked 63rd.
North Korean leader Kim Jong-Un, 29, who took over from his late father Kim Jong-Il this year, ranked 44th.
Forbes said some observers believe one of his uncles is actually in charge – but that in any case, satellite footage shows a message praising Kim carved into a hillside in his "reclusive, rusting nuclear state" measuring half a kilometre long.