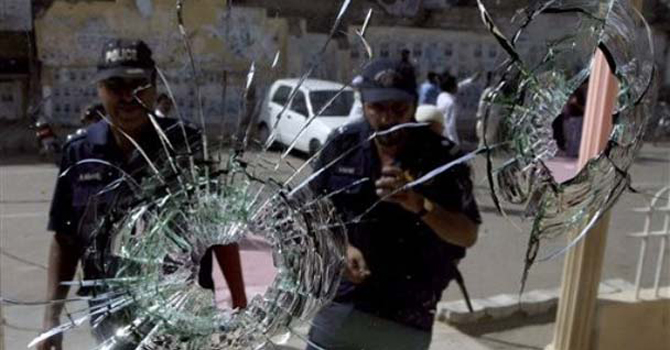 — File Photo
Religious persecution in Pakistan is not uncommon in Pakistan; however, year 2011 and 2012 witnessed marked increase in the attacks against minorities — especially Muslim minorities. According to a report published by Human Rights Watch, summarising the incidents related to human rights violation in Pakistan stated that 2011 was "disastrous for Pakistan" during which "religious minorities faced unprecedented insecurity and persecution in the country". The seeds of religious disharmony were sown in the 1970s which initially targeted only Ahmadis, however, the scope of religious persecution widened greatly over the period of decades — led by fundamentalists elements in the society — and now includes people from Shia and Bohra communities other than Christians and Hindus.
Ironic as it may sound but the historical trend clearly signifies that Shias of Pakistan have been targeted more with Ahmadis closely trailing behind, followed by people professing other religions.
Dawn.com presents an exclusive timeline of all the major incidents entailing religious persecution witnessed in Pakistan.
1988: A dispute arising on the grounds of sighting Eid moon triggered violent sectarian attacks in Gilgit-Baltistan. A group of people representing Sunni Lashkar comprising hundreds of people from different northwestern Pakistani cities united against Shias.
The ensuing violence claimed many lives, mostly those of Shia Muslims, villages were ransacked and torched down and the livestock was slaughtered.
June 26, 1991: Unidentified assailants slaughtered 13 members of a Shia family in Islampura. The killed included women and children.
April 1995: Two members of Ahmadiyya community were stoned to death in what then was known as North West Frontier Province of Pakistan in the area of Shab Qadar.
The body of one of the victims was stripped and dragged all across the city whereas the police allegedly stood and watched the massacre.
1997: Twelve members of a Shia family were killed during a Majlis in 1997. Lashkar-e-Jhangvi (LJ) leader Malik Ishaq was arrested, however, was released later due to lack of evidence.
The same year, Malik Ishaq was alleged to have bombed the Iranian culture centre in Multan claiming eight lives.
Moreover, in July of 1997 four women and children belonging to Shia sect were shot dead in Samanabad.
October 2000: Unknown assailants opened fire at the prayer meeting of an Ahmadi mosque in a village located near Sialkot killing at least five worshippers.
Ten days later another five Ahmadis were gunned down whilst they were praying in Takht-Hazari — a village located 30 miles away from Sargodha.
In October 2000, seven Shia Muslims including three women were killed in Faisal Town of Lahore.
February 26, 2002: At least 11 Shia Muslims were killed by indiscriminate firing by a group of masked gunmen at the Shah-i-Najaf Mosque in Rawalpindi.
March 2002 : Assailants allegedly associated with Sunni Tehrik assassinated Prof Ataur Rehman and a caretaker of an Imam Bargah who tried to intervene whilst the assassin were escaping the crime scene.
May 7, 2002 : Renowned religious scholar Prof Dr Ghulam Murtaza Malik, his driver and a policeman were shot dead by two gunmen who claimed to be associated with Sunni Tehrik.
June 8, 2003: Eleven Hazara Shia police trainees were shot dead in a sectarian attack on Sariab Road located in Quetta. On the same day, twelve Shia Hazara police cadets were gunned downed in Quetta.
July 4, 2003 At least 47 people were killed and 150 injured in an attack on an Imambargah in Quetta.
September 24, 2003: Eight people belonging to Shia sect were murdered in Allama Iqbal Town of Lahore. The deceased included women and children.
February 28, 2004: An alleged suicide bomber was killed whereas and three worshipers were injured in an attack on an Imambargah in located in Satellite Town of Rawalpindi.
March 2, 2004: An estimated number of 50 people lost their lives and more than 100 were reportedly wounded when a procession led by Shia Muslims on the revered day of Ashura was attacked in Liaquat Bazaar of Quetta.
May 14, 2004: Six members of Shia family including two women and a baby girl were shot dead in Mughalpura Lahore. The family was tied to chairs and then shot in the head.
May 30, 2004: A senior Deobandi religious scholar and head of Islamic religious school Jamia Binoria, Mufti Nizamuddin Shamzai, was gunned down in his car while leaving his home in Karachi.
Soon after the attacked the city was engulfed in violence in which eight policemen were reportedly injured.
May 31, 2004: A suicide bomber blew up the Imambarghah Ali Raza mosque in Karachi in the middle of evening prayers, killing 16 worshipers and injuring 35. Two people were killed in riots over the mosque attack and Shamzai's assassination.
Soon after the suicide blast, the city was attacked by armed assailants who torched an American restaurant and killed at least a dozen civilians.
September 21, 2004: Three members of Shia family were gunned down in Dera Ismail Khan. It was alleged Sipah-e-Sahaba members were involved in the killings.
October 1, 2004: A suicide bombing left 25 people dead and dozen injured at an Imambargah in Sialkot.
October 7, 2004: A bomb blast left 40 people dead and wounded over 100 during a Sunni (Deobandi) rally to commemorate Maulana Azam Tariq — assassinated leader of Sipah-e-Sahaba Pakistan — in Multan.
October 10, 2004: A suicide bombing at Hussainia Hall Mosque in Lahore killed four and injured eight people.
January 8, 2005 : Renowned Shia cleric called Agha Ziauddin was ambushed and killed by unidentified gunmen in Gilgit. It is widely alleged that his assassination gave rise to major sectarian disharmony in the region.
March 19, 2005: At least 35 people were killed and many injured when a suicide bomber exploded himself at the shrine of Pir Rakhel Shah in remote village of Fatehpur located in Jhal Magsi District of Balochistan. The dead included Shia and Deobandi devotees.
May 27, 2005: A suicide bomber killed at least 43 and wounded 82 people at the annual Shia Muslims congregation at the shrine of Bari Imam in Islamabad.
October 7, 2005: An attack at an Ahmadi place of worship in Mandi Bahauddin killed eight and injured 20 people.
September 2008: Three members of Ahmaddiya community were murdered after a private TV channel aired a religious programme enticing people to kill Ahmadis declaring them wajib-ul-qatal.
February 20, 2009: At least nine people were killed and more than 43 injured when a suicide bomber attacked a funeral procession in Dera Ismail Khan. Just before the funeral Nazir Hussain, mohtamim of Imambargah Mehtab Bibi Mohallah Hatullah, was gunned down in front of his house.
The attack was alleged a sectarian attack.
April 5, 2009: A suicide bomber detonated outside the entrance of an Imambargah in Chakwal, in Punjab province. The attack claimed 24 lives whereas 140 were reported to be injured.
December 28, 2009: At least 30 Shia Muslims were killed and dozens injured in an apparent suicide bombing at an Ashura procession in Karachi.
Soon after the attack, angry protestors ransacked adjoining markets and later set them ablaze costing business community billions of rupees.
April 2010: Three Ahmadis were killed in Faisalabad when unidentified assailants ambushed their car. Victims were immediately transported to the hospital where all of them were pronounced dead.
May 28, 2010: In perfectly synchronized and coordinated attacks, at least 86 people were killed and more than 120 injured in two places of worship of Ahmadiya community. Tehrik-i-Taliban Pakistan claimed the responsibility for the targeted attacks.
May 30, 2010: An Ahmadi man and his son were stabbed to death by an unknown assailant in Narowal.
September 1, 2010: At least 25 people were killed and over 150 injured after three bombs ripped through the city of Lahore. The bombs exploded during a procession organised by Shia Muslims.
Soon after the attacks, several incidents of violence were reported in the outskirts of the provincial capital where police vans and stations were vandalized and set ablaze.
September 3, 2010: Attack on a rally in Quetta killed at least 53 and injured over 100 people during a procession organised by Shia Muslims to show solidarity with Palestinians.
On the same day, a bomb attack targeting Baitul Zikkar in Mardan claimed one life and injured at least three other Ahmadis.
December 9, 2010: A mortar attack killed at least six and injured eight people in the Northwestern part of Pakistan. The attack came on the revered day of Ashura commemorated widely by Shia Muslims.
December 13, 2010: At least one person was killed and two children injured when a bomb struck a school bus in Bhana Marri area located in the outskirts of Peshawar. The attack was alleged sectarian as it came during the month of Moharram.
January 25, 2011: Two suicide blasts targeted Shia processions in the eastern Pakistani city of Lahore as well as the major southern port city of Karachi. At least 15 people were killed in the attacks.
May 6, 2011: At least six Shia Muslims were killed and 10 others were reportedly injured when unidentified gunmen fired rockets and sprayed bullets at a ground adjacent to the Hazara graveyard.
May 18, 2011: Seven more Shia Muslims were gunned down in Quetta.
September 20, 2011: Unidentified gunmen shot dead 29 Pakistani Shia pilgrims travelling to Iran. In a brutal assault, gunmen ordered pilgrims off their bus, lined them up and assassinated them in a hail of gunfire in Mastung.
February 28, 2012: Eighteen Shia Muslims were killed in Chilas whilst they were on their way to Gilgit-Baltistan from Rawalpindi.
April 3, 2012: A mob dragged nine Shia Muslims from buses and shot them dead in the town of Chilas.
June 3, 2012: A Shia Muslim belonging to Hazara community was gunned down and another was injured when unidentified assailants opened fire on the victims at Sariab Road located in Quetta.
August 16, 2012: Twenty-five Shia Muslims were killed in attack on the bus en route to Gilgit-baltistan in Manshera district. The passengers were asked to present their identification cards and Shias were targeted and later on killed.
August 17, 2012: A bomb struck a bus taking Shia Muslims to a protest rally near Karachi's Safari Park on University Road, killing one man and wounding 11 others.
August 27, 2012: Three people of the Hazara community were shot dead when their taxi was ambushed by armed assailants at Spiny Road in Quetta.
August 31, 2012: Additional districts and session judge Zulfiqar Naqvi was shot dead in Quetta. The deceased was en route to his office when his car was ambushed by unidentified assailants.
September 10, 2012: A car bomb ripped through a crowded market in Parachinar bordering Afghanistan killing 12 Shia Muslims.
September 18, 2012: At least seven people including an infant, a young girl and woman were killed and 22 injured when twin bombs exploded at North Nazimabad in Karachi. The attack predominantly targeted the Bohra Community of the city and was considered as the first attack against the Muslim minority.
On the same day, a bomb ripped through a passenger bus in Mastung carrying Shia Muslim pilgrims killing at least three and injuring almost a dozen passengers.
Over the passage of years, hordes of people have migrated to other countries in hopes to live a violence-free life.
October 2012:
Four Hazara men were shot dead in an attack on a scrap shop. Men on motorcycles opened fire on the shop in Kabarhi Market on Sirki Road and fled after killing Ata Ali, Muhammad Ibrahim, Ghulam Ali and Syed Awiz.
November 6, 2012: 
At least five people, including religious leader Agha Aftab Haider Jaffery, were shot dead in Karachi. nidentified gunmen killed two men at the New M A Jinnah road near the parking plaza in Saddar. The deceased were  identified as Agha Aftab Haider Jaffery and Shahid Ali.
November 24, 2012:
A bomb blast killed eight people Saturday near a Muharram procession in Khyber Pakhtunkhwa's Dera Ismail Khan district despite a security crackdown. Four boys were among the dead and 30 other people were injured when the remote-controlled bomb packed with ball bearings exploded on the outskirts of Dera Ismail Khan.
January 9, 2013:
Gunmen shot dead a Shia Muslim doctor associated with the main ruling PPP in Peshawar. Riaz Hussain was president of the PPP branch in Kurram, one of seven semi-autonomous districts that make up the tribal belt on the Afghan border where the Taliban and al Qaeda have strongholds.
He was killed as he left his clinic in the Dabgari area of Peshawar and police suggested it was a targeted, sectarian killing.
January 10, 2013:
As many as 81 people were killed and 121 injured in suicide and car bomb blasts in Quetta's Alamdar Road area. Earlier in the afternoon, 12 people lost their lives when a bomb went off near a vehicle of the Frontier Corps at Bacha Khan Chowk.
A cameraman and a reporter of a private news channel, a computer operator of a news agency and nine police personnel, including two senior police officers, were among the dead, while 10 army and FC personnel were injured in the blasts.
A majority of the people killed in the Alamdar Road blasts belonged to the Hazara Shia community.