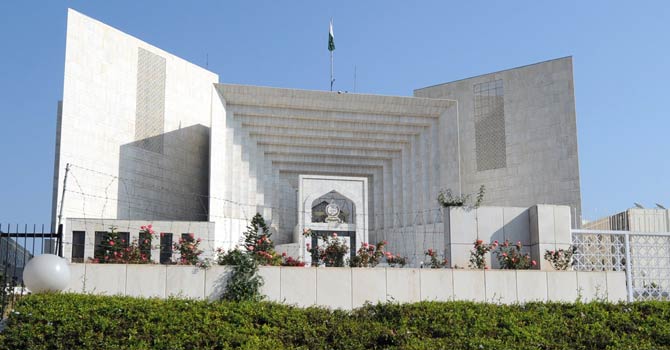 The Supreme Court of Pakistan. -File Photo
ISLAMABAD: Law Minister Farooq H. Naek will appear before the Supreme Court on Tuesday and present the draft of a letter to be sent to the Swiss authorities relating to alleged graft cases against President Asif Ali Zardari.
Prime Minister Raja Pervez Ashraf had assured the Supreme Court on Sept 18 that his law minister would write the letter to implement its NRO judgment.
Talking to newsmen outside the parliament house, Information Minister Qamar Zaman Kaira said Mr Naek would submit the draft of the letter on Tuesday.
Responding to a question, he said if the court didn't agree with the substance of the letter changes could be made as per its directions.
He refused to accept that the government had taken a U-turn on the issue and said that in accordance with the court ruling the government was trying its best to find a middle way.
When asked to share something from the contents of the letter, Mr Kaira said the government would present its argument and let the court accept the letter or ask for some changes.
The minister said: "We are hopeful that the issue will be resolved amicably." He said the government's letter would lead to withdrawal of the letter sent by former attorney general Malik Qayyum to the Swiss government.
When contacted, former Senate chairman and Supreme Court lawyer Wasim Sajjad, who was consulted by the law minister while drafting the letter, refused to say anything specific about the contents of the letter and said: "I have no right to speak on behalf of the government."
According to one source, the government will simply disown Malik Qayyum's letter and argue that he had sent it without authorisation by the then government.
Therefore, the source added, Mr Naek would argue that the government had nothing to do with Mr Qayyum's correspondence with the Swiss government relating to the alleged money laundering cases against Mr Zardari.
Secondly, the source said, the government would elaborately refer to the constitutional provisions and international conventions which provided immunity against prosecution to a sitting head of state.
Talking to Dawn, a senior lawyer of the Supreme Court said the court in its order had already observed that Mr Qayyum's letter should be withdrawn because it lacked validity.
"But it depends upon how the government plays with this very fact. Simple disassociation will not be enough, the court would insist on specifics such as the government withdraws Mr Qayyum's letter and something about the status of cases in question. Let's see what transpires in the court," he said.
The lawyer said the government would deliberately leave the letter open-ended so that it could buy time in the process which would be its primary focus at the moment.