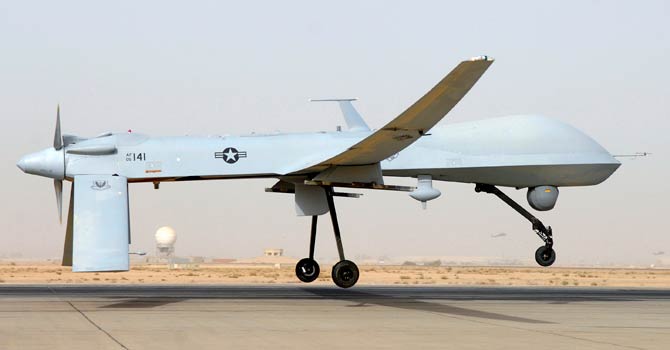 American missiles slammed into suspected militant hideouts Friday, killing 18 suspected militants, officials added.
—
Reuters Photo
PESHAWAR: A key militant leader of the East Turkistan Movement (ETM), along with three other militant commanders, were also killed in one of three US drone strikes Friday on Pakistan's troubled northwest tribal regions close to the Afghan border, intelligence officials said.
American missiles slammed into suspected militant hideouts Friday, killing 18 suspected militants, officials added.
The Amir of the East Turkistan Movement, Emeti Yakuf, also known by his local name as Abdul Jabbar, was killed along with three other commanders in one of the strikes as missiles hit their training camp in the Tandar area of tehsil Shawal, located on the borders of South and North Waziristan tribal areas.
Two other Tehrik-i-Taliban Pakistan (TTP) commanders were also reported to have been killed in the strikes that resulted in the deaths of at least 18 suspected militants in total, intelligence officials said on condition of anonymity because they were not allowed to talk to the media.
The militants were undergoing firing training sessions when they were hit, intelligence officials added. The officials spoke on condition of anonymity because they were not authorized to speak to reporters.
The drone strikes Thursday come just a day after the government summoned an American diplomat to protest the drone strikes in the tribal areas
The strikes were the fourth attack in the span of a week, as well as the most deadly. The drone campaign has been a source of friction between the US and Pakistan, which sees the strikes as an infringement on its sovereignty. The US maintains the campaign is vital to combating militants, including al Qaeda, which it says operates in Pakistan's northwest tribal region near the Afghan border.
On Thursday, Pakistan's Foreign Ministry summoned a US diplomat to protest the recent drone strikes.
"A senior US diplomat was called to the Ministry of Foreign Affairs and informed that the drone strikes were unlawful, against international law and a violation of Pakistan's sovereignty. It was emphatically stated that such attacks were unacceptable," the Foreign Ministry said in a statement. The diplomat was not identified.
One day later, Pakistani intelligence officials said American drone-fired missiles hit three militant hideouts in Shawal area.
The officials said each of the three compounds was hit by two missiles. Militants often use these hideouts when they are crossing into Afghanistan, the officials said.
Fourteen people were also injured in the attack. There was no immediate comment from the US.
Drones 'illegal, unproductive', says FO
Foreign ministry spokesman Moazzam Ahmad Khan criticised Friday's strikes during his weekly press briefing in Islamabad.
"We regard these strikes as illegal and unproductive," he said.
"These attacks also violate our sovereignty, territorial integrity and are in contravention of international laws."
The surge in drone attacks this week has come after reports of a thaw in Islamabad's difficult ties with the United States following a visit to Washington by Pakistan's spymaster, Lieutenant General Zaheer ul-Islam, earlier this month.
Islam's talks with his CIA counterpart were said to have focused on drone strikes.
Khan said Pakistan was working with the US leadership on the drone issue.
"We are working on various proposals and hope to come up to a mutually acceptable solution," he said.
But he refused to discuss the nature of proposals, saying it was difficult for him to share these with the media.
Militants flee North Waziristan
US Secretary of Defense Leon Panetta recently said Pakistan plans to launch an operation in North Waziristan in the near future targeting the Pakistani Taliban, which has waged a bloody insurgency against the Pakistani government for years.
Hundreds of militants and their family members have streamed out of North Waziristan in the past two days in anticipation of the operation, local residents said.
Many of the militants who started fleeing in vehicles on Thursday were from Central Asian countries like Uzbekistan, Turkmenistan and Tajikistan, said local residents, speaking on condition of anonymity out of fear for their safety. They also included some Arabs and fighters from Chechnya. Many foreign fighters in North Waziristan are closely allied with the Pakistani Taliban.
Pakistani Taliban militants were seen patrolling the area, but did not seem to be fleeing. Some local tribesmen were looking for homes outside of North Waziristan to which they could flee, but did not seem overly concerned about reports of an upcoming military operation.
By Friday, around 1,000 people, including wives and children of the foreign militants, had fled from four villages surrounding Mir Ali, one of the main towns