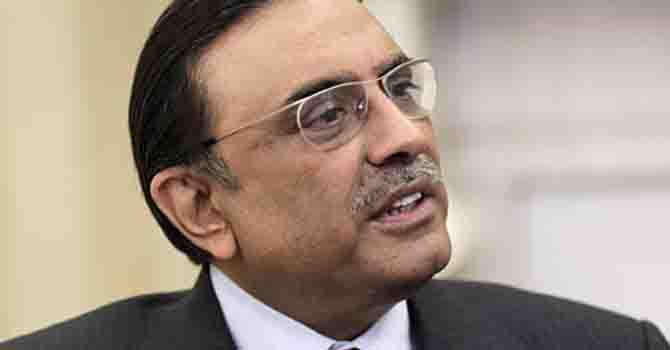 President Asif Ali Zardari — File Photo
ISLAMABAD: Pakistan's president on Monday called on officials to explain the arrest on blasphemy charges of a Christian girl with Down's Syndrome who allegedly burnt pages inscribed with verses from the Quran.
There is a growing debate about religious intolerance in Pakistan, where strict anti-blasphemy laws make defaming Islam or desecrating the Quran punishable by death.
Police said the girl, Rifta, was arrested in a Christian slum of the capital last Thursday and remanded in custody for 14 days after a furious Muslim mob demanded she be punished.
A police official, speaking to AFP on condition of anonymity because of the sensitivity of the case, said the girl was in her teens. Activists say she is 11 years old.
President Asif Ali Zardari took "serious note" of the arrest and called on the interior ministry to submit a report on the case, state media said.
His government was heavily criticised in the West for refusing to reform the anti-blasphemy law, despite the assassinations of a leading politician and a Christian cabinet minister in 2011.
Some reports suggested the girl had been burning papers collected from the rubbish for cooking when someone entered her house and accused the family of burning pages inscribed with verses from the Quran.
Human rights activists say the law is often used to settle petty disputes.
Muslim anger over the alleged incident forced Christians to flee the Mehrabad slum, home to hundreds of Christians 20 minutes' drive from Western embassies.
"These Christians had sought shelter with their relatives in other parts of the city but now they are gradually returning to Mehrabad," a senior official of All Pakistan Minorities Alliance, Tahir Naveed Chaudhry, told AFP.
He said the girl had Down's Syndrome — a condition which causes various degrees of learning difficulties — and disputed the age given by police.
"She was just 11 to 12 years old," he said, adding his organisation wanted the hugely sensitive case resolved "amicably".
The Women's Action Forum (WAF), a leading Pakistani organisation fighting for the rights of women, condemned Riftaa's arrest.
Spokeswoman Tahira Abdullah demanded her immediate release and expressed outrage at the "total inhumanity" of the men who lodged the case with police.
Police should have dealt with the case under the Juvenile Justice System, she said, accusing police of not allowing lawyers or civil society representatives to visit the girl.
Punjab governor Salman Taseer was assassinated in January 2011 and minorities minister Shahbaz Bhatti two months later for their opposition to the blasphemy law.
They had taken up the plight of a Christian mother sentenced to death for blasphemy in late 2010. She remains in prison.
Last month, a Pakistani mob snatched a mentally unstable man from a village police station and beat him to death in central Punjab province after he allegedly burned pages from a Quran.