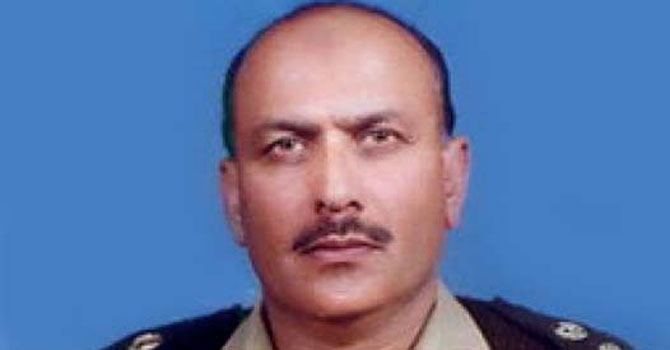 Brig. Ali Khan, a senior Pakistani officer accused of plotting with a shadowy militant organisation to take over the military. — File photo
RAWALPINDI: The court martial proceedings of Brigadier Ali Khan, Major Inayat Aziz, Major Iftikhar, Major Sohail Akbar and Major Jawad Baseer, who were facing charges of having links with a banned outfit, were completed on Friday. All four accused have been convicted in the case, ISPR statement said.
The Field General Court Marshal (FGCM) has awarded a sentence of five years Rigorous Imprisonment (RI) to Brigadier Ali Khan.
Major SohailAkbar was awarded three years RI while Major Jawad Baseer was sentenced to two years RI, whereas Major Inayat Aziz and Major Iftikhar have been awarded one year six months RI each.
All four convicts posses the right to appeal against their conviction before the Army court of appeals according to Pakistan Army Act, ISPR statement added.
It is the first time that senior army officers have been convicted and jailed over associations with banned organisations in the country on the frontline of the US-led war on al Qaeda and fighting its own Taliban insurgency.
The army did not name the organisation in a statement announcing the sentences, but officials have in the past identified it as Hizb ut-Tahrir.
Khan was detained days after US Navy SEALs found and killed Osama bin Laden in the military town of Abbottabad on May 2, 2011, reviving disturbing questions about ignorance or complicity within Pakistan's powerful military.
Brigadier Khan was also accused of being involved in a conspiring to topple the government, trying to instigate a mutiny within the army and planning an attack on the GHQ.
The court martial's proceedings against Ali started last year in December.
Khan was arrested a year ago and faced charges of conspiring with four other officers and a British member of the Hizbut Tahrir to recruit officers to the group including the commander of the army's 111 Brigade, which covers the capital and has been historically linked to army coups.
During the seven-month long proceedings, five military officers recorded their testimonies from prosecutor's side.
The officers had claimed that the accused, Ali, provoked them for mutiny against the civil leadership.
Hizb ut-Tahrir is not banned in Britain, but has been outlawed in Pakistan and lies on the fringes of Western concerns about links between the military and terror groups.
According to its website, it aims to resume the Islamic way of life by establishing an Islamic state that executes the systems of Islam and carries its call to the world.
Since bin Laden was killed, Pakistan has been under increasing pressure from the United States to crack down on militant sanctuaries in its northwestern border areas with Afghanistan and cut all ties with extremist networks.