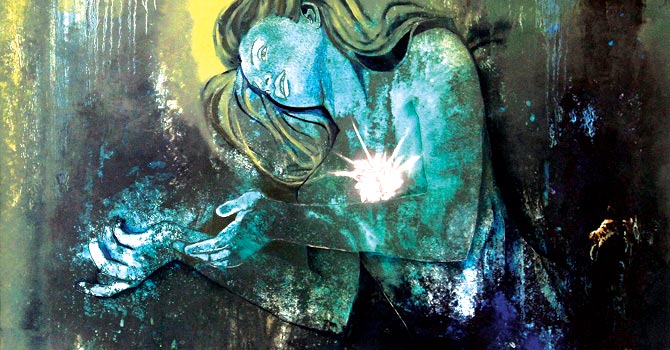 Sable du temps — Sands of time, Scharjeel Sarfaraz
It is the human emotion and its unbridled sensitive characteristic that is largely responsible for the spontaneous but true expression revealed in abstract art. While the abstract artists pull out all the stops, there are others who choose to be exceptionally organised, scientific and meticulous when painting. It is the viewers, thereafter, who draw their personal conclusions from what they see; some take pleasure in a rather impressive sunset that would be instantly identified as a sunset, while the others look for a soulful, unrestrained representation of colour and mood.
Almost a perfect corroboration of the aforesaid, Art Chowk Gallery, Karachi, has put together an exhibition of diverse genera of two artists: a fusion of impulsive abstraction by Shireen Ikramullah Khan and ingenuous realism by Scharjeel Sarfaraz. The selected omnibus of 20 paintings, appropriately titled, 'Distinct identities', curated by Shakira Masood and Bushra Hussain, boasts assured satisfaction to the art lovers having wide-ranging tastes and cognisance.
— Transfigure, Shireen Ikramullah Khan
With a master's degree from the University of Manchester, UK, Khan has not only contributed to the country's art heritage through research and literary endeavours but has also created an exhaustive database of artwork held in public institutions. She is also somewhat of a hybrid between an artist and an altruist whereby she has profusely lent herself to community service as an art councillor to young students for their projects and portfolios.
Notwithstanding, her focus predominantly remains to be on her abstract adventures that are frequently translated into exhibitions across the country. Having gone through numerous painstaking experiments with different materials and surfaces, Khan eventually resorted to expression through mixed media where the use of unconventional materials and the deliberate choice of complementary colours carved her the niche that she cherishes today.
Khan's paintings titled, 'Seething Ingleside I and II' are based on organic forms with an overall warm impact for its conspicuous vermilion, faded scarlet and dabs of rusty orange perhaps emulating the simmering fireplace. The artist's drafting skills, albeit, are evident from the mature strokes of crayon and loaded brushes, but the judicious use of space is definitely the distinguishable hallmark. The pair is consistent in its treatment and colour which signifies the artist's undeniable seasoning through continuity of application.
In her paintings, 'Metamorphose I & II' and 'Transfigure', Khan attempts to show the rudiments of nature that are an everyday sight, so remarkably familiar, and their relationship to time. She is captivated by the intricate assemblages that occur in nature, lying just below the surface; those obscure worlds complete in themselves. The red colour once again plays a striking role in the two compositions, which subsequently lures the viewer deeper into the intricate organic forms, which with the movement of the eye progressively unlocks the mysteries of the world around us and culminate into a tranquil experience.
Scharjeel Sarfaraz is a quiet and recluse personality who refuses to look away from his fetish for art which he uses to decipher the nuances of nature, especially of the complex human beings. Essentially an expressionist, the artist forces his passion into uncharted territories of media and texture using a variety of techniques on paper. He considers art as the most widely understood language worldwide and believes that it is more effective if it is spontaneous and without compunction.
Sarfaraz chooses to express feelings through development of forms rather than to opt for an intellectually constructed vision. The set of four paintings titled, 'At the Edge I to IV' depict the artist's desire to establish a relationship between the real and that beyond common thought or experience; something that is mystical or supernatural.
To achieve the characteristic mystical effect in his paintings, Sarfaraz applies layers of pigments with occasional scraps of excessive paint using special solvents. In order to satisfy the need to instil raw empathy into the work, he prefers to paint with bare fingers which enables him to establish a more effective communication with the drawing surface.
The textures achieved are indeed inimitable and place the artist in the league of reckonable artists of original credence. Fond of philosophy, Sarfaraz believes that his persistent research of the human form will eventually lead him to finding ways to get closer to the Ultimate Creator!