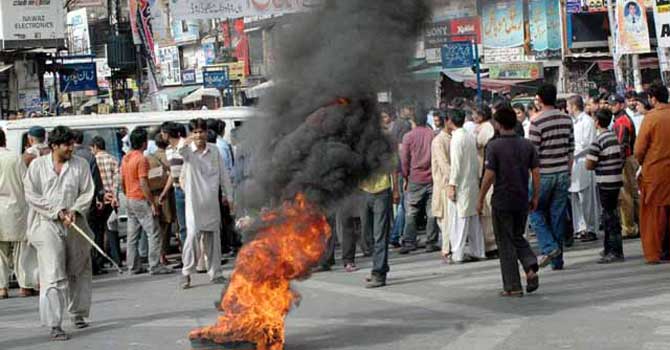 People protest against loadshedding in Lahore. – PPI (File Photo)
LAHORE: Pakistan's electricity shortfall reached its peak as the difference in the supply and demand of power hit 8,500 MW on Sunday, DawnNews reported.
According to the National Transmission & Despatch Company (NTDC), Orient, Hubco, Saif, Lal pir, Sapphire and other power plants have stopped producing power due to the unavailability of oil and gas.
Lahore, Kasur, Muridke and Bhai Pheru are the worst affected cities due to the increase in shortfall.  Power outages, which lasted as long as 20 hours, were also recorded in Faisalabad and Gujranwala.
Lahore has been facing three to four hours of loadshedding after every hour.
Currently, 4252 MW, 1300 MW and 4643 MW of electricity is produced with hydel, thermal and private producers respectively. KESC is receiving 680 MW of electricity.
Various parts of Rawalpindi also remained without electricity since morning. Many areas are also facing water shortages due to loadshedding.
Angry protestors had come out on the streets of Lahore Sunday after facing prolonged loadshedding.
A large demonstration was held against the electricity situation in Lahore's Garhi Shahu area where protestors blocked traffic and burnt tyres. They also chanted slogans against Wapda and the government and asked for urgent measures to be taken against the prolonged and unannounced power outages as well as the lack of water available.