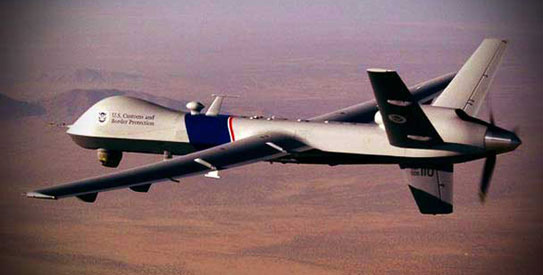 MIRAMSHAH: Missiles fired by US drones rained on suspected militant targets in North Waziristan on Thursday, killing at least 21 people.
According to sources, six people were killed and two others injured when two missiles slammed into a compound in the village of Spilga near Miramshah. The identities of the persons who died could not be ascertained.
Hours later, another drone attacked a moving vehicle on the Zekerkhel-Khaisur road in Mirali tehsil.
Official sources said 15 members of a militant group were killed. Their bodies were charred.
Local people rushed to the place and carried out rescue work.
Unmanned planes kept flying over the area throughout the day.
AFP adds: A security official said Uzbek militants had been killed in the attack on the vehicle.
Those who died in the first attack belonged to Badar Mansoor and the Haqqani network, loyal to the Afghan Taliban, another official said. Last Thursday, officials said Mansoor, described as the "de facto leader of Al Qaeda in Pakistan" had been killed in a drone strike in North Waziristan.
The New America Foundation think-tank in Washington says drone strikes in Pakistan have killed between 1,715 and 2,680 people over the past eight years.
According to an AFP tally, 45 US missile strikes were reported in the tribal belt in 2009, 101 in 2010 and 64 last year.
President Barack Obama last month confirmed for the first time that US drones attacked Taliban and Al Qaeda militants on Pakistani soil.