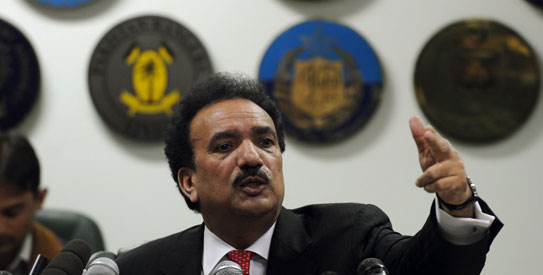 ISLAMABAD: Interior Minister Rehman Malik on Friday claimed that a third force is trying to destabilise the situation in Balochistan and said that the government is ready to hold a dialogues with Baloch separatists, DawnNews reported.
The Senate session today discussed the law and order situation in the province. Malik defended the security forces by saying that the Army, Frontier Constabulary (FC) and other security agencies were trying to save Pakistan.
Senator Shahid Bugti raised the issues of missing persons and political murders in Turbat and asked the interior minister to inform the upper house on progress made on these issues.
Furing the session, Deputy Chairman Speaker Jan Mohammad Jamali requested Malik to brief the Senate on the Balochistan situation.
The minister said he was ready to give a detailed in-camera briefing to the Senate on the law and order situation in the province.
He further said that conspiracies were being hatched to separate the province from Pakistan, and urged the need for every one to take the issue seriously.
He also condemned drone attacks in the tribal areas.