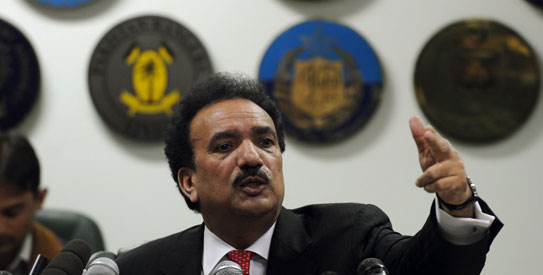 ISLAMABAD: The Pakistan government on Saturday directed the country's cricket board and its High Commission in the UK to submit a detailed report on a recent spot-fixing case in order to repatriate three jailed cricketers.
Former Pakistan captain Salman Butt was handed a 30-month sentence, Mohammad Asif 12, Mohammad Amir six and their agent Mazhar Majeed 32 months respectively for their roles in fixing part of the Lord's Test against England last year.
The government led by president Asif Zardari, who is also a patron of the Pakistan Cricket Board (PCB), is giving the case his full consideration.
Interior minister Rehman Malik told reporters a meeting had been held with a view to seeking repatriation of the guilty players.
"During a high-level meeting president Zardari on Friday directed the PCB to submit a report which should include recommendations on how to avoid a repeat of such incidents," said Malik.
"The government would consider bringing the three players home. We have also requested Pakistan's High Commissioner to the UK, Wajid Shamsul Hassan, to provide necessary legal aid to them and he has been asked to submit a report."
Malik, who said the players could still be innocent, termed the whole episode "unfortunate."
"It's unfortunate what happened, the government will form a commission to investigate the matter thoroughly and the players will not be left alone," said Malik.
In a separate investigation, the International Cricket Council had also banned the three cricketers for a minimum of five years.
Malik added: "Despite their guilty verdicts in both the ICC hearings and the recently concluded criminal trial in London, we cannot rule out the possibility of any of the convicted players being innocent."
When the spot-fixing scandal surfaced the Pakistan government gave Scotland Yard assurances that the players would return to the UK in the event of criminal proceedings.