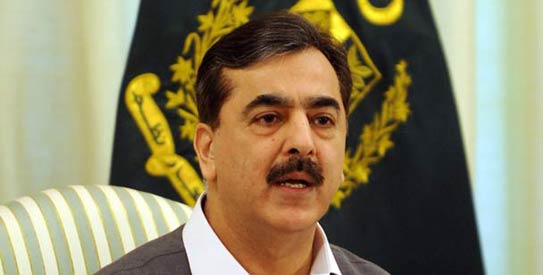 MULTAN: Prime Minister Yousuf Raza Gilani has called upon Afghan President Hamid Karzai to end misconceptions about Pakistan.
Mr Karzai should not suspect Pakistan over the killing of former Afghan president Burhanuddin Rabbani, Mr Gilani said at a public meeting in Billiwala after laying the foundation of the Multan-Khanewal section of the Multan-Faisalabad motorway on Saturday.
He said that Pakistan would cooperate with Afghanistan in all matters, including security issues, because "our intentions are beyond doubt in pursuing peace in the region".
He said the All Parties' Conference had united the nation, forcing the US to acknowledge it could not fight terrorism without Pakistan.
He said the APC was called to consult those political parties that had boycotted elections.
"Although we want peace, we will not compromise on any challenge to the sovereignty of Pakistan and dialogue with the US will be held on the basis of equality and mutual respect," he said.
The prime minister said the government had faced the world boldly at every platform and did not compromise on national interests.He said that terrorism was not in the country's interest and the government was ready for dialogue with the world for the sake of peace.
"We will not allow anyone to interfere in our matters and only those steps will be taken that will be in the favour of Pakistan," he said.
He said the nation was united to face any challenge confronting the country.
He said that Pakistan did not want war with anyone and would continue to play its role for peace not only in the region but also in the world.
Turning to the grievances of the people of southern Punjab, Mr Gilani said that the time of deprivation had passed and "the region will get the status of a separate province one day".
"It is not just a public gathering but also a referendum in which the people are demanding a separate province," he said.
He said that the Multan-Khanewal motorway would reduce the distance, put the region on the path of prosperity, provide access to markets and reduce the sense of deprivation among people.
He said the motorway would be constructed from Muzaffargarh to Gwadar and talks with China in this regard were under progress.
The prime minister laid the foundation stone of a 57-km Multan-Khanewal section of the Multan-Faisalabad motorway, which is being constructed at an estimated cost of Rs14 billion.
The project will be completed in four phases, including the Multan-Khanewal (57km), Khanewal-Shorkot (65km), Shorkot-Gojra (61km) and Gojra-Faisalabad (58km).