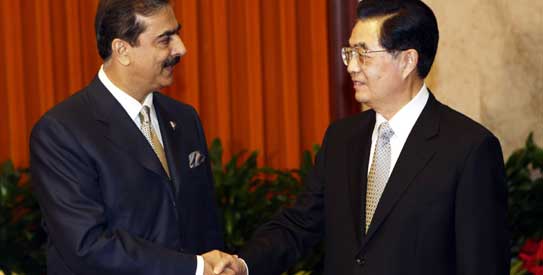 ISLAMABAD: Defence Minister Chaudhry Ahmed Mukhtar said on Saturday that China had "acceded to Pakistan's request to take over operations" of the Gwadar port as soon as the agreement with the Singapore Port Authority expired.
The minister, who had accompanied the prime minister during his visit to China, issued a statement to press about the development.
But the statement was silent on an important point: whether China will wait till 2047 for taking over the port. According to the concession agreement between Gwadar Port Authority (GPA) and PSAI-AKD group, signed on Feb 6, 2007, the arrangement will be valid for 40 years.
Under the agreement, the Gwadar Port Authority receives revenues from consortium of PSAI-AKD.
Mr Mukhtar said Pakistan was grateful to the Chinese government for building the Gwadar port. "However, we shall be more grateful to the Chinese if they agree to build naval base at Gwadar."
Gwadar, the country's third port after Karachi and Port Qasim, lies on the Arabian Sea. It is 533kms from Karachi and 120kms from the maritime frontier with Iran.
FRIGATES: Ahmad Mukhtar said that during meetings with Chinese officials, he had discussed important strategic and economic matters. "Pakistan requested for frigates of 4,400 tons on credit basis. We also requested the Chinese to train our personnel in running submarines."
According to Mr Mukhtar, the prime minister also asked his counterpart, Wen Jiabao, to consider inducting the JF-17 Thunder aircraft into the PLA (Peoples Liberation Army) fleet as it would enable Pakistan to sell a large number of the planes to other countries.
The Chinese government had agreed to "our request to equip our air force with FC-20 aircraft", the minister added.
He also said Islamabad had asked Beijing to convey a message to Washington that "our sovereignty be respected".
The Chinese government "assured us of help in removing hurdles in the way of Pakistan's progress", the defence minister said.
Now you can follow Dawn Business on Twitter, LinkedIn, Instagram and Facebook for insights on business, finance and tech from Pakistan and across the world.