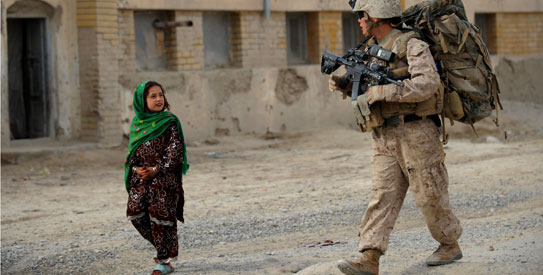 FOB DELHI, Afghanistan: They may be banned from fighting the Taliban on the front line in Afghanistan, but teams of American female troops are leading the battle for the hearts and minds of Afghan women.
When Female Engagement Teams (FETs) go out on patrol in Afghan villages, they are fully armed with guns, helmets and body armour.
If they are invited into someone's home, however, they lay their weapons at the edge of the room and don headscarves to discuss family, health and security.
The aim is to boost support for pro-government forces fighting insurgents in some of the most strategically important parts of Afghanistan, ahead of a planned transition to Afghan control of security by 2014.
In some villages, "they're like, 'I don't care if you're a female, you're not going to talk to my women' or they're scared of you" but in others, people are "excited" to see women troops, said US Marine Sergeant Savanna Malendoski, a FET member in southern Afghanistan.
Afghan women are rarely seen or heard outside the confines of their homes in deeply conservative parts of the countryside.
Although it is often hard to persuade local women to talk, there is common ground with those who do invite them in, added Malendoski, who is stationed in Garmsir district in Helmand province.
"They question why I'm away from my son but when I get to explain this is how I provide for my family... it's just 'you're a mom, I'm a mom and those are our kids'," said Malendoski, who carries a picture of her three-year-old with her on patrol.
The FETs aim to isolate the Taliban by building a rapport with locals through discussions about social issues like health and encouraging women to develop economically useful skills in, for example, sewing.
They also sometimes pick up intelligence snippets.
Some members say locals have used them to report locations of improvised bombs, although the troops do not directly broach this or other sensitive issues - such as domestic abuse - with the women.
More than 40 women serving with the US military have volunteered to be based in the volatile provinces of Helmand and Nimroz as part of the programme, which started two years ago.
The volunteers previously served in military support units like catering, engineering and logistics. Most are in their 20s and are from the US Marines or Navy.
It is not easy work. Although the teams do not take part in direct combat, they are sometimes shot at and face scepticism about their jobs from the male troops they live and serve with.
"This is the closest that females can get to the front line... I guess it's something a lot of female marines have an interest in," said Corporal Ashley Cardona, another FET member.
"It's a very male-dominated job - it's a male-dominated world, though, so I guess I'm used to it."
Women tell tales of how the men sometimes make them carry heavier packs and make patrols longer to test them. But they insist they stay the course and eventually win them over.
The officer in charge of all troops in Garmsir and two other districts, Colonel David Furness, is convinced of their value.
"Women have influence over men, any woman knows that, any guy who's married knows that," he said. "If you don't try to have access to that element, you're dealing with only half the population."
But some experts question how effective FETs can be in a country as conservative and male-dominated as Afghanistan.
Candace Rondeaux of think-tank International Crisis Group said that while engaging Afghan women was a "really important part" of military strategy, there are risks in trying to do so in an area as conservative as the south.
"It may be right idea, wrong place, wrong time at this stage," she said.
Like many men serving in Afghanistan, the women admit their work takes a toll on their personal lives.
Malendoski said she "didn't necessarily explain" to her young son that she was deploying to Afghanistan before her tour of duty started last September.
But he now understands that when he sees his mother getting on a bus at a military base, she will be away for a long time, she said.
"He's been through it now three times so he understands that when the white bus is there, he doesn't necessarily like it and it is really hard," she explained.
"We actually had a phone conversation, it was like: 'I want you to come and cuddle with me and I want you to come home' and I told him I was working... he just told me: 'I don't like Afghanistan, mommy'."