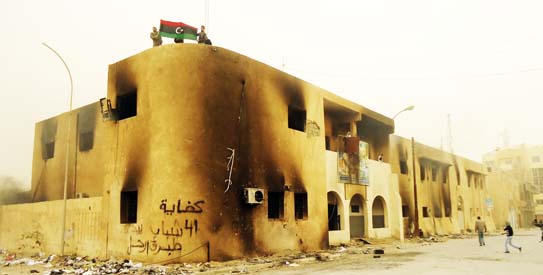 TRIPOLI: Libyan leader Muammar Qadhafi appeared briefly on state television on Tuesday signaling his defiance in the face of a mounting revolt against his 41-year rule.   Qadhafi's forces have fought an increasingly bloody battle to keep him in power, with fighting spreading to the capital Tripoli and local residents saying warplanes had bombed the city.   In his first address since the protests started last week, he made a 22-second statement in front of his house to deny the reports he had fled to Venezuela, ruled by his friend President Hugo Chavez. 
"I want to show that I'm in Tripoli and not in Venezuela. Do not believe the channels belonging to stray dogs," Gaddafi said, under a large umbrella and leaning out of a van. 
"I wanted to say something to the youths at Green Square (in Tripoli) and stay up late with them but it started raining.
"Thank God, it's a good thing," added Gaddafi, who took power in a military coup in 1969 when he toppled King Idriss. 
Security forces have killed dozens of protesters across the vast, thinly populated nation stretching from the Mediterranean deep into the Sahara desert, human rights groups and witnesses said, prompting widespread condemnation from world leaders. 
Demonstrations spread to Tripoli after several cities in the east — including Benghazi where the protests had first erupted — appeared to fall to the opposition, according to residents. 
Cracks were beginning to appear among Qadhafi's supporters, with a group of army officers calling on soldiers to "join the people" and two senior fighter pilots defecting to nearby Malta. 
The UN Security Council will hold a closed-door meeting on Tuesday to discuss the crisis, diplomats said.   Tripoli, a Mediterranean coastal city, appeared calm in the early hours of Tuesday.
"There is heavy rain at the moment, so people are at home," one resident said. "I am in the east of the city and have not heard clashes." 
Earlier, residents reported gunfire in parts of Tripoli and one political activist said warplanes had bombed the city. 
"What we are witnessing today is unimaginable. Warplanes and helicopters are indiscriminately bombing one area after another.
There are many, many dead," Adel Mohamed Saleh said in a live broadcast on al Jazeera television. "Anyone who moves, even if they are in their car, they will hit you."   US-based Human Rights Watch said at least 233 people had been killed in five days of violence. Opposition groups put the figure much higher. No independent verification was available and communications with Libya from outside was difficult. 
WORLD CONDEMNATION 
Revolutions which deposed the presidents of Tunisia and Egypt have shaken the Arab world and inspired protests across the Middle East and North Africa, threatening the grip of long-entrenched autocratic leaders. 
US Secretary of State Hillary Clinton said it was "time to stop this unacceptable bloodshed." EU foreign ministers condemned the killing of protesters and pledged to support democratic transition resulting from the unrest.   UN diplomats said the closed-door meeting, known as consultations, had been requested by Libyan deputy ambassador Ibrahim Dabbashi and would start at 9 a.m. EST (1400 GMT). 
Dabbashi and other diplomats at Libya's mission to the United Nations announced on Monday they had sided with protesters and were calling for Qadhafi's overthrow.   Earlier, a group of army officers issued a statement urging fellow soldiers to "join the people" and help remove Qadhafi, Al Arabiya television said. The justice minister has also resigned in protest at the use of force. 
Two Libyan fighter jets landed in Malta, their pilots defecting after they said they had been ordered to bomb protesters, Maltese government officials said. 
Libyan guards have withdrawn from their side of the border with Egypt and people's committees were now in control of the crossing, the Egyptian army said, without making it clear if the groups now in control of the border were loyal to Qadhafi.   Ninety percent of Libyan oil exports come from the eastern region of Cyrenaica, epicentre of the revolt. Brent crude prices hit $108 a barrel on fears the violence could disrupt supplies from the OPEC member. 
Output at one of Libya's oil fields was reported to have been stopped by a workers' strike and some European oil companies withdrew expatriate workers and suspended operations. 
A flamboyant figure with his flowing robes and a penchant for female bodyguards, the long-serving Gaddafi is one of the most recognisable figures on the world stage.   He has shunned by the West for much of his rule which accused him of links to terrorism and revolutionary movements.
US President Ronald Reagan called him a "mad dog" and sent planes to bomb Libya in 1986. 
Qadhafi was particularly reviled after the 1988 Pan Am airliner bombing over Lockerbie, Scotland, by Libyan agents in which 270 people were killed.