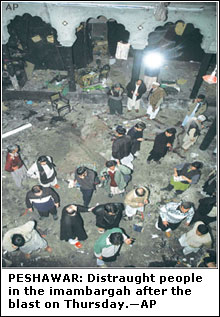 PESHAWAR, Jan 17: At least 12 people were killed and 25 others injured, three of them critically, when a suicide bomber blew himself up in an imambargah here on Thursday.
Police said that the teenage bomber carried out the carnage at the crowded Mirza Qasim Baig Imambargah in Mohalla Janghi, Kohati.
"A young man barged in, fired three shots and blew himself up when some people tried to overpower him," said a witness.
Those killed inside the imambargah included police constable Asad Waqar. His son Mohammad Waqar Ali told Dawn that the family belonged to Multan and he was here on leave.
Witnesses said the bomber was wearing white shalwar and black shirt. "He pushed the security guards aside and rushed in," said another witness. "Immediately afterwards, we heard an explosion."
Heavy rain created difficulties for rescue workers and an enraged crowd broke a police cordon to reach the hospital where the injured and bodies had been taken. Local elders managed to pacify the crowd.
Last year, a bomb blast barely 2km away from the place of Thursday's attack had left 15 people dead.
Senior Superintendent of Police (Operation) Imtiaz Shah told reporters that a policeman in civilian dress had tried to frisk the suspect but he pushed him aside and detonated the explosive vest he was wearing.
Agencies add: "It was a suicide attack," interior ministry spokesman Javed Cheema said. "The bomber was 15 or 16 years old and he blew himself up after entering the gate leading to the prayer hall."
A cleric, Syed Reza Shah, who had come from Rawalpindi to address a gathering at the mosque, was among the injured. His deputy, Kalb-i-Abbas, was killed, said a police official.
Peshawar police chief Tanvir Sipra said the policeman who had tried to stop the bomber from entering the mosque had also been killed. Some women police officers were wounded.