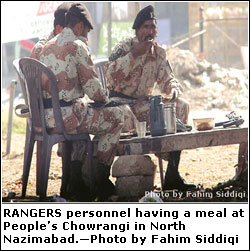 KARACHI, Jan 3: As the setting sun of Dec 27 saw Pakistan's popular political leader lie dead in the Rawalpindi General Hospital, Karachi streets witnessed quick disappearance of Rangers and police, leaving the people rushing home in panic from their workplaces at the mercy of robbers, plunderers and arsonists.
Disappearance of police and Rangers from streets and roads after devastating bomb blasts and target killings in Karachi has become a routine feature during the last few years. Motorists, shopkeepers, petrol pumps and the public on roads become easy target of armed assailants, who come from nowhere and disappear after completing their mission.
The year 2007 has left behind a trail of blood, looting and arson as unprotected people in Karachi and elsewhere in the province were deprived of their belongings and subjected to all sorts of vandalism from the evening of Dec 27 to Dec 31. More than three dozen people were killed and many others wounded. Though the loss of property is still being assessed, a rough estimate puts it at something between Rs60 billion and Rs80 billion.
All this loss of life and property has been suffered by the poor province of Sindh, which has spent as much as Rs90 billion on police and Rs15 billion on Rangers in the last 16 years. The bulk of this amount went to salaries and perks. A substantial amount has been spent on the purchase of vehicles but very little on upgrading skills and competence of the law enforcers.
''Police and Rangers are not motivated enough,'' a teacher of a local law college said, pointing out that our law enforcers were ruthless when it came to dealing with unarmed trade union activists and civil society members, but they could not face armed miscreants to protect citizens. On all crucial occasions, police and Rangers have abandoned the citizens.
What were police and Rangers doing during the four days from Dec 27 to 31? This is the question being asked commonly. Neither is any assembly in place nor the senate is being convened where an answer or explanation could be sought. The caretaker ministers are not obliged to give answers to the people many of whom were target of highhandedness. Many people were pulled out of their cars, robbed of their cellphones and cash and their cars were set on fire. Food warehouses were looted, shops were plundered and set on fire. Trailers on the highways were emptied of their cargoes and burnt down.
Since 1991, Rangers have been a regular part of the law enforcing outfit in Sindh. Every year in July, the Sindh government makes a formal request to the federal interior ministry for one-year extension in their deployment in the province and Islamabad readily obliges. Since 1991, the crime graph in the province has maintained an upward trend. In fact crimes have been more heinous than before. There were bank robberies and target killings during the '80s. In the '90s, there were bomb blasts at places of worship and after the year 2000 suicide bombings have become frequent.
A top bureaucrat, who is now abroad but previously served Sindh as home and finance secretaries, recalls the year 1983 when the province came in the severe grip of lawlessness and there were frequent incidents of ethnic and sectarian violence. It was then that people in rural areas had put up resistance against the military dictatorship and were brutally suppressed. Since then the army was called out and paramilitary forces were deployed. It was also during those years that private security forces were set up that drew their personnel mostly from retired army men.
But in 1991, the Rangers were deployed and since then every year in July there is a ritual of making a formal request to Islamabad. It happened even in the year 2003 when the Muttahida Qaumi Movement joined the Sindh coalition government as its major partner.
During the 1980s and the 1990s, police and Rangers reportedly targeted MQM cadres. In 1998, the MQM set up a protest camp against Rangers and police in front of the Karachi Press Club. Police also sponsored some people to set up a counter protest camp opposite the MQM. But to everyone's relief nothing untoward happened despite tension.
In 2003, the MQM controlled the Sindh home department and approached the federal interior ministry through the chief minister for a one-year extension in Rangers' deployment. It was a very uncomfortable situation for all those involved in this ritual — the MQM, the interior ministry and the Rangers. But as it was, Rangers served the MQM well and demolished the rival MQM faction's headquarters in Landhi. After 2003, the MQM leaders are full of praise for Rangers.
An official document of the Sindh government shows that over Rs4 billion was spent on Rangers and the Frontier Constabulary during 1991-92 to 1998-99. Since then the expenditure has gone up manifold because of the rise in wages, fuel prices and the impact of inflation.
After their induction, Rangers were given control of the lucrative fishing lakes and seashores in Sindh. The fishing licences were auctioned to the highest bidders, depriving the fishermen of their living. They were made to quit after much protest recently. Rangers also supply water in Karachi through tankers. They have opened a general store in the city.
A Rangers spokesman was contacted but he was unavailable for comment.