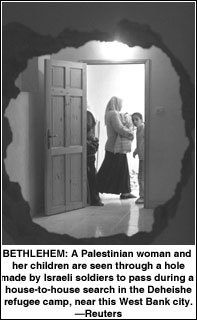 TEL AVIV, March 11: A Palestinian suspected of attempting to carry out a suicide bombing who was shot dead by Israeli police in Al Quds on Friday was "executed in cold blood half an hour after his arrest," Palestinian witnesses said Sunday.
More than 10 Palestinians have provided newsmen with their testimonies. According to them, Mahmud Salah, 23-year-old a member of the Al-Aqsa Martyrs Brigades militant group, had been held by the police for more than half an hour before his "execution" in the city's Beit Hanina neighbourhood.
Many of the witnesses questioned by AFP demanded not to be named.
One witness, Yehiya al-Waari, 56, said that Salah "was assassinated half an hour after his arrest, after police completely subdued him."
"Around 4:15 pm (1415 GMT) on Friday, a car from the border guard police arrived in east Jerusalem's Beit Hanina neighbourhood. They were looking for two young men," he said.
He added that "when Mahmud arrived, he was immediately handcuffed, then (the policemen) raised his hands and threw him against my car. Minutes later, a police bomb disposal unit arrived on the scene."
"A policeman had put his foot on (Salah's) neck, another was holding his legs while and a third his hands. All the neighbours and myself saw from our windows and balconies how he was executed, more than half an hour after his arrest," he also said.
"The members of the special units threw him to the ground and cut open and removed his clothes with a special blade, leaving him with only his boxer shorts on," he added.
An anonymous caller from the Al-Aqsa Martyrs Brigades, an armed offshoot of Palestinian leader Yasser Arafat's Fatah group, on Saturday claimed that Salah had been on his way to carry out a suicide bombing in in the Neve Yaakov Jewish settlement in the area.
An AFP correspondent also interviewed several women who witnessed Salah's death. They said they were afraid that if they spoke out that the police would "take revenge" because of their statements, and claimed they had entered the neighborhood several times since the incident to fire into the air.
"Members of the regular police were, from the start, clearly disagreeing with the members of the special units who executed Salah and were repeating in Hebrew: 'Let's kill him!'," Waari said.—AFP