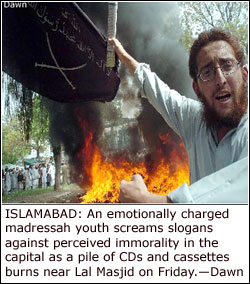 ISLAMABAD, April 6: Formally announcing the establishment of a parallel judicial system, the pro-Taliban Lal Masjid administration on Friday vowed to enforce Islamic laws in the federal capital and threatened to unleash a wave of suicide bombers if the government took any action to counter it.
"Our youth will commit suicide attacks, if the government impedes the enforcement of the Sharia and attacks Lal Masjid and its sister seminaries," Maulana Abdul Aziz, the in-charge of the mosque said in his Friday sermon.
The fresh suicide bombing threat is stated to be the strongest given so far by the hard-line clerics of the Lal Masjid, intensifying fear among Islamabad residents.
President Gen Pervez Musharraf had recently stated that he knew that the Lal Masjid's management wilfully harboured suicide bombers. He said that the suicide bomber who had attacked Islamabad's Marriott Hotel in January 2007, had been seen near the mosque the same day.
Maulana Abdul Aziz announced the setting up of a Qazi court in his sermon that also marked the opening of a three-day 'Nifaz Sharia-o-Azmat Jihad Conference'. A large number of supporters had reached the mosque.
The government did nothing to stop the groups of people coming from different cities and nearby areas throughout the day to participate in the conference.
Religious activists, some of whom were wearing masks, also staged a demonstration before the Friday prayers. Burqa-clad girl students of Madressah Hafsa kept a vigil atop the seminary's roof. The activists were chanting 'Al Jihad, Al Jihad'.
Armed with sticks, a group of religious activists set on fire thousands of video and audio cassettes and computer compact discs, 'given up' voluntarily by a shopowner who, according to them, had announced to abandon 'this business'.
Maulana Aziz reminded the shopkeepers that they had been given a 30-day deadline to close down their 'evil' businesses and switch over to some other 'decent' venture and said students of the seminary would punish the shopkeepers who did not do so. He asked traders to financially 'support' the owners of video and CDs shops to enableg them to switch over to some other business.
Maulana Aziz urged the authorities and the people concerned to stop dealing in video CDs, putting up billboards with women's photographs, selling liquor and running 'brothels' and drug dens in Islamabad.
MARRIAGE PROPOSAL: Maulana Aziz said that a 'special centre' had been set up in Madressah Hafsa titled 'Taibaat Abidaat Centre' to provide shelter to women who would voluntarily give up their 'immoral activities'. He said these women would be provided 'security and protection' through 'marriages'. Maulana Aziz announced that he would marry any woman who repented and gave up her immoral life. "I am now 46 years old and am ready to marry a woman who is between 35 to 40 years of age. If she promises to live a life of piety, I promise that I will never refer about her past life," Maulana Aziz announced.
Maulana Aziz said that they would enforce Sharia in areas which had been under their influence. The management of the mosque informed the media that 'Qazi court' would comprise 10 Muftis. However, it declined to disclose their name.
A source told Dawn that no renowned scholar had been made the judge of the 'Qazi court' and it consisted of teachers of the Madressah Faridia, a seminary which was also being run by Lal Masjid.
QAZI COURT: Maulana Ghazi Abdul Rasheed, deputy in-charge of the mosque and a younger brother of Maulana Abdul Aziz, told reporters if Jirga and Panchayat system were not considered parallel judicial systems why was Qazi court being called a parallel system. "We will see whether people will come to the Qazi court or prefer going to courts of the state for seeking justice," he said.
Describing the functions of the 'Qazi court', Maulana Ghazi said it would be mandatory for rival parties to submit an affidavit that they would accept the court's decision. "They will have to obey the court's verdicts," he replied when some reporters asked him what action would the administration of Lal Masjid take against 'disobedient people'. He said they would launch a campaign to 'persuade' people to bring their disputes and social problems to the 'Qazi court'.