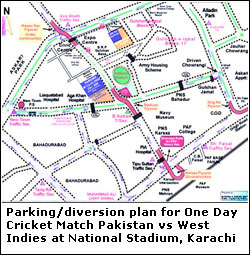 KARACHI, Dec 14: Police have planned to beef up security and divert traffic on Saturday in and around the National Stadium in connection with the one-day international cricket match between Pakistan and West Indies.
Heavy contingents of police would be deployed in and out of the National Stadium to provide the two teams security. Keeping in view the crowd, the traffic police devised a traffic management plan so that traffic chaos could be avoided.
The National Coaching Centre's ground on Sir Shah Mohammad Suleman Road would be used for parking of vehicles and in case the space is packed with vehicles, the parking space of Expo Centre would be used.
However, the parking lot "A" in the National Stadium would be used for vehicles of foreign players and guests, law enforcers and journalists. The traffic police warned the visitors that their vehicles would be towed away if found at wrong places.
All dumpers, trailers, trucks and any animal-drawn cart would not be allowed on Habib Ibrahim Rahmatollah Road, Stadium Road, Dalmia Road and Sir Shah Suleman Road.
Traffic would be allowed to proceed on Stadium Road up to Aga Khan Hospital from the New Town intersection. Sir Shah Suleman Road from Hasan Square would be closed for traffic. All heavy and commercial traffic from the Karsaz traffic signal towards the National Stadium would not be allowed. However, light vehicles may proceed up to Amir Khusro Road's turning.
Any vehicle coming from KDA Chowrangi behind the National Stadium would not be allowed to proceed to the stadium.
Only those vehicles would be allowed whose occupants would show the tickets of the one-day match.
A shuttle bus service would be run from the Hasan Square, Karsaz traffic signal, and the Dhorajee turning on Stadium Road to the National Stadium. All spectators have been asked to come earlier to avoid inconvenience, a press release issued by the traffic police said.