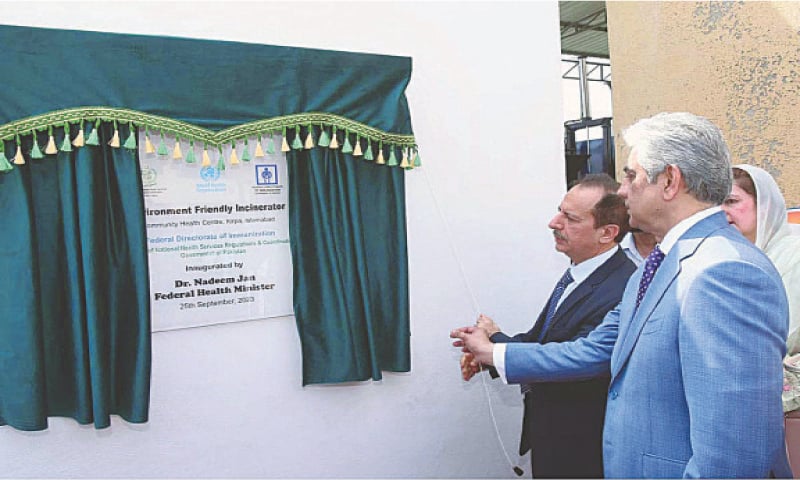 ISLAMABAD: Interim Health Minister Dr Nadeem Jan on Monday inaugurated an "environment-friendly incinerator" at a community health centre in Kirpa for the disposal of hospital waste.
"This cutting-edge facility marks a significant milestone in Pakistan's commitment to both public health and environmental stewardship," said Dr Jan while speaking on the occasion.
"In the light of Pakistan's national environment commitments, we are taking action for climate change and its impacts," the minister said and added that with the rising demand for safe and effective waste disposal solutions, the Ministry of National Health Services recognised the urgent need for a facility that "adheres to the highest standards of environmental sustainability".
He said that the incinerator employed the latest technology to minimise emissions and reduce the impact on the environment. "It complies with stringent environmental regulations, ensuring that our surroundings remain pristine," he said, adding that the proper disposal of the hospital waste was essential to curb the spread of infectious diseases. "The new incinerator guarantees the safe destruction of hazardous waste materials," Dr Jan said, adding that Islamabad generated 4,000-5,000kg of hospital waste every day, including the EPI waste. This incinerator would be used to burn at least 1,000kg of trash daily, he said, adding, "[The] government of Pakistan, as per its national environment policy is committed to being at the forefront of responsible healthcare waste management."
Furnace to burn 1,000kg waste daily
The statement said the Federal Directorate of Immunisation under the Ministry of National Health Services "ensures full compliance with local, national, and international waste disposal regulations, underscoring our dedication to legal and ethical standards".
It said that the incinerator "captures and harnesses energy generated during the waste disposal process, leading to energy savings and reduced reliance on non-renewable resources".
"Responsible waste management contributes to global efforts to mitigate climate change by reducing greenhouse gas emissions and environmental pollution," the statement said, adding that effective recycling and waste management will not only reduce the environmental impact but also contribute to the overall safety of the community.
FDI DG Dr Muhammad Ahmad Kazi thanked Dr Nadeem Jan and all other stakeholders for being a part of this initiative. He stated the investment in this environment-friendly incinerator reflected the government's "unwavering dedication to delivering healthcare services of the highest quality while upholding the principles of environmental sustainability". "We look forward to leading by example in the healthcare industry and making a positive impact on the community," he added.
Published in Dawn, September 26th, 2023