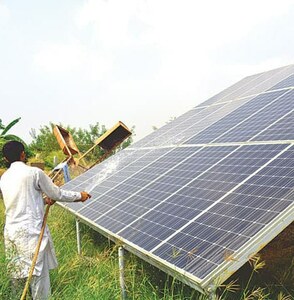 ELECTRICITY is a basic necessity, but many poor families in Pakistan cannot afford it anymore. The electricity crisis has worsened in recent months due to the government's failure to provide reliable and affordable power. Many people have turned to alternative sources, such as solar systems, but they are also costly and scarce.
The government can help the poor by taking the several measures. It should offer loans to help people arrange solar panels or other renewable energy systems. This would allow them to generate their own electricity and save money. The government can partner with banks or microfinance institutions to provide low-interest loans in this regard.
Community-owned solar farms may also be considered as they can provide electricity to poor families at a discounted rate. This would create a collective and sustainable source of energy for the poor, and also generate income for the community.
Increased awareness about energy efficiency, subsidies for low-income households, flexible payment plans, encouraging the use of energy-saving appliances are some of the ways to promote responsible energy consumption.
The rich in the country — and there is no dearth of them — also need to step forward and help the poor by making solar panels available to the latter. A bit of compassion will not be out of place.
Azeem Hakro
Umerkot
Published in Dawn, September 23th, 2023