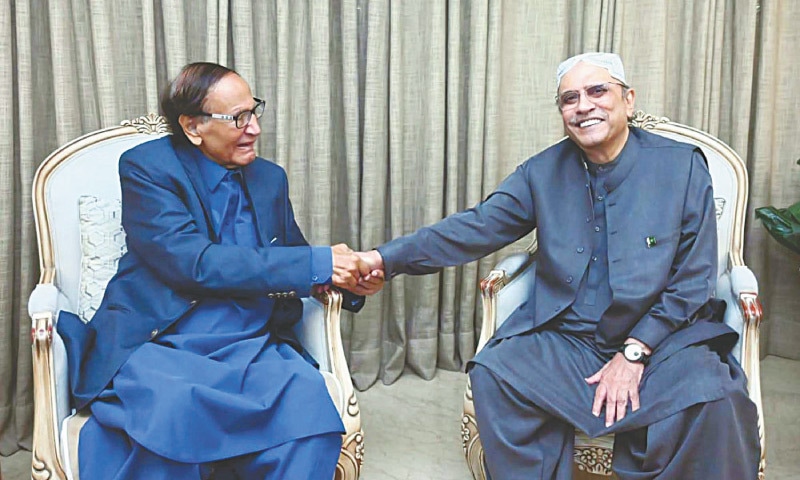 LAHORE: Hours after the ECP set last week of January for holding polls in the country, PPP leader Asif Ali Zardari met PML-Q president Chau­dhry Shujaat Hussain at his residence on Thursday and discussed plans for elections, including a proposal to make an alliance and go for seat adjustment in Punjab.
The current political situation remained the focus of the around 40-minute-long meeting, during which Mr Zardari also inquired after the veteran politician's health.
While there was no official word on the details of the discussion between both leaders, PPP's central media cell tweeted that Mr Zardari visited PML-Q President Shujaat Hussain and discussed with him the current political situation in the country.
Since the PPP's central executive committee has empowered Mr Zardari to meet top leadership of political parties for striking seat adjustments to get his party a share of seats in the province, the former president has stationed himself in Lahore and launched efforts to get the job done.
Hunting for an alliance, former president parks himself in Lahore
On the other hand, PML-N President Shehbaz Sharif rushed to London on Thursday to discuss the political situation with party supremo Nawaz Sharif. It may be recalled that Mr Shehbaz had returned from the UK only a few days ago. PML-N Chief Organiser Maryam Nawaz has also gone to London to attend the huddle which aims to make plans for the elections.
Sources said PPP wanted to go for seat adjustment with both PML-N and PML-Q, with its second-tier leadership also hinting at a similar arrangement with the PTI.
Though senior PML-N leaders are silent on entering into an alliance with PPP, its second-tier leadership is vocal enough to express its opposition to such an alliance. They say PDM was made only to oust Imran Khan from power and complete the remaining period of the previous government's tenure.
Thursday's meeting was also attended by former federal minister Chaudhry Salik Hussain and PML-Q Punjab President Chaudhry Shafay Hussain.
At a time when Mr Zardari is on a hunt for alliance, PPP General Secretary Nayyer Hussain Bukhari has declared that the party will not enter into any electoral alliance with any party because it simply does not want such an arrangement.
Speaking at a cake-cutting ceremony to mark the 35th birthday of party Chairman Bilawal Bhutto-Zardari, he said PPP did not wish to engage in a bitter rivalry with any party, adding that its workers would hold their ground instead of fleeing any electoral contest.
Welcoming the announcement of the election timeline by the ECP, he said if people were allowed to freely use their right to franchise, they would elect Mr Bhutto-Zardari as the next prime minister.
Amid sloganeering, he urged party's die-hard workers to work hard like in 1970, 77 and 88 for bringing the party to power. He said that mere raising slogans or taking selfies with the party leadership would not serve the purpose.
PPP leader Aslam Gill, who chaired the ceremony, expressed the hope that people would vote for Bilawal to elect him as the next prime minister in the coming polls.
Former MNA Musa Gilani said PPP suffered damage in Punjab because of its policy of reconciliation. He said if the party wished to play the role of a real opposition, then it would have to come out on the streets for the cause of the masses.
Published in Dawn, September 22nd, 2023