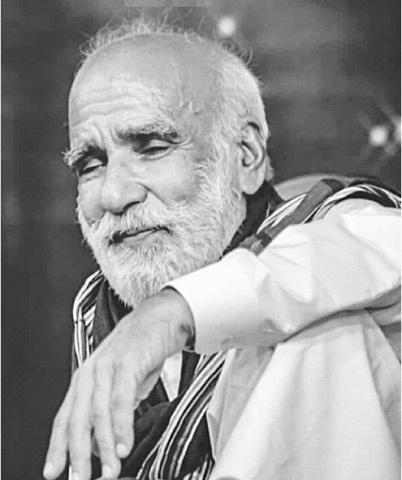 QUETTA/GWADAR: Legendary Balochi language poet Mubarak Qazi passed away on Saturday in Turbat after a prolonged illness at the age of 68.
According to the family, Mr Qazi, who hailed from the coastal town of Pasni, had been in Turbat due to illness for at least two weeks but passed away last night at the residence of a friend. His body was brought to Pasni in a big procession from Turbat where he was buried in a local graveyard in the presence of thousands of people from different walks of life.
Mubarak Qazi was born on December 24, 1955 in Pasni and obtained his initial education from there. After matriculation in 1972, he went to Karachi for further education and did his graduation from Sindh Muslim Arts College. After he returned to Pasni, he was admitted to the University of Balochistan and graduated with a Master's degree in International Relations. After studies, he joined Pasni Fish Harbour Authority and retired as its director of finance.
Claim to fame
Since his student days, he started writing poetry in Balochi. His first poetry book 'Zarnawishat' was published in 1990 and the last collection of his poetry 'Shaklian Jurani Broad' was published in 2022. He has more than 10 collections of poetry to his credit. His poetry was recited and sung by famous singers on radio and TV programmes. Legendary singer late Noor Muhammad Bizenjo rose to fame on the back of the Balochi poetry penned by Mr Qazi.
The famed poet had an active political career as well. He was arrested in 1982 for the first time after he protested the death sentence handed to a Balochistan Student Organisation leader Hameed Baloch who was accused of shooting at a military delegation of Oman which had come to Turbat for recruitment of Baloch youth for the Omani army. Mr Qazi was held at Central Jail Mach at the time.
In 2007, the revolutionary poet spent eight months in jail in Turbat for his radical poetry. In addition to a dozen cases lodged against him for his poems, he was the first Balochi poet who was implicated in a treason case. However, he was acquitted in all cases. He distanced himself from active politics after his son Kambar Mubarak, who was affiliated with a radical separatist outfit, was killed in 2014.
Balochistan interim Chief Minister Mir Ali Mardan Domki, Balochistan National Party-Mengal chief Akhtar Mengal, National Party President Dr Abdul Malik Baloch and others expressed grief over the death and paid rich tributes to the poet for his work to promote the Balochi language. They said that Mubarak Qazi was a man of principle who never compromised on his principles. He will always be remembered as a shining star of the Baloch nationalist movement, they said.
"HRCP is deeply saddened by the death of leading poet Mubarak Qazi in Turbat. Qazi gave a new meaning to romance with political resistance in Balochi poetry. We offer condolences to his family, friends, and readers," the Human Rights Commission of Pakistan said in a tweet.
Published in Dawn, September 17th, 2023