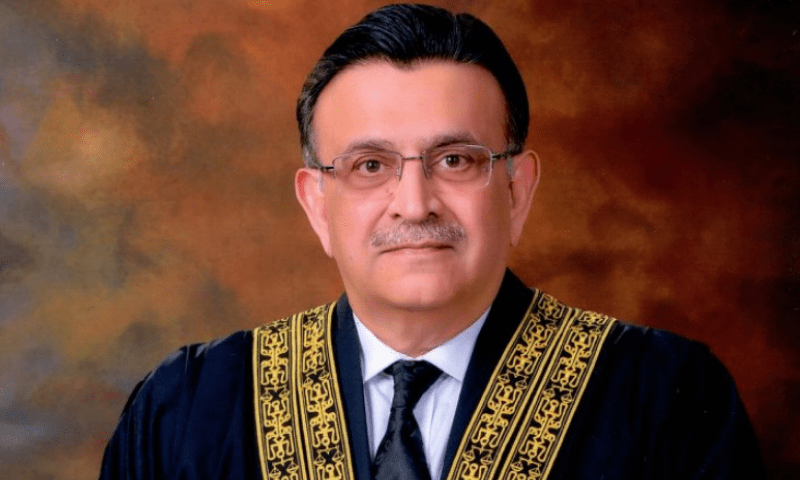 Chief Justice of Pakistan (CJP) Umar Ata Bandial said on Tuesday that the Election Commission of Pakistan (ECP) should conduct the process of delimitations transparently, stressing that it was a "matter of public interest".
The top judge passed these remarks as a two-member Supreme Court (SC) bench, comprising Justice Bandial and Justice Sayyed Mazahar Ali Akbar Naqvi, took up a petition pertaining to errors and illegalities in the delimitation for PS-07, PS-08 and PS-09 of Sindh's Shikarpur district.
After the final results of the first-ever digital census were approved earlier this month, the ECP is now expected to conduct fresh delimitation of constituencies.
However, the electoral body had recently declared that conducting polls on fresh delimitation was not possible and that the exercise would require four to six months, making it almost certain that general elections may not be held this year.
Meanwhile, a Dawn report published today said a huge mismatch in the otherwise increased and decreased share of districts across the country would make the upcoming exercise to re-draw boundaries for provincial assemblies' elections a complex one.
The report highlighted that a thorough analysis of population figures showed that unlike for National Assembly seats, fresh delimitation for the provincial assembly seats can affect dozens of districts.
The delimitation issue was also brought up during the SC hearing today as the CJP remarked that the matter had come to the top court several times.
If the tapedar (revenue official) modifies the dotted circles during the delimitation [process], it would affect votes of the candidates contesting from the constituencies, he said.
"This is a matter of public interest."
The ECP, Justice Bandial stressed, should conduct delimitations transparently. "There is a lot of sensitivity on delimitations in Sindh," he highlighted, adding that grievances regarding incorrect delimitations often came from the province.
At one point, the CJP also asked when the ECP would hold elections. However, the director-general (law) of the electoral watchdog remained silent.
"This means that a date for the general elections has not yet been decided," Justice Bandial remarked with a smile.
He then directed the ECP to resolve all issues prior to the polls and referred the petition back to the electoral body.