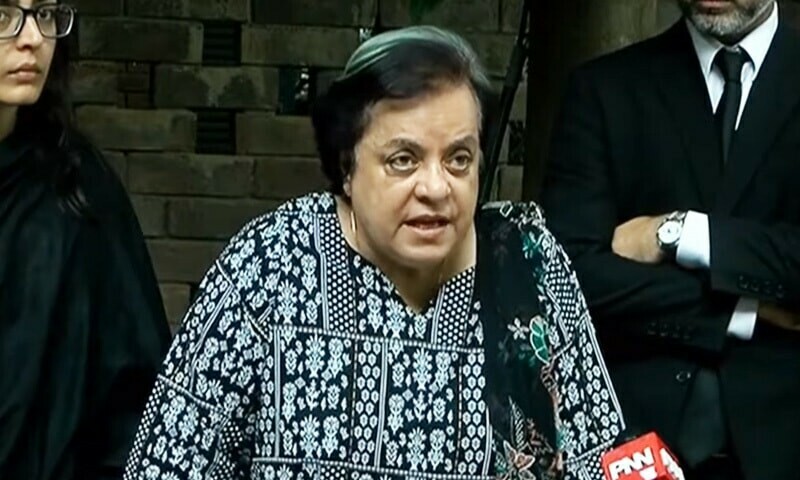 Former human rights minister and PTI stalwart Shireen Mazari on Tuesday quit the party and announced her retirement from "active politics" citing personal reasons.
Immediately after the development, speculation was rife that PTI Vice Chairman Shah Mahmood Qureshi would follow suit in quitting the party. However, in a brief media talk upon his rearrest outside Adiala Jail by the Punjab Police, Qureshi asserted that he was a member of the PTI and would not part ways with it.
The Islamabad High Court had earlier ordered his release after he submitted an affidavit condemning the May 9 protests.
On May 9, PTI Chairman Imran Khan was arrested by the National Accountability Bureau with the help of the paramilitary Rangers at the Islamabad High Court in the Al Qadir Trust case — a development that sparked countrywide protests amid incidents of vandalism and violence.
Following the protests, at least 13 PTI leaders, including Mazari, were arrested under the Maintenance of Public Order ordinance. She was granted bails by courts on multiple occasions but was re-arrested immediately every time.
Addressing a press conference in Islamabad, Mazari started off by condemning the violence that took place in the May 9 and 10 protests, adding that she had given an undertaking to the same in the Islamabad High Court.
"Not only the May 9 and 10 violence, but I've always condemned every kind of violence especially against state institutions and symbols like the General Headquarters, Supreme Court and Parliament," she said, reiterating that violence against such symbols should be condemned and she had done so too.
Mazari said she had taken the decision to leave the PTI and active politics after the ordeal of her 12 days under arrest and the effect it had on her health as well as her daughter, lawyer Imaan Hazir Mazari.
"From today, I'm not part of PTI or any active party because first [for me are] my family, my mother and kids."
She said her children and her health were her main priority and "nothing else is important for me".
'Absolute disgrace for government, military, country'
Mazari's decision was received with dismay by journalists and civil society members, with a majority condemning the circumstances she was put in over the past two weeks.
Reacting to the development, PTI leader Taimur Jhagra said: "Shireen Mazari genuinely believed the promise of PTI. Congratulations to everyone who believes her quitting politics in this manner takes our politics forward."
Former PPP senator Farhatullah Babar said no one should celebrate Mazari's quitting politics or the PTI's splintering.
"It's a moment of sombre reflection, not rejoicing. Sad to see all this," he tweeted.
Senior journalist Hamid Mir, while speaking to Geo News, called the retirement a "huge loss" for democracy and human rights activism in the country.
Anchorperson Shahzeb Khanzada also voiced his disappointment over the now-former PTI leader's announcement, calling it an "embarrassing" day for democracy.
"She is a 72-year-old woman. You can have your differences with her but you cannot jail them over and over again after they were given bail just so that they quit the party," Khanzada said.
Lawyer and social activist Jibran Nasir said the development was a moment of concern for society.
"Those who are enjoying the political opposition of PTI leaders leaving the politics of Pakistan have forgotten that they were forced by the establishment to leave the entire country in the recent past," he rued.
Political analyst Mosharraf Zaidi said the development was "an absolute disgrace for the government, the military and the country at large."
Salman Masood, Pakistan's correspondent for the New York Times, said her decision was "clearly under coercion and duress".
Senior Journalist Mohammad Malick said he was "saddened by the manner in which Shireen Mazari was 'convinced' to quit her party & politics."
"She said a lot without actually saying anything when she cited her daughter's 12-day plight as the primary reason for her realigning her life's priorities. Why did her daughter have to go through all the misery in the first place is the real question," he tweeted.
"Is it a loss for her party? Yes, a big one but it's a much bigger loss for national politics and the movement for human rights in Pakistan."
Journalist Mehreen Zahra Malik hoped that Mazari was only taking a temporary leave from politics.
"Her permanent exit from politics will be a huge loss. Pakistan needs people like her in politics. Genuinely sad for this country today," she tweeted.
Meanwhile, scholar on South Asian affairs and analyst Michael Kugelman reacted to the development saying, "The establishment continues to tighten the screws on the party on all levels."
Former special assistant to the prime minister Fahd Husain said Mazari's reasons were "genuine".
Meanwhile, Climate Change Minister Sherry Rehman stated that the PPP never supported the arrest of political prisoners but whatever problem PTI leaders were facing was of their own doing.
"What goes around comes around, no one is happy to see this but a red line was crossed on May 9," the PPP leader on Mazari's quitting politics.
Timeline of arrests
Mazari was first arrested from her Islamabad house on May 12 by the capital police under the Maintenance of Public Order ordinance after the May 9 protests.
The Islamabad High Court subsequently ordered her release on May 16 and declared her detention illegal and void but she was re-arrested by the police outside Adiala Jail.
On May 17, a sessions court in Islamabad discharged her in a case pertaining to brandishing weapons and ordered her release, later that day she was arrested a third time, this time by the Punjab Police from her home.
The Rawalpindi bench of the Lahore High Court annulled her detention order on May 22 and ordered her release, after which she was arrested for a fourth time, by the Gujrat Police from outside Adiala Jail.
Earlier today, moments after a court in Gujrat ordered her release, Mazari was taken away in a Vigo without a number plate. The PTI claimed it was her fifth arrest.
---
Additional reporting by Umer Burney.