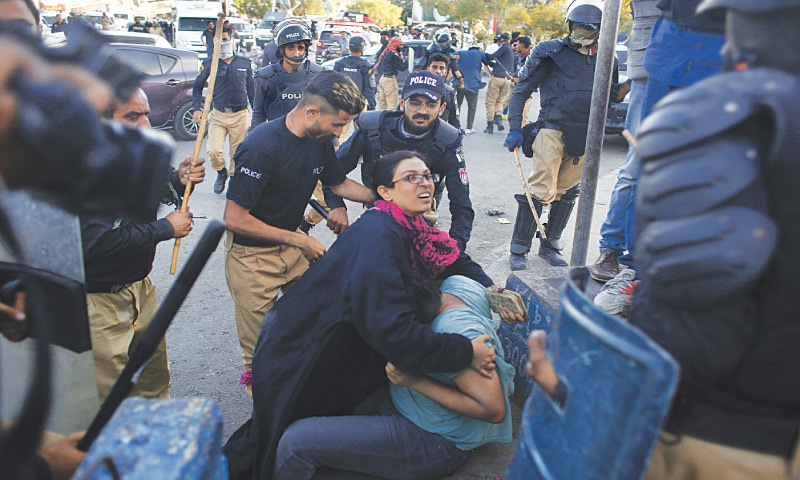 • Women among over 300 workers baton-charged, held
• Sindh govt bans rallies, sit-ins across province
• Green Line, Red Bus services suspended
• Internet shutdown fuels rumours
• Most educational institutions remained closed
• PTI claims 'miscreants' penetrated into peaceful protests
KARACHI: Amid a large number of arrests of workers of the opposition Pakistan Tehreek-i-Insaf during and after clashes with police at different places in the city, raids on party leaders' houses and closedown of government transportation services and internet, an uneasy calm prevailed in most parts of Karachi on Wednesday.
Intermittent clashes between police and PTI workers and supporters were witnessed at a couple of points after a call for protest against the arrest of PTI chairman Imran Khan was given by the party leadership.
Transport remained thin on city roads amid closure of several private educational institutions due to 'precautionary measures'.
The sense of anxiety and confusion that prevailed on Tuesday got further deepened on Wednesday as the suspension of internet services, ban on social media platforms and interruption in cellular services continued to fuel speculations and spread disinformation about the overall prevailing situation in the country.
In a violent incident on Abul Hasan Isphahani Road on Wednesday evening, a police mobile was torched during a protest.
Gulshan SP Zafar Siddique Chaanga told Dawn that a DSP Legal was travelling in the mobile van when miscreants intercepted it and set it on fire while the police officer remained unhurt. He said police rushed to the spot and arrested 'some suspects'.
In a late-night development, the PTI in a statement said they were staging only peaceful protests but some 'miscreants' had penetrated into their demonstrations and those miscreants had set fire to public and private property. The party alleged that the Sindh government was using 'brutal force' to crush peaceful demonstrators.
The day began with the call of protests from the PTI at two different locations in the city and a pre-emptive move from the Sindh government to impose a ban on public gatherings under Section 144 of the CrPC across the province to 'contain violence and illegal activities'.
Despite the government move, PTI workers, including women, reached at the two designated places — Sharea Faisal and Millennium Mall intersection on Rashid Minhas Road — to register their protest.
However, heavy contingents of law-enforcement agencies were already present there.
As the PTI supporters, mostly women, started marching on Stadium Road amid suspension of traffic, the police resorted to baton charge and fired teargas shells.
A number of women were dragged and taken into custody.
Describing the police action as a 'barbaric act', PTI leader Firdous Shamim Naqvi alleged that the Karachi police were using 'brutal force' against women and unarmed people only because they were exercising their democratic right of protest.
"We haven't witnessed such a barbarism even in military rule," he said while surrounded by PTI workers.
"The police have arrested several female workers, including the elderly one. They are crossing every line to appease their masters, but they have forgotten their rule is not here to stay forever. The people of Pakistan are rising against injustice and aggression."
Surprisingly no other PTI leader showed up at any of the two protest sites.
There wasn't even a word from the party about the absence of its leaders.
Workers' arrest
The police, on the other hand, claimed to have arrested 23 PTI 'workers' calling them 'miscreants' from Sharea Faisal and Millennium Mall for 'creating law and order situation' despite imposition of Section 144 on Wednesday.
"We have arrested 23 miscreants — 12 from Insaf House on Sharea Faisal and 11 at Millennium Mall," said Gulshan SP Zafar Siddique Chaanga accusing them of attacking law enforcers and damaging public property.
He said the protesters left the Millennium Mall intersection and dispersed in narrow streets of neighbouring areas.
With the fresh 23 arrests, the number of PTI workers taken into police custody has reached 300.
Earlier, briefing Sindh Chief Minister Syed Murad Ali Shah, the Karachi police chief Javed Alam Odho claimed that as many as 270 'miscreants' were arrested in Karachi during protests and violence on Tuesday.
"Three suspects, who damaged a bus of People's Bus Service, have also been identified and apprehended," said an official statement.
The process of identification and arrests of suspects who damaged public and private property is underway with the help of CCTV footages. The CM has directed the city police chief to register FIR against the people arrested as he wants every suspect behind the bars who have damaged the public and private properties, the official statement added.
The government has strengthened the police force and additional 1,500 personnel have been deployed in Karachi to maintain law and order.
The Sindh IG Ghulam Nabi Memon took an aerial view of the areas affected by the Tuesday's violence and ordered the fresh deployment.
A statement issued by the Central Police Office said 1,500 policemen had been deployed in Karachi.
Police raids
The police also carried out raids on houses of senior PTI leaders, but returned empty handed in every attempt. The PTI spokesman said that heavy contingent of police raided the houses of Leader of the Opposition in Sindh Assembly Haleem Adil Shiekh, Karachi chapter president Aftab Siddiqi, former Sindh governor Imran Ismail and PTI leader Khurram Sher Zaman.
In a tweet, Mr Ismail claimed that even his mother's home was raided where in his absence the police took away his younger brother.
He alleged that the police had detained his driver in a raid on his home where he wasn't present.
City life
Meanwhile, the PTI call for shutdown on Wednesday appeared to have failed to draw any overwhelming response from Karachiites as daily life activities continued in most parts of the metropolis.
However the number of vehicles on roads remained thin and several routes of government transport services, including Green Line and Orange Line BRTs were suspended on Wednesday.
Despite announcement by the private schools to keep all institutions open, a large number of educational institutions remained closed as a "precautionary measures" due to uncertainty in the city.
A leader of Karachi Tajir Ittehad on condition of anonymity said that the strike call by the PTI didn't affect the business to a large extent.
"There are a few commercial areas like market of car showrooms on New M. A. Jinnah Road, a business centre on Tariq Road and a few other places remained closed today [Wednesday]," he said.
"Majority of centres which were open had failed to do regular business due to slim number of customers. Many vehicle and transport services were close which also kept people away from regular business."
Published in Dawn, May 11th, 2023