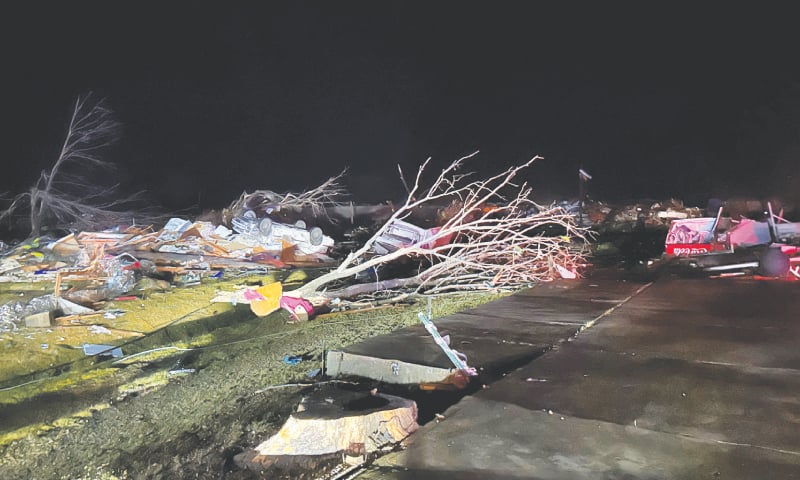 Chicago: At least 23 people were killed and dozens injured after a tornado and strong thunderstorms ripped across Mississippi late on Friday, leaving hundreds without shelter, state officials said on Saturday.
Four people were missing following the twister, which left a trail of damage for more than 100 miles (161 km). The tornado struck Silver City, a town of 200 people in western Mississippi, as well as Rolling Fork, with a population of 1,700, which was hardest hit. Parts of the state remain under tornado warning.
"At least twenty three Mississip­pians were killed by last night's violent tornados," Mississippi Governor Tate Reeves wrote on Twitter. "We know that many more are injured. Search and rescue teams are still active. The loss will be felt in these towns forever." Search and rescue teams combed through the destruction looking for survivors in Silver City and Rolling Fork.
"My city is gone, but we are resilient," Rolling Fork Mayor Eldridge Walker said on CNN. "We are going to come back strong." Walker said several people were trapped in their homes, adding that rescue efforts were under way.
He said 12 of the people who died were in Rolling Fork. Television images showed uprooted trees, houses ripped apart and damaged motor vehicles. Many areas were without electricity.
Humphreys County Sheriff Bruce Williams told CNN that "this town has been destroyed like a bomb hit it." Williams said there were no missing persons reported, but three deaths had been confirmed in the county.
Yazoo Constable Jeremy McCoy, who had gone to Rolling Fork to assist with rescue efforts told CNN of the grim situation on the ground and stepping on nails.
"I've never seen anything like that," said McCoy. "You hope to hear somebody call, a baby crying, a dog barking or something, but hear nothing." Tracy Harden, owner of Chuck's Dairy Barn, told the network that she and her husband sought shelter in a cooler. Others hunkered down in their homes, finding refuge in bathtubs.
The organisation Volunteer Mississippi, through the Mississippi Emergency Management Agency, asked citizens not to self-deploy, but welcomed donations of water and other resources.
It said unaffiliated volunteers would be matched with affiliated groups on the ground when the time was right.
"We tried to get ourselves into the middle part of the house and we did, we got in there and obviously it was coming right behind us because as soon as we got in there, we heard a big boom and didn't hear anything else for a little while," an unidentified resident of Winona told ABC News affiliate WTVA.
"So we walked out and then just came out to about 10 trees down in our yard." A Rolling Fork resident, Brandy Showah, also told CNN that the town was gone. "I've never seen anything like this," she said, adding that her grandmother's house suffered damage.
"My friend was trapped in her home a few houses down, but we got her out," Showah said, adding that people who lived next to her grandmother were still trapped in their houses.
Todd Terrell, who heads a volunteer rescuers group called United Cajun Navy, told ABC News that Rolling Fork was "pretty much devastated" and many people remained trapped in their homes. Terrell compared the destruction to a tornado in Joplin, Missouri, that killed 161 people in 2011.
Published in Dawn, March 26th, 2023