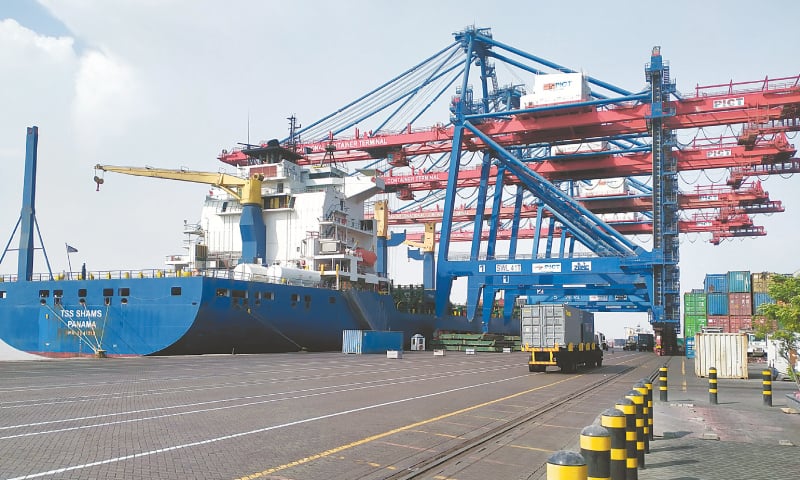 KARACHI: One of the four container-terminal operators in Pakistan has vowed to bring in more than $100 million in fresh foreign direct investment shortly — provided that procedural glitches hindering the extension of its concession at the Karachi Port Trust (KPT) are removed immediately.
Speaking to Dawn in a recent interview, Pakistan International Container Terminal Ltd (PICT) CEO Khurram Aziz Khan said the country's only listed entity handling containerised cargo is planning a big-ticket investment in advanced equipment and technology following a net FDI of $20m in 2022.
"We want to do it immediately. We may spend that money in the next 12 months if we reach an understanding with the government. We have six cranes that cost around $12-13m each. We want to add many more to achieve a quicker turnaround for vessels," he said.
The point of contention is the terminal's concession agreement with KPT for a period of 21 years commencing on June 18, 2002. PICT went to court in December 2021 to stop KPT from terminating the concession agreement or inviting bids for the award of a new contract.
As a consequence, it obtained an interim injunction or stay order for the status quo. However, PICT remains "optimistic" about the extension of the concession agreement soon.
Mr Khan's optimism is based on the fact that two container terminals — one operated by DP World at Port Qasim and the other run by Hutchison Ports at KPT — have already received some kind of extensions in their original concessions.
Terminals are expensive to build. Port authorities either renegotiate commercial terms with the operators towards the end of the concession period or go for fresh bidding altogether. In the latter case, the existing operator reserves the first right of refusal, which means it'll be asked to match the best bid to retain the mandate for terminal operations. "We're absolutely fine with that," Mr Khan said.
So why did it obtain a stay order restricting KPT from inviting bids for a new award of concession?
"All we demand is that we be treated like everyone else. They facilitated other terminal operators. We should receive the same treatment," he said.
PICT had "no option" other than seeking legal intervention as KPT failed to respond to its concerns about the concession "for the last five years," the CEO said.
PICT is the smallest of the four container terminals with a 600-metre quay wall, earth retaining structures that allow the berthing of ships. Its market share in the total container handling business is around 20pc, according to Mr Khan.
It handled about 287,000 containers in the first nine months of 2022, down 22pc from a year ago. Its net profit dropped 14pc to Rs2.2 billion over the same period.
Philippines-based International Container Terminal Services Inc is the ultimate sponsor of PICT with an 80.4pc shareholding at the end of 2021.
Published in Dawn, March 24th, 2023
Now you can follow Dawn Business on Twitter, LinkedIn, Instagram and Facebook for insights on business, finance and tech from Pakistan and across the world.