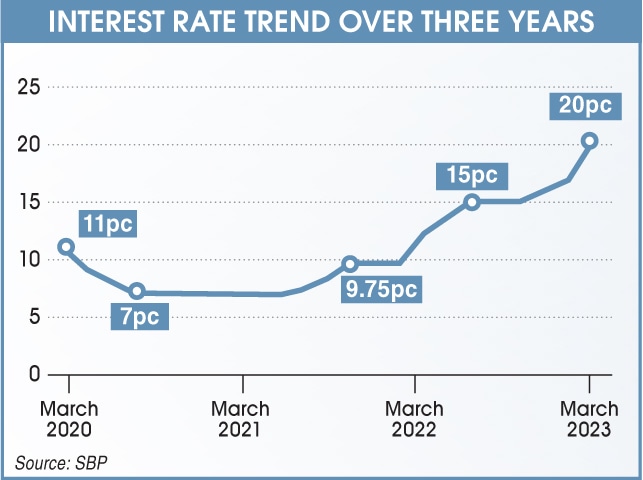 • State Bank's move to raise key policy rate by 300bps catches market off guard
• 20pc rate 'highest in Asia'; expected to slow growth
• Monetary Policy Committee to meet on April 4 for next review
KARACHI: The State Bank of Pakistan (SBP) raised its key interest rate by three percentage points on Thursday to 20 per cent, a level not seen in decades, as it tries to tame runaway inflation.
The 20pc rate equals the level last seen in October 1996, according to data released by the brokerage house Arif Habib Ltd, which showed interest rate values since March 1991.
The massive hike of 300 basis points also exceeded investors' expectations of a 200bps increase. At its last policy meeting in January, the SBP raised the rate by 100bps to 17pc. It has now increased rates by a total of 1,025bps since January last year.
The interest rate announcement came after a meeting of the bank's Monetary Policy Committee (MPC), which met a day after official data showed consumer inflation at 31.6pc, the highest level since data became available, i.e. July 1965.
The committee — which met two weeks earlier than the original date of March 16 — expects inflation to rise further in the next few months as the impact of these adjustments unfolds before it begins to fall.
"The MPC noted that the recent fiscal adjustments and exchange rate depreciation have led to a significant deterioration in the near-term inflation outlook and a further upward drift in inflation expectations, as reflected in the latest wave of surveys," the SBP said in a statement.
The SBP sees inflation rising further before it begins to fall. It said the average inflation for the year was now expected in the range of 27-29pc against the November 2022 projection of 21-23pc.
"In this context, the MPC emphasised that anchoring inflation expectations is critical and warrants a strong policy response," it added.
High interest rates are a drag on activity and slow down economic growth. But central banks raise their policy rates out of necessity when inflation gets out of hand.
Traders and industrialists slammed the central bank's decision to make such a sharp increase in the interest rate, which they feared would destroy trade and industry.
"How is it possible to continue investing with a 20pc interest rate? This is impossible and is bound to produce anti-growth move," said Javed Bilwani, an industrialist and exporter.
"For industries, it is like ground zero. Nobody can survive with such high interest rate and record inflation," he said.
The 20pc interest rate was the highest in Asia, and much higher than in India and Bangladesh, he said, adding that the situation was more difficult than it looked. The State Bank said Thursday's decision had pushed the real interest rate in "positive territory" on a forward-looking basis. It also barred unexpected future shocks.
"This will help anchor inflation expectations and steer inflation to the medium-term target of 5–7pc" by the end of the 2024-25 fiscal year, it said, referring to the point that is 28 months away.
In the last meeting in January, the committee highlighted near-term risks to the inflation outlook from external and fiscal adjustments. "Most of these risks have materialised and are partially reflected in the inflation outturns for February," said the SBP.
The national Consumer Price Index (CPI) — a key measure of inflation — has surged by 31.6oc year-on-year, while core inflation has risen to 17.1pc in urban and 21.5pc in rural areas in February, it added.
On the external side, the MPC noted that despite a substantial reduction in the current account deficit, vulnerabilities continued to persist. In January 2023, the current account gap fell to $242 million, the lowest level since March 2021.
The State Bank stressed the urgent need for energy conservation measures to alleviate pressure on the external account and meet the import requirements of other sectors. The foreign exchange reserves remained low and concerted efforts are needed to improve the external position, it said.
Scheduled debt repayments and a decline in financial inflows amid rising global interest rates and domestic uncertainties, continue to exert pressure on foreign exchange reserves and the exchange rate, it said.
Recent fiscal measures — including an increase in general sales tax and excise duties, reduction in subsidies, adjustments in energy prices, and the austerity drive — were expected to help contain the otherwise widening fiscal and primary deficits, the SBP said.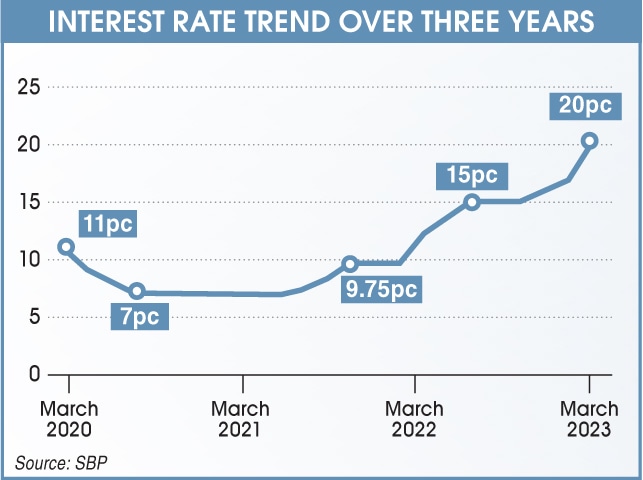 It said any significant fiscal slippages would undermine monetary policy effectiveness in the context of achieving the price stability objective.
How the new interest rate would hit the common people is visible from the recent decline in consumption. High inflation, like 31.6 per cent, grossly reduces the purchasing power of common people while it creates joblessness as trade and industry cannot afford such high interest rate and inflation. The cost of doing business would be much higher than it was a month ago.
"Daily-wage earners and the salaried class have been trampled by the double impact of a massive devaluation of the rupee by Rs25 in two days and 20pc interest rate," said Saleem Abbas, a schoolteacher. "It will further increase the prices of everyday items, particularly food."
The SBP's monetary policy committee has now decided to meet on April 4 for its next interest rate review.
Published in Dawn, March 3rd, 2023
Now you can follow Dawn Business on Twitter, LinkedIn, Instagram and Facebook for insights on business, finance and tech from Pakistan and across the world.