"We have only tea for breakfast now, no food. There is no gas to cook anything else," says Naseem, whose family survives on one to two meals per day. Her house in a katchi abadi at the outskirts of Karachi has not received gas in weeks.
Refilling the gas cylinder costs her Rs220, and it lasts only two days. The Rs3,000-plus a month expense is too heavy for a household that earns roughly Rs40,000 and supports 10 people. So they ration the little gas they can purchase and live off increasingly sweet tea, which is fast to cook and gives an instant but short-lived energy burst.
"Before, fruit crates were left discarded on the roads. Now each crate costs Rs30, and that too only if we can purchase one to burn and light a fire," says Saima, lamenting the lack of gas. She wakes up in the middle of the night to cook roti because that is the only time during the day that she receives gas in her house in Manzoor Colony.
Ask anyone grocery shopping at a discount store; each month's bill brings a new unpleasant surprise. And yet, the elite of the economy would have you assume that things are gradually improving.
While those sitting in ivory towers may see glimmers of economic revival later in the year, the masses are increasingly despondent
The ruling party believes that the economy's deterioration is under control. The opposition believes that the Kaptaan is the messiah and will fix all ails, regardless of the lack of anecdotal evidence. The businessmen believe that the second half of 2023 will be better with government support. The stock market is cautiously optimistic, and economists are busy with their crystal balls.
What does the man on the street believe?
To answer this question, the annual survey was run on Dawn.com to gauge the pulse of the masses. Answered by a nearly 1,000 respondents, the average person's views are not optimistic. Few people expect 2023 to be a good year. This is in stark contrast to the previous years when the pandemic was ravaging. Despite Covid-19's prevalence, people believed that the new year would be a good one but not 2023.
This time last year, Omicron was on everyone's mind. About 62 per cent of the people who answered Business & Finance's annual survey last year thought coronavirus would prevail. Yet, they expected the economy to improve because hope springs eternal. Not this year, though.
A whopping 74pc believe that Pakistan's economy will not be better in 2023. This is in contrast with 2020 when the entire year was spent in a cycle of lockdowns. But still, only 15pc of the people expected the economy to be bad in 2021.
Over the last three years, people have become increasingly disheartened by their living standards. While on the one hand, inflation is eroding incomes, on the other hand, people no longer expect an increase in what they earn in absolute terms as well.
Only one out of four who replied to the survey believe that Pakistan will be able to rebuild its economy post-floods
Given the wave of layoffs as even the supposedly resilient tech sector's bubble has burst, people are glad to hold on to their jobs. Shop­keepers try to pass on their higher costs to consumers while trying to keep their margins intact, but their sales volumes are shrinking as the embattled middle-income group is striving to make ends meet.
Where there are those who scrounge the road to find discarded crates to light a fire to cook a meal for the family, there are also those who are willing to pay Rs14,000 for a couple's pass to a New Year's Night dance party. Stop at any signal in a posh locality, and there will generally be a Hilux with a couple of armed guards sitting in the back. Malls are still packed on weekends, selling their branded and imported products.
Scrolling through Instagram, there are tonnes of wedding photos as people celebrate, making up for previous years' restrictions. In the same country, many still have not found their way back home after the floods' devastations. Does the average person think that Pakistan will be successful in rebuilding the economy post-floods? Not really.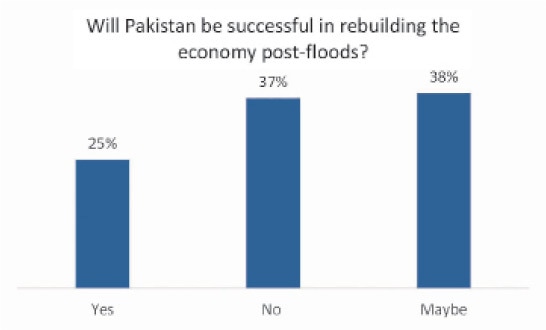 Only one out of four who replied to the survey believe that Pakistan will be able to rebuild. Most people wavered between 'No' and 'Maybe', given the country's less-than-successful attempts in countering the damage of the previous super floods. "Pakistan's devastating floods could have been contained if tens of millions of pounds for flood prevention projects had not been embezzled or misspent over the past three decades, water experts and activists have told The Times," said a 2010 article by the publication.
Unsurprisingly, three out of four either believe Pakistan will default on its loans or are not sure about its ability to fulfil its obligations. Regardless of the number of times Dar and his ilk have come out to thump their chests and assert Pakistan is liquid enough to sail through the crisis, the steady outflow of reserves and resultant slide in the prevailing informal exchange rate belie their message.
Will Pakistan default? Probably not. There are enough 'friendly' countries, miffed and exasperated but invested enough to lend the necessary support to provide a quick fix. But will the average citizen be better off in the new year? Only the hopelessly deluded optimists would think so.
Published in Dawn, The Business and Finance Weekly, January 2nd, 2023
Follow Dawn Business on Twitter, LinkedIn, Instagram and Facebook for insights on business, finance and tech from Pakistan and across the world.