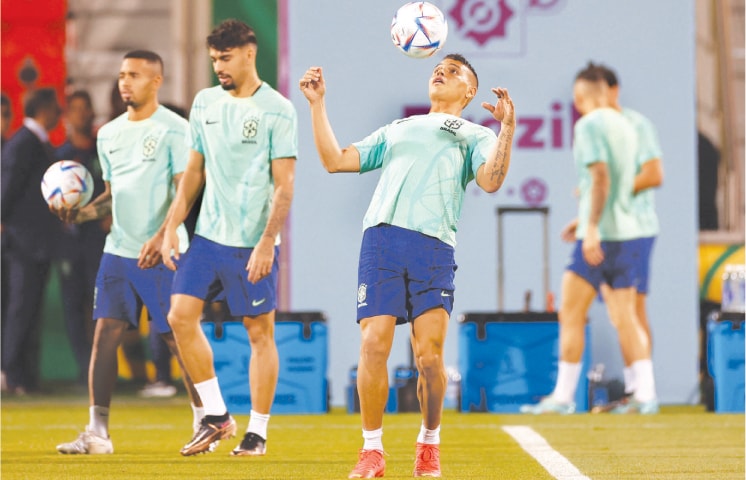 DOHA: Ghana coach Otto Addo called on his players to be ready to sacrifice themselves like Luis Suarez did in 2010 as they aim for a place in the World Cup knockout stage at Uruguay's expense.
Uruguay striker Suarez broke Ghanaian hearts 12 years ago in South Africa when his deliberate handball stopped a certain goal in the dying moments of their quarter-final.
Suarez was sent off but Asamoah Gyan missed the resulting penalty and Uruguay then beat the Black Stars in a shootout after the game ended 1-1.
"If the same incident would have happened the other way around and Ghana would have proceeded to the semi-finals, everyone would have said 'OK, it's normal that a player would do anything he can to help his team to go to the semi-finals'," Oddo said on Thursday.
"This is what I wish from every player, to do all he can to help his team qualify, sacrificing himself with a red card."
A win on Friday would guarantee Ghana passage from Group 'H' and eliminate Uruguay but Addo said he was not thinking about dumping out Suarez, who was unrepentant over his actions when told he was considered "the devil himself" by Ghanaians earlier on Thursday.
"I don't say I apologise about that because I take the handball but the Ghana player missed the penalty, not me," said Suarez, speaking in broken English. "Maybe I can say I apologise if I tackle and injure a player and take a red card, maybe I can apologise.
"But in this situation I take a red card, the referee said 'penalty'. It's not my fault because I did not miss the penalty, the player missed the penalty."
Suarez insisted the game was in the past and that it makes no sense to talk about revenge.
"Those that are talking about revenge... were eight at the time, they have only seen it in images."
"You can't misinterpret everything. When we played Portugal the players were talking about revenge for being knocked out (by Uruguay in 2018) but you can't live in the past." Uruguay coach Diego Alonso said there was much more at stake for both teams than vengeance.
"I don't know how Ghana will approach it, whether or not it's revenge," said Alonso."For us it's a decisive match, that's what matters to us. We're doing the best we can, respecting our opponents, but we don't view it that way."
Uruguay must win to have any chance of progressing to the last 16 while Ghana could also be eliminated if they do not triumph.
Bitterness remains entrenched among fans in Ghana over the incident in Johannesburg, which denied Ghana the accolade of becoming the first African country to reach the World Cup semi-finals.
A win in Al Wakrah will see Ghana advance to the last 16, but they could still go through with a draw if Portugal, who have already qualified, beat South Korea.
The Ghana team seemed less interested in casting Suarez as a villain, however, and said Friday's match with Uruguay was not about revenge.
"What happened some years ago will be always history that is in our mind. But this is a totally different game," said Thomas Partey, a midfielder with English club Arsenal.
Published in Dawn, December 2nd, 2022